Bridgewater College students who take the Professional Practices art class say it should be required for all majors, as it teaches skills necessary for life after college.
Sam Lawson '19 hammers a nail in place about an inch above a pastoral painting depicting a field of yellow flowers, red barn and a mountain range on the horizon. She covers the nail with the painting and takes a step back to assess her work.
She shakes her head. Something's not quite right. Then she spots it: The painting isn't level. She carefully adjusts the top right corner of the painting until it becomes even with the painting of trees in an autumnal cloak to the left.
Associate Professor of Art Michael Hough walks by at just that moment.
"It's perfect," he says. "You nailed it."
A few minutes prior, Hough had noticed the two paintings hanging side-by-side were uneven and told Lawson the best solution would be moving up the painting on the right instead of rehanging both pieces. The artwork is part of the "Landscapes of the Valley" art show, which was on display from April 5 to May 10 at the Virginia Mennonite Retirement Community in Harrisonburg, Va. Hough's ART-461: Professional Practices students were in charge of the entire show, from finding the artists to invite to show their work, to getting artwork loan agreements signed, to hanging each piece in just the right place in the Park Gables Gallery.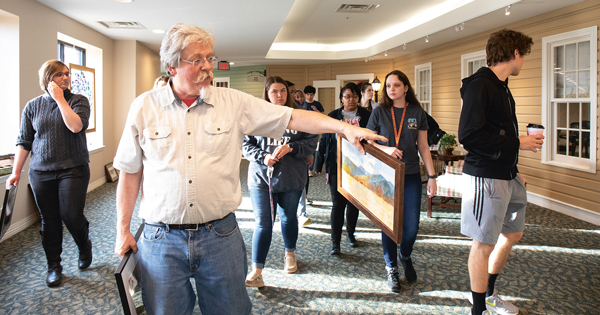 Hough devised this class about 15 years ago to teach his senior-level students everything he wished he had learned in art school. But this class goes beyond art skills. It teaches students what they need to know as working artists starting their own businesses or freelancing, such as how to fill out a Schedule C tax form, how to navigate copyright law and the best ways to market yourself as an artist in today's social media-saturated landscape.
The class was originally developed around the exhibition for their senior thesis that each art major at Bridgewater creates. Creating a marketing plan, installing the show and organizing the opening were critical hands-on learning experiences incorporated into the curriculum. But the class has evolved over time to become a junior-level class, with Hough emphasizing the importance of internships and allowing him time to aid his students in placements in the summer and their senior year.
As a student in the '80s, Hough left the California State University of Sacramento with two degrees in hand, a bachelor of art and a master of art. Although he grew up in a creative-centered family in which someone was always making something, as a new graduate Hough didn't yet know how to turn his passion into a career. He settled into teaching high school for five years, then went back to school to get his M.F.A. in ceramic sculpture at the Rhode Island School of Design. Hough installed art shows all throughout college, and, as an M.F.A. student, he helped transform a gutted building the size of a city block into an exhibition space for himself and his fellow students. He shares stories from his past to illustrate to his students what it takes to have a successful career in the art world—everything from how to secure a bank loan to walking into a bank and proposing a show of their work in the lobby.
Today Hough, who joined the art department faculty 22 years ago, not only teaches classes at Bridgewater College—mostly studio classes in a variety of mediums—he also works as an artist in ceramics and welded steel and as an art gallery exhibition installer. He's worked on shows at VMRC for 10 years, and he recently hung the Rockingham County/Harrisonburg City K-12 art show, which featured students from five teachers who are BC alumni. He's living out the realities of working in the art world, and he wants to make sure his students graduate ready to succeed in whatever medium they choose.
Creating art is a necessity for Hough. "It's equivalent to food and air to me," he said. Michala Messick '19 feels similarly. She entered college at Bridgewater undecided and eventually declared a psychology major at the urging of her parents. But the call to art, something she'd always done as a hobby, was too strong, and she ultimately switched majors to art with a concentration in ceramics. Last Christmas her parents surprised her with her own pottery wheel and kiln—everything she needed to open her own ceramics studio.
"I will never not be doing some form of art," Messick said. "It's just what I love."
Messick said the Professional Practices class exposed her to aspects of being a professional artist she had never considered, such as what items can be deducted from your taxes and how to create a studio space to start your own small business.
"I feel like this class would be beneficial not only for art majors but also for anyone interested in creating their own small business," she said. "These things will stick with me forever."
Danielle Morgan '20 is a business administration and art double major. Her ultimate goal is to work as a medical illustrator, either at a hospital or law firm or for a textbook company. She said Hough's class should not only be required for art majors, but that every student on campus could benefit from taking this class. She said the tax information, including what receipts to keep and how to fill out different forms, was something to which she'd never been exposed.
"There's a common misconception that school doesn't prepare you for the real world," Morgan said. "But I feel like all majors need to have this class, because it bridges the gap between the real world and what you learned in school."
Because the original ART-461 class centered on the seniors' exhibitions, Hough realized the juniors needed an outlet to provide that real-world experience of what it takes to curate and install a show. After securing a partnership with VMRC for the spring show, Hough had his students research local artists whose artwork would likely fit the regional landscapes theme. Then the students were required to contact each artist to see if they were interested in being part of the show. The students quickly learned the best methods for contacting people (Facebook was a popular choice), and Hough helped round out the artists-to-contact list with his own bulging Rolodex of local creatives. Each student was assigned two to three artists whom they would be responsible for contacting, getting artwork loan agreements signed, coordinating artwork drop-off and pickup, communicating how artists would be paid for works sold in the show, and more.
Morgan said knowing their decisions in the class didn't just affect their grade but could ultimately impact someone's livelihood was a big driver in learning how to do things in the best manner. Even small tasks, such as students needing to check their emails more frequently in case an artist had a question, became top-of-mind.
"There's a level of responsibility on us as professionals versus students," Morgan said.
After the class secured the 30 artists for the show, they started collecting two works from each person. On the morning of the show installation, all of the students in the class gathered at VMRC to start laying out the paintings in groups to see what would work best together. During class, Hough shared several tips with his students, including not to hang glass-covered pieces on walls opposite the windows and to group paintings of like colors together. Another tip? Separate an artist's works so visitors have to hunt for them.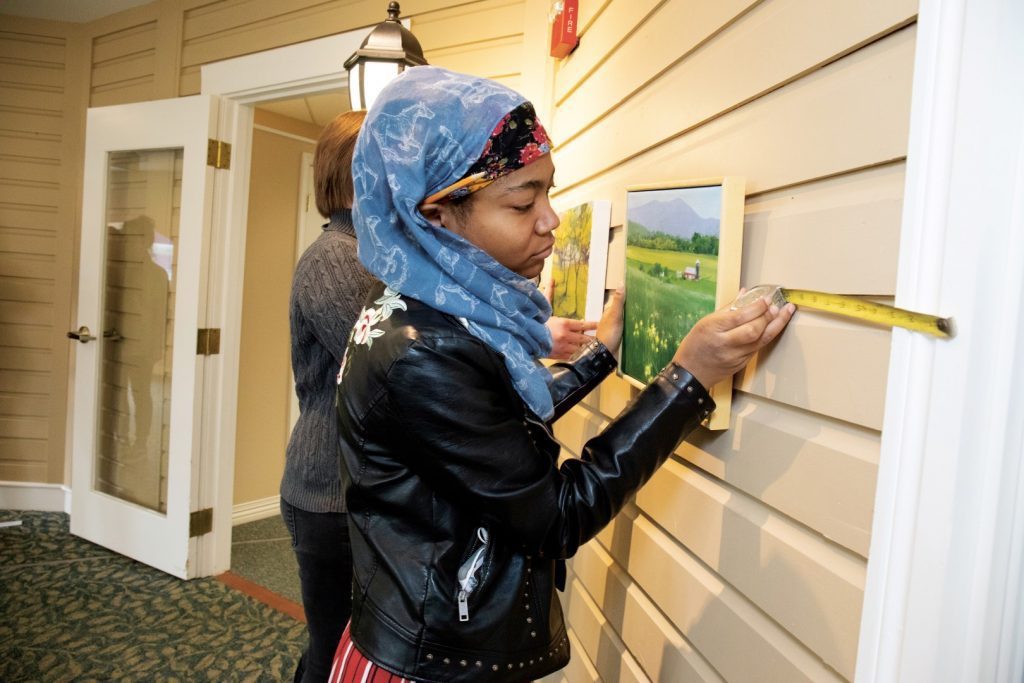 At VMRC, Hough used a piece by Bridgewater Associate Professor of Art Nan Covert as a guideline for the rest of the show. He hung her "Summer" mixed-media piece with its center 56 inches above the ground—every other painting in the show would also be hung 56 inches high. Normally, Hough hangs works at least four inches higher, but the likelihood of more viewers in wheelchairs changed the rubric. After walking up and down the hallway several times to make final adjustments, the students divided into teams to begin the hanging process.
Trading tape measures and pencils with pearl pink erasers for their normal paintbrushes, the students turned their attention to numbers and figures. They had to determine not only where to hang a painting in relation to centering it in the sightline, but they had to figure out how many inches to subtract for optimal nail placement if a painting had a wire hanger. And then there was the matter of how a painting should hang in relation to the space it's in. Groups of threes are even trickier, as the paintings are generally different sizes.
The best art installations are ones you don't notice, according to Hough. It's not just about hanging works on walls but creating an overall feel. There's an art to it.
As the installation process wound down, Hough mentioned he'll be back at VMRC the following month to install a show with 100 works of art. He said he could use some help, and two students immediately jumped at the chance to not only earn some summer money but to gain more real-world experience. Hough said it's clear from the attention to detail his students gave this show that they are ready.
"That's what makes this all worth it," he said. "When they ask the question, 'How do I get to do this?'"