Dr. David W. Bushman, President of Bridgewater College, and the Rev. Dr. Robbie Miller, Bridgewater College Chaplain, will serve as the College's Commencement and Baccalaureate speakers for 2022, respectively.
Bushman's Commencement address, "All of Us," will remind graduates of the significance of their accomplishments and of the strength of community and connections that has brought them to this day.
Approximately 335 undergraduate students and 30 master's students are expected to receive degrees at the Commencement exercises, which will take place on Saturday, May 7, at 10 a.m. on the Campus Mall.
Miller, a 1979 graduate of the College, will deliver the message at the College's Baccalaureate service at 6 p.m. on Friday, May 6, in Nininger Hall. In his message, "Raise Your Hand!," Miller will share that faith is not about intellectual assent to a set of propositions but about raising our hand and going forth to do God's work in the world.
About Dr. David W. Bushman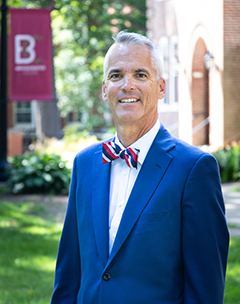 An accomplished academic leader, Dr. David W. Bushman draws upon his extensive experience in higher education administration and in the classroom as President of Bridgewater College. Dr. Bushman became the College's ninth president in 2013.
During his time at Bridgewater, President Bushman led the development of new academic and co-curricular programs at the College, including the creation of the Center for Engaged Learning, academic schools to support the College's academic departments in the creation of new majors and programs of study, May Term, a new advising structure for first-year students and Eagles Engage—a student life curriculum that is focused on learning and growth outside the classroom. Dr. Bushman oversaw the College's launch of graduate programs, with BC's first master's degree program in 2017. He led the College through an inclusive, comprehensive process to create Bridgewater's current strategic plan—The Vision for Our Future: Strategic Plan 2025.
In his time at the helm, Dr. Bushman has successfully piloted the rejuvenation and expansion of the campus physical plant, including the creation of a centralized Department of Student Life and student gathering space in the Kline Campus Center and, most notably, the planning and construction of the John Kenny Forrer Learning Commons.
While at BC, President Bushman has served in leadership capacities in a variety of higher education groups including Chair of the Council of Independent Colleges of Virginia and Chair of the President's Council of the Old Dominion Athletic Conference (ODAC).
Dr. Bushman came to BC in June 2013 from Mount St. Mary's University in Emmitsburg, Md., where he was the founding dean of the university's School of Natural Science and Mathematics. In this role, he oversaw numerous academic programs and new academic program development as well as strategic and communications planning and fundraising for the school.
Prior to leading Mount St. Mary's School of Natural Science and Mathematics, Dr. Bushman served as President of Lees-McRae College in Banner Elk, N.C. While at Lees-McRae, Dr. Bushman oversaw the college's successful bid for reaffirmation of accreditation from Southern Association of Colleges and Schools Commission on Colleges (SACSCOC) and developed and implemented a new strategic plan for the institution. During his time at the helm, Lees-McRae engaged in a number of significant campus renovation projects, implemented curricular and co-curricular enhancements and increased its first-year student retention rate significantly.
Before joining Lees-McRae in 2004, Dr. Bushman served in a variety of roles at Mount St. Mary's, including Dean of Academic Services, Director of Assessment, Chair of the Department of Science and Associate Professor of Biology. Dr. Bushman earned his bachelor of science in biology summa cum laude from Loyola College in Maryland. He graduated from the University of Maryland with both his master of science and doctorate in entomology. Upon completion of his Ph.D., Dr. Bushman worked for several years in private industry as a research biologist and research fellow. He has been published in the field of entomology as well as undergraduate science education.
Dr. Bushman and his wife, Suzanne DeLaney Bushman, have two children, Emily and Will. Suzanne was raised in Virginia and has spent her career in healthcare, as a pediatric intensive care nurse for 17 years and, most recently, in an outpatient surgery unit. In their spare time, the Bushmans enjoy spending time on the water at their getaway on Virginia's Northern Neck. Dr. Bushman also appreciates cycling and astronomy.
About the Rev. Dr. Robbie Miller '79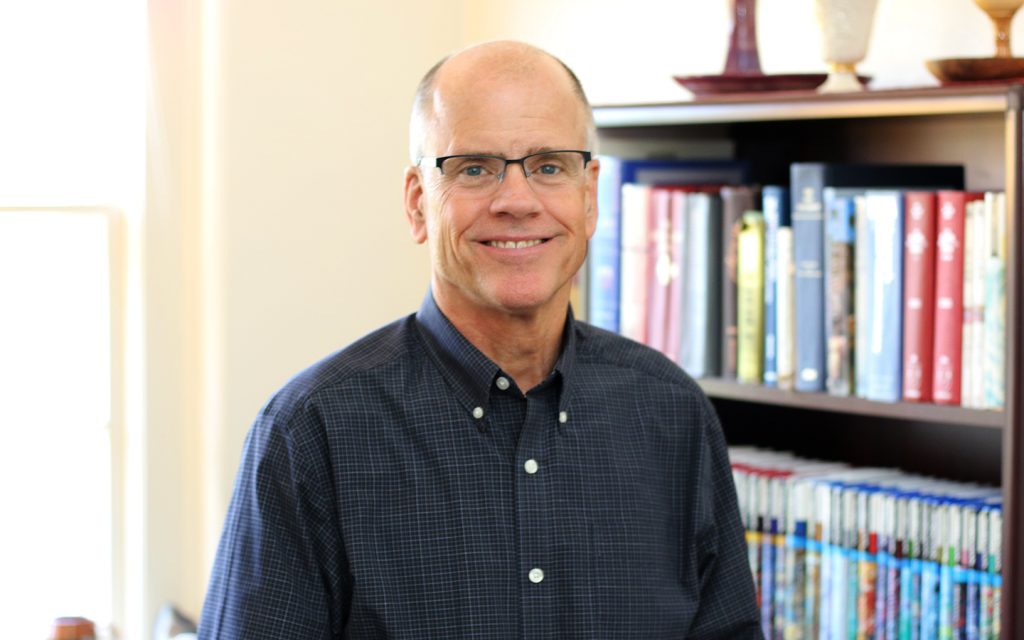 The Rev. Dr. Robbie Miller '79 has overseen the College's spiritual life program and provided support to members of the Bridgewater campus community for more than 30 years as College Chaplain.
Miller graduated from Bridgewater with his B.A. in philosophy and religion in 1979. He went on to earn his master of divinity from Bethany Theological Seminary in 1983 and his doctor of ministry from Wesley Theological Seminary in 2006.
Before coming to Bridgewater College as Chaplain in 1990, Miller served as pastor of the Oakton Church of the Brethren in Vienna, Va., from 1983-1986, pastor at Richmond Mennonite Fellowship from 1987-1988 and campus pastor at Eastern Mennonite University from 1988-1990.
At Bridgewater College, Miller organizes weekly worship gatherings and various opportunities for study and service and has helped found and advise several spiritual life clubs and organizations. In addition, he has taught courses in religion, including a "Lands of the Bible" travel course to the Near East, and has helped lead the College chapter of Habitat for Humanity's Alternative Spring Break trip for 25 years.
In 2002, Miller introduced the Graduation Pledge of Social and Environmental Responsibility to the College, a voluntary pledge in which a graduating senior promises to "explore and take into account the social and environmental consequences of any job I consider and will try to improve these aspects of any organizations for which I work."
The Shenandoah District Pastors for Peace recognized Miller in 2021 with the Living Peace Award, which is given to a member of the Church of the Brethren within the Shenandoah District who has contributed to making peace in their own time and who inspires others to embrace this calling in a similar fashion.
Miller is married to Terri Gladwell Miller '80, and has two children, Rebekah Miller Stovall '12 and Stephen Miller '15.
Media Contact:
Logan Bogert
Communications Coordinator
lbogert@bridgewater.edu
(540) 828-5486