The Rev. Dr. Robbie Miller, Bridgewater College Chaplain, and The Rev. Jeffery Carr, Pastoral Care Director of Sunnyside Retirement Community, will serve as the College's Commencement and Baccalaureate speakers for 2023, respectively.
Approximately 315undergraduate students and 25 master's students are expected to receive degrees at the Commencement exercises, which will take place on Saturday, April 29, at 10 a.m. on the Campus Mall. Miller's Commencement address, "The Measure of Success," will remind us that the true measure of success is not what we have acquired and achieved for ourselves, but how we have loved and what we have done for others.
Carr, a 2002 graduate of the College, will deliver the message at the College's Baccalaureate service at 6 p.m. on Friday, April 28, in Cole Hall. In his message, "Kin-dom," Carr will share how our community shapes our stories, now shaped by the BC experience, and how we can find strength in that community.
About the Rev. Dr. Robbie Miller '79
The Rev. Dr. Robbie Miller '79 has overseen the College's spiritual life program and provided support to members of the Bridgewater campus community for more than 30 years as College Chaplain. He will retire at the end of the 2022-23 academic year.
Miller graduated from Bridgewater with his B.A. in philosophy and religion in 1979. He went on to earn his master of divinity from Bethany Theological Seminary in 1983 and his doctor of ministry from Wesley Theological Seminary in 2006.
Before coming to Bridgewater College as Chaplain in 1990, Miller served as pastor of the Oakton Church of the Brethren in Vienna, Va., from 1983-1986, pastor at Richmond Mennonite Fellowship from 1987-1988 and campus pastor at Eastern Mennonite University from 1988-1990.
At Bridgewater College, Miller organizes weekly worship gatherings and various opportunities for study and service and has helped found and advise several spiritual life clubs and organizations. In addition, he has taught courses in religion, including a "Lands of the Bible" travel course to the Near East, and has helped lead the College chapter of Habitat for Humanity's Alternative Spring Break trip for 25 years.
In 2002, Miller introduced the Graduation Pledge of Social and Environmental Responsibility to the College, a voluntary pledge in which a graduating senior promises to "explore and take into account the social and environmental consequences of any job I consider and will try to improve these aspects of any organizations for which I work."
The Shenandoah District Pastors for Peace recognized Miller in 2021 with the Living Peace Award, which is given to a member of the Church of the Brethren within the Shenandoah District who has contributed to making peace in their own time and who inspires others to embrace this calling in a similar fashion.
Miller is married to Terri Gladwell Miller '80 and has two children, Rebekah Miller Stovall '12 and Stephen Miller '15.
About the Rev. Jeffery W. Carr '02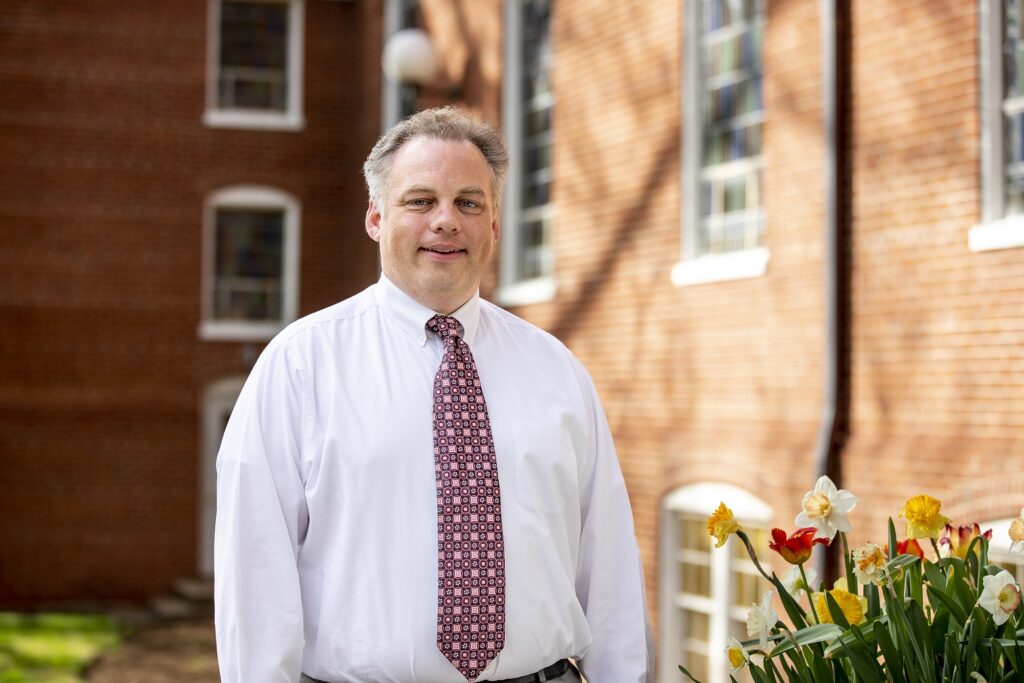 The Rev. Jeffery W. Carr is the Pastoral Care Director of Sunnyside Retirement Community. A 2002 graduate of Bridgewater College, he has served in that role since 2020.
Carr, who earned a master of divinity degree from Eastern Mennonite Seminary, completed a Clinical Pastoral Education (CPE) residency at the University of Virginia, serving as a hospital chaplain in adult and pediatric settings. He served as director of pastoral care at Bridgewater Retirement Community prior to serving almost 10 years as the senior pastor of the Bridgewater Church of the Brethren. He is now a minister in the United Church of Christ.
Carr is also an ethics consultant and on-call chaplain for Sentara RMH Medical Center and chairs the Eastern Mennonite Seminary CPE professional advisory group.
His community involvement includes serving on the board of directors for the Bridgewater Volunteer Rescue Squad and the Town of Bridgewater's Industrial Development Authority.
Carr and his wife, Wendy, who is also a 2002 Bridgewater College graduate, live in Bridgewater with their two sons and family dog.
Media Contact:
Logan Bogert
Communications Coordinator
lbogert@bridgewater.edu
(540) 828-5486