Bridgewater College recognized nearly 315 undergraduates and 25 master's students receiving degrees on Saturday, April 29, during the College's 143rd Commencement ceremony. The degrees were conferred by Dr. David W. Bushman, president of Bridgewater College.
After Grand Marshal Dr. Donna Hoskins, associate professor of health and human sciences, called the ceremony to order, four seniors took to the stage to share an invocation in their native languages: English, Arabic, French and Spanish.
Dr. Bushman welcomed members of the Class of 2023 and their family and friends to the ceremony, and Chair of the College's Board of Trustees D. Bruce Christian P'06 then spoke to the Class of 2023, noting their adaptability and perseverance, and reminded graduates that they always have a home at BC. President of the College's Alumni Association Bradley Hallock '86 remarked on the care and support of the Bridgewater community and encouraged graduates to stay connected to one another and to their mentors at BC.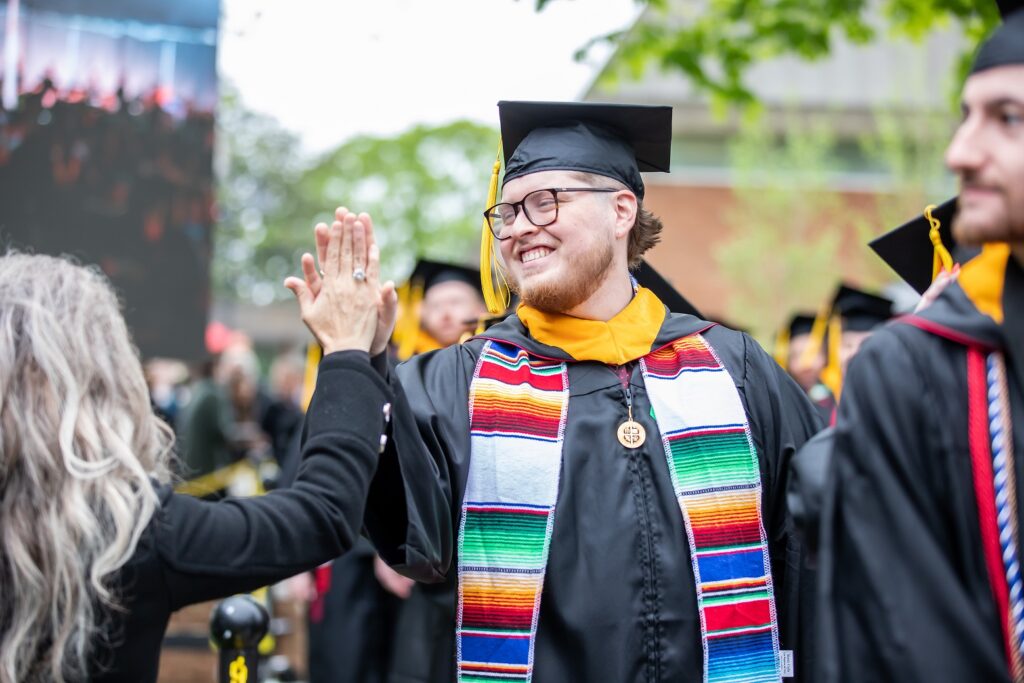 Lara Buchanan '04, M'23 spoke on behalf of the graduate program candidates. Buchanan, a master of science in human resource management student from Middlebrook, Va., spoke on the power of persevering to achieve goals despite obstacles. The single mother of two worked full-time while earning her master's degree and becoming a double Eagle. "Life is ever-changing; that's a fact. A lesson learned is that you get to decide on your direction," Buchanan said.
Senior Class President Nina Andrews, a communication, technology and culture major from Harrisonburg, Va., presented the class gift. The class of 2023 selected the Bridgewater College Scholarship Fund as the designation for their class gift, to give other students the opportunity to develop their intellectual and cultural horizons.
Hannah McPherson, recipient of the 2023 Bridgewater College Founder's Day Award and an applied physics major from Callaway, Va., remarked on the class's ability to rally together through hardships of the last few years. "No matter what the past few years have looked like for each of us, this moment is the sum of all that we share," McPherson said.
Following the reflection, the College's Symphonic Band performed "Amazing Grace" arranged by Tim Curd. After the performance, Dr. Bushman and Provost and Executive Vice President Dr. Leona A. Sevick presented president's medals to two retiring staff members. The medal is awarded for distinguished service and a demonstrated commitment to the highest ideals of Bridgewater College. It is inscribed with the College seal and the College's ideals of goodness, truth, beauty and harmony. President's medal recipients were Cynthia Howdyshell-Shull '86, registrar, and Rev. Dr. Robbie Miller '79, college chaplain.
Miller also served as the Commencement speaker for 2023. In his address, "The Measure of Success," he said, "The measure of success in our brief span of life—represented by that little 'dash' between the year we're born and the year we die—is not the money we earn or the things we accumulate or the degrees we acquire or the recognition we receive, but the love we share and the difference we make."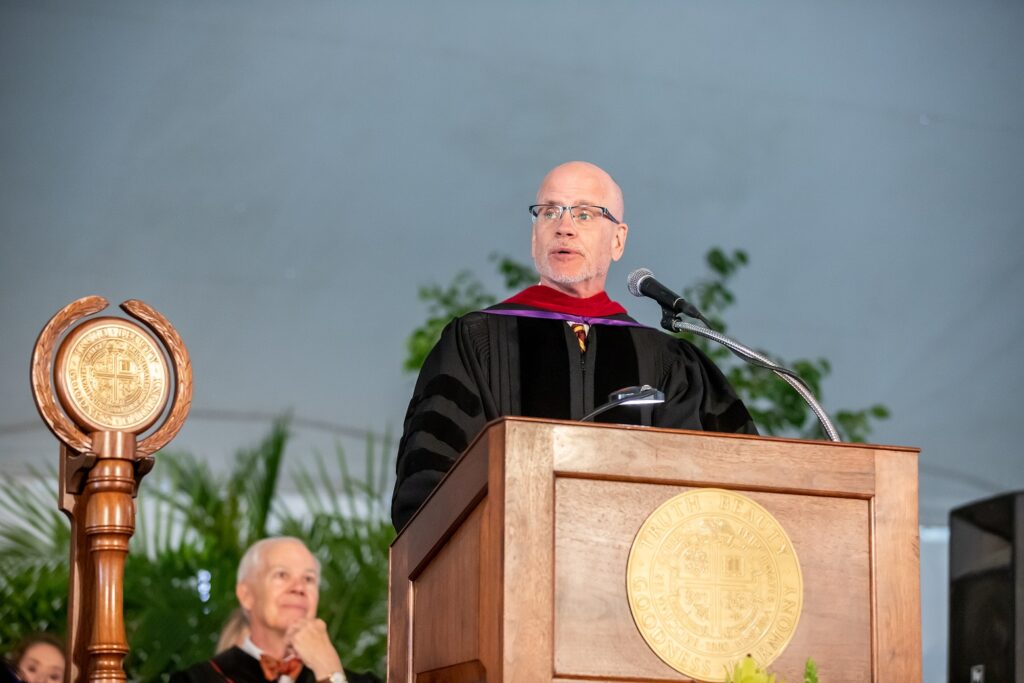 Among the 313 undergraduate students in the Class of 2023, 159 earned bachelor of arts degrees and 154 earned bachelor of science degrees. Thirty-two members of the class graduated summa cum laude—the top academic honor which requires students to achieve at least a 3.9 grade point average on a 4.0 scale. Forty graduates earned magna cum laude honors—a 3.7 or better average. Cum laude honors, requiring a 3.4 grade point average, were earned by 55 graduates.
Bridgewater College graduated students from four different master's programs. Three students graduated with a master of science in psychology—mental health professions; three students graduated with a master of arts in digital media strategy; six students graduated with a master of science in athletic training; and 13 students graduated with a master of science in human resource management.
As a special tradition at Bridgewater, faculty and staff members award their children with their degrees onstage. At this year's ceremony, Associate Professor of Education Dr. Jenny Martin, Accounts Payable Manager Stacy McDonald '86, Trustee Ashley Smith '85 and Trustee Dr. G. Benjamin Wampler '82 awarded degrees to their children: John Patrick Martin, Ryan Everett McDonald, Alexander Benecke Smith and Joseph Mundy Wampler. Trustee Ron Sink awarded his granddaughter, Hannah Quinn, her diploma.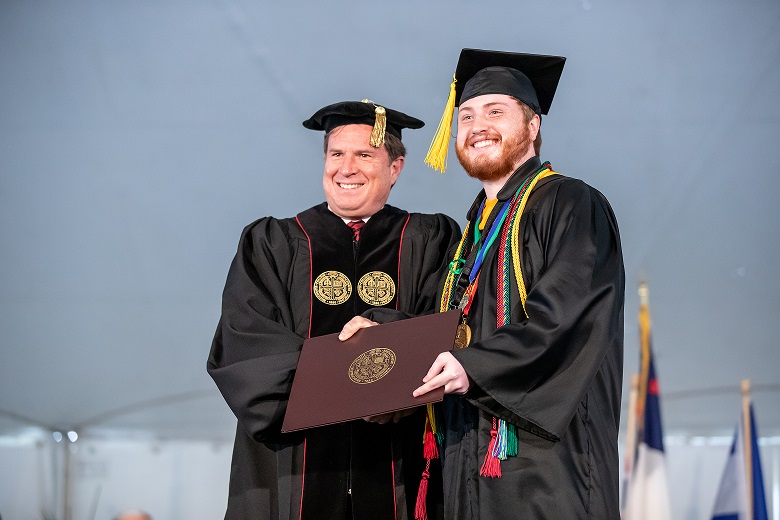 After conferring the degrees, President Bushman encouraged the newest graduates of Bridgewater College to "make the most of your dash" and to discover their vocation, or calling—"the place where your greatest talents meet the world's greatest needs."
"What will you be called to do? Where will you make a difference in the world? How will you make a difference in the lives of others? How will you spend your dash? You can do great things. Believe in yourself," he said.
Media Contact:
Logan Bogert
Communications Coordinator
lbogert@bridgewater.edu
(540) 828-5486