It's an exciting time for the Bridgewater College community, as current students, faculty, staff and alumni come together to help move about 600 students into their new homes.
Mounds of items sit in front of parked cars waiting for volunteers — current Bridgewater College students, faculty, staff and alumni — to carry them to a first-year student's dorm room. It's an exciting time for the BC community, as about 600 students move into their new homes. At one residence hall, several stacks of belongings contain sports equipment: everything from basketballs and golf clubs to lacrosse sticks. Pillows, foam mattress toppers, luggage and clear crates wait to be moved in. Mini fridges are a popular item—one brave parent is spotted hoisting a fridge high on his back as he walks gingerly across the parking lot.
"There he is! How ya doin'?" Two men embrace in a tight hug in front of one of the residence halls and slap each other on the back.
It was a reunion of sorts for BC alums Dwight Shobe '72 and Mark Enis '74, who met when Enis was a freshman and Shobe was a sophomore. Shobe was walking by Enis' room in Wright Hall when he heard Neil Young's voice coming from inside (the song was from Young's second album, Everybody Knows This is Nowhere). The two instantly bonded over music and have remained best friends ever since, visiting each other throughout the years—often to see live music. Today, Shobe, who still lives in Bridgewater, came by to help Enis and his family move in Enis' daughter, Kelly, a first-year student.
"As a parent, it's a wonderful feeling," says Enis about both of his children also attending Bridgewater. "This is a wholesome environment. This is the right way to begin adulthood."
Kelly says she chose Bridgewater not just for the family connection but because of the community itself. She's excited for activities on and off campus, including skiing and hiking in the nearby mountains.
"Everyone cares about you and wants you to succeed," she says. "I'm excited to get settled in. I've never had a huge life-changing moment until now. I'm nervous to meet people but I know it's going to be fine."
Kelly's brother, Michael, and his fiancée, Melissa McMindes, both '16 alums, came back to campus to help Kelly move in. McMindes was excited when she heard Kelly would be living in her former residence hall. But she was shocked when she heard Kelly wasn't just living in the same hall — she was randomly assigned the same room.
On her first day at Bridgewater, McMindes' mom accidentally spilled a bottle of detergent on the dorm room floor, and used towels to clean it up. Those towels — the ones covered in a bottle of detergent — promptly went into the washing machine. McMindes laughs at the memory of suds spilling out from the top: "I was so embarrassed!"
A month into their freshman year, McMindes and Michael met in the KCC Dining Hall. She was sitting with one of his friends from high school who invited him to join their table. The pair got engaged last weekend, and both are finishing up graduate school this year.
Charlie Mason '69 is one of about 35 alums who returned to campus to help first-year students move in. Mason, who is on the Bridgewater College Alumni Association Board and is co-chair of his 50th class reunion next year, says he was excited his schedule allowed him to help this year.
Mason says the biggest changes on campus since he was a student are the new buildings — the place where he's standing was just a field when he was in college — and the number of students. This year's freshman class is almost as large as the entire student body when he was in school, he says.
Sydney Beach, a junior at BC, is another helper on Move-in Day. A SOAR mentor, this is her second year welcoming newcomers to campus. She says she was so thankful for the help she got on her first day — "I think I only had to move one bag!" — that she wants to do the same for new students.
Beach knew she wanted to come to Bridgewater since she was young (both of her parents are BC alums). Her first campus visit was earlier than most—at the age of 10—when she accompanied her mother, BC Athletic Hall of Famer and three-sport athlete Patti Beach, to an annual dinner.
"I didn't even think to tour any other colleges; I didn't apply anywhere else," Beach says. "I've been in love with it since the beginning."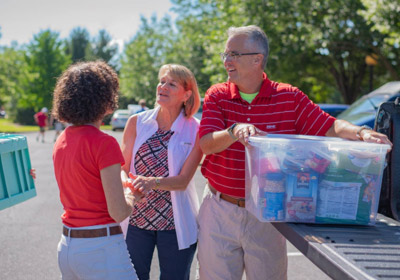 New Bridgewater parent Bonnie Howle already looks the part in her crimson "Bridgewater Eagles Mom" T-shirt while she stands next to her son's belongings near the entrance of one of the dorms.
"I'm going to cry now!" she says thinking about saying good-bye to her son, Taylor Ferguson, who will play golf for Bridgewater. "I'm excited for him."
Ferguson's cousin is a senior at BC, so he and his family have visited campus a couple of times.
"Everybody is so friendly here, that's one of the things we liked about it," Howle says.
Tori Smith and Carrie Smith (no relation!) met their first year at Bridgewater. Although they lived on the same floor, they didn't meet until halfway through their first semester — Carrie is a music major and Tori is a music minor. The pair became fast friends and as juniors are rooming together.
Tori, an R.A. this year, says she fell in love with Bridgewater when she came to an open house. "I had my mind set on going to JMU, and when I visited here I didn't even apply [there]. I love it here."
Carrie has a similar story: She applied to JMU and got in, but her high school best friend's mom encouraged her to check out Bridgewater, too.
"I came here for a tour and it just clicked," Carrie says. "This is perfect."
Beach's advice to incoming first-year students is to step out of their comfort zone to attend Welcome Week activities or a sporting event, because you never know when you'll meet a lifelong friend.
"The culture at Bridgewater is forever," says Enis.
"We're a testament to that," responds Shobe, whom Enis describes as "a brother."
Enis nods: "We've been successful in our lives and it started right across the street. It feels like I'm home again."