Bridgewater College has once again been named a College of Distinction, marking its commitment to a high-quality education that focuses on hands-on learning, transformative student-teacher relationships, engagement opportunities on- and off-campus and successful outcomes after graduation.
Colleges of Distinction's selection process includes in-depth research that focuses on four distinctions: engaged students, great teaching, vibrant communities and successful outcomes. As a 2023-24 College of Distinction, Bridgewater has shown excellence in each of these areas. Its liberal arts environment grounds students in the skills of creative thinking, creativity and communication and prepares them to be lifelong learners. High-impact practices include performing research with faculty mentors as early as a student's first year on campus. Community engagement outside of the classroom includes May Term travel courses, internships and practicums, service-learning and other courses with experiential learning components. BC's focus on fostering connections both in and out of the classroom helps develop the whole person and provides the opportunity for growth and the discovery of interests and passions.
In addition to being honored as a 2023-24 College of Distinction, Bridgewater College received special recognition for its business and teacher education programs. The accolades recognize the interdisciplinary nature of both programs, which incorporate real-word, practical experiences for students that prepare them to be career-ready at graduation.
"I'm delighted to have the hard work of our faculty, students and varied partners rewarded by this recognition," said Dr. Barbara Long, dean of the School of Professional Studies which houses both programs. "Our success does not occur in a vacuum, nor can it happen solely in the classroom. Core to our programs is a commitment to real-world experiences with partners around the commonwealth and beyond. Collectively, their work results in graduates who are ready to face the challenges of a complex society."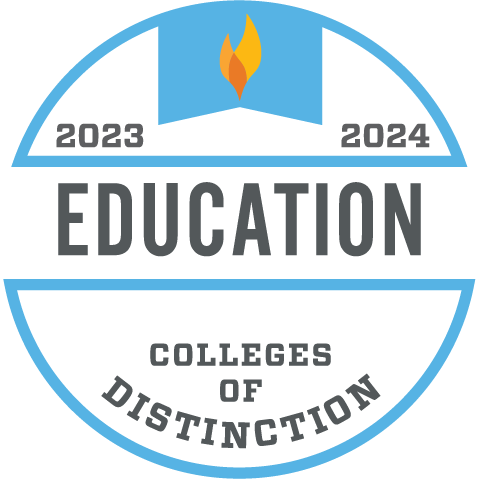 The College's teacher education program (TEP) prepares teachers who are fully educated in the arts and sciences, have depth of knowledge in a major discipline, model effective communication skills, understand and use technology and research to enhance learning and are committed to lifelong learning. To earn the distinction for its teacher education program, Bridgewater demonstrated markers of excellence in accreditation, practical experience, subject specialization, dedicated advising, high-impact practices and industry connections.
Teacher candidates spend more than 150 hours in P-12 classrooms prior to their semester of student teaching. Student-teaching placements are a semester-long final field experience involving instructional planning, observation and teaching. Bridgewater TEP graduates are part of a large alumni network that includes teachers honored at the state, regional and national level.
Bridgewater's teacher education program is fully accredited by the Council for Accreditation of Educator Preparation (CAEP). Additionally, CAEP awarded BC's teacher education program the Frank Murray Leadership Award in fall 2021 for its commitment to leadership and continuous improvement.
Business administration remains one of the most popular undergraduate majors at BC and was the top major among the Class of 2022. To earn the distinction in business, the College's Department of Economics and Business Administration demonstrated indicators of excellence in multidisciplinary disciplines (business administration majors may choose from several concentrations to add depth and expertise to their area of choice); practical experience through internships; collaborative learning from working alongside peers on real-world projects; dedicated student advising; high-impact practices including undergraduate research with faculty members, internships and capstone projects; and strong industry connections, especially with BC alumni, that lead to internships, networking opportunities and job placements.
The College continues to add new programs and concentrations that enhance a student's skill set. Starting in fall 2023, the Department of Economics and Business Administration is offering a minor in certified financial planning (CFP), which is one of the fastest-growing business careers in the U.S. job market. The coursework allows students to build the necessary financial planning skills and helps them meet the education requirements to pass the Certified Financial Planning exam. The minor is open to students from all majors who meet program prerequisite requirements.
Media Contact:
Jessica Luck
Editor and Director of Media Relations
jluck@bridgewater.edu
(540) 828-5720