As a high school student in Puerto Rico, Vimari Colón-León first dreamed of becoming a professor. Now an Assistant Professor of Music at Bridgewater College, Colón-León spent the summer teaching Music in Latin America remotely from her childhood home.
The Music in Latin America course uses music as a lens to learn about Latin American cultures, covering an overview of traditions in all areas of Latin America as well as popular music and folk music. Originally intended to be a hybrid online/in-person class, Colón-León asked her students if they'd be open to taking the course completely online while she taught from Puerto Rico this summer. All agreed—bringing a whole new world to them right from their laptops.
"What made it special was that I was able to teach from my parents' house, the place where I started dreaming of becoming a professor," Colón-León said. "It was just a full-circle moment."
Because Colón-León was in Puerto Rico, she was able to incorporate real examples of culture and music into her class lessons, including a traditional Puerto Rican dance and musical style known as bomba. Colón-León modeled a traditional bomba dress and played a bomba drum for students.
"I think it made it more authentic because during my presentations I was able to include some pictures that I was taking at that moment and share with them experiences that I was having day by day," she said. "I always talk about this stuff, but by being there I was able to show them. Whenever you can do that, it creates a bigger impression on students."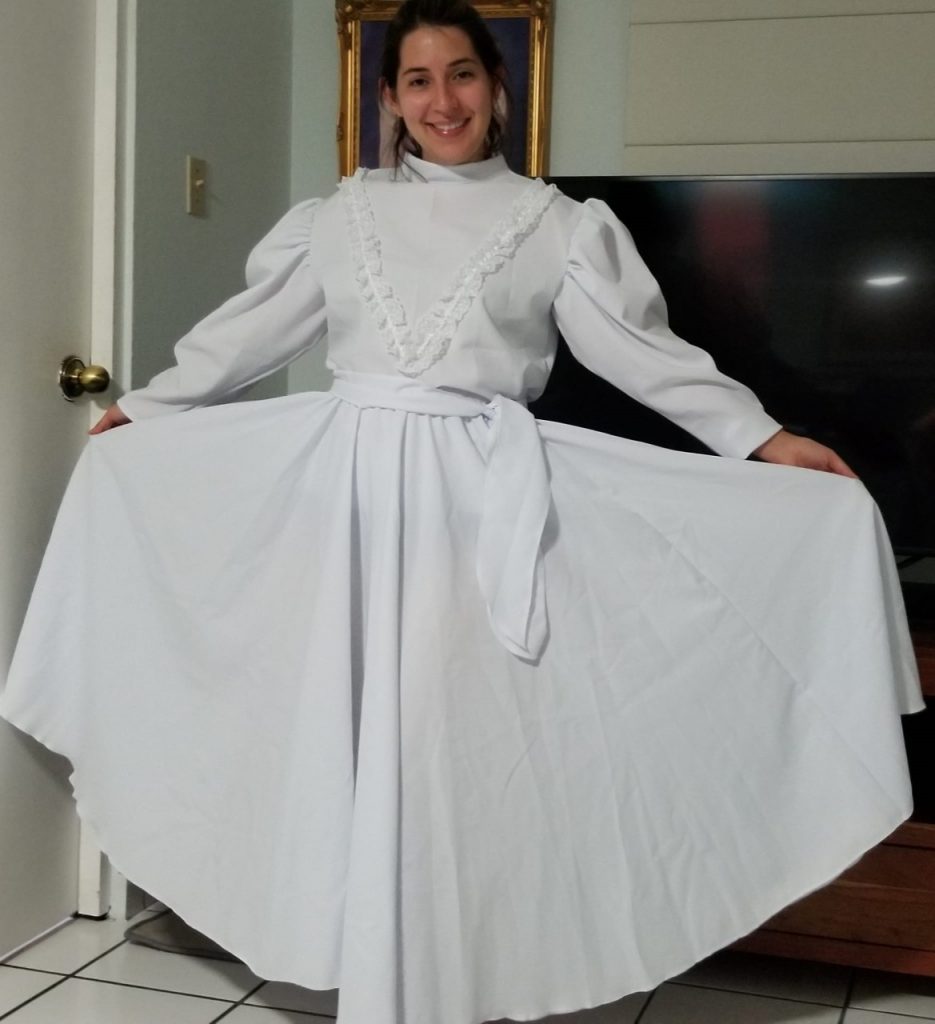 Business administration major Brooks Lawing '24 said his favorite part about the class being taught online from Puerto Rico was watching Colón-León play different instruments.
"One thing I will take away from this class is having passion when you speak about what you love," Lawing said. "Dr. Colón-León has such a love for music and culture that as a student you felt the importance of every country she spoke about and why what they contributed to music is important."
Colón-León said her favorite part of the Music in Latin America course is that students come into it thinking they're only going to learn about music but end up being exposed to much more about Latin America and connecting to the material in ways they didn't imagine.
In the future, Colón-León said she'd be open to teaching the class remotely again but also dreams of one day hosting the class during May Term and taking students to Puerto Rico for an immersive experience.
"I'm very thankful for the opportunity to teach this class and for the flexibility I have here at Bridgewater to teach in different areas," she said. "Since I started teaching this course, I really found my passion, and now everything I do is in the area of world music and diversity." 
Media Contact:
Logan Bogert
lbogert@bridgewater.edu
(540) 828-5486