While most people retreated to their homes with air conditioning on the hottest days of the summer, Bridgewater College student Trevor Brooks '23 fanned out across the towns of Bridgewater and Harrisonburg, Va., ready to take part in some citizen science.
Equipped with specially designed thermal sensors that hook onto the passenger window of his car, Brooks and a group of volunteer "community scientists" drove the same route three times a day during the hottest time of the summer to record air temperatures and humidity.
The heat assessment project, dubbed Heat Watch, is a statewide heat-mapping effort led by the Virginia Foundation for Independent Colleges (VFIC) to better understand where residents are most at-risk during extreme heat waves.
Through Heat Watch, students, faculty and community volunteers from more than a dozen colleges and universities across Virginia collected data this summer. The results of the project, expected to be completed this fall, will include maps of air temperature and heat index, datasets of participant observations and a final report for each locality with methods, results and interpretations.
"Heat Watch is this overarching collection of temperatures and measuring the urban heat island effect—the idea that man-made materials like asphalt and concrete trap and absorb heat more than greenspaces—leading to this effect where urban cities have a high concentration of heat and your rural areas don't," said Brooks, an environmental science and political science double major.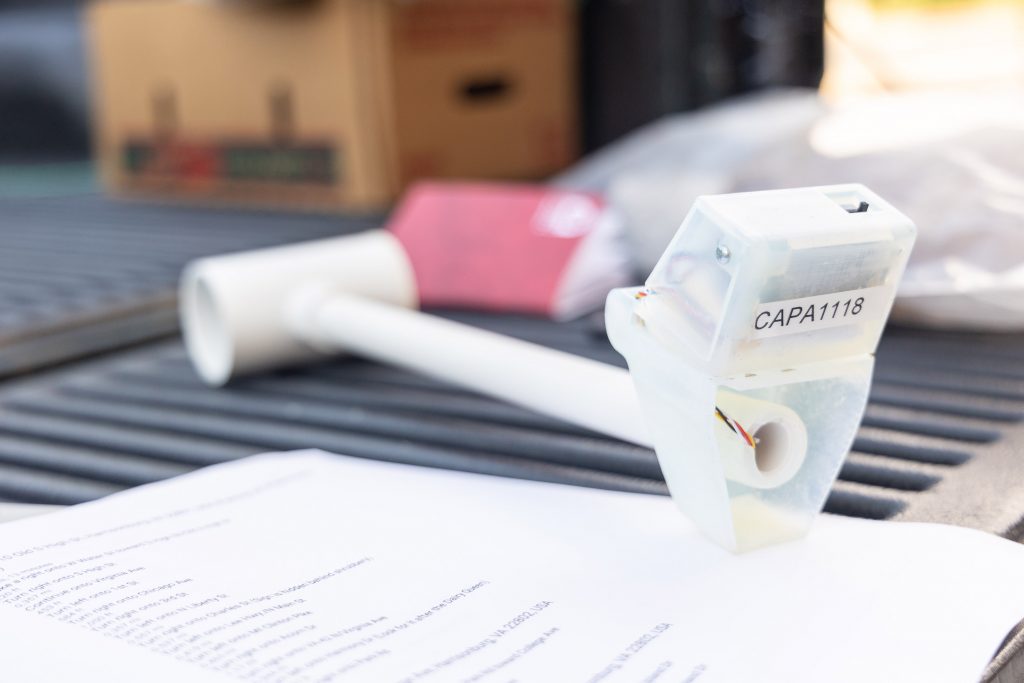 Data generated by the project will tie into many existing programs and initiatives in the commonwealth such as public health, energy efficiency, emergency preparedness, land use planning, and equity and social justice. Brooks hopes to use his summer research project to help local leaders in Bridgewater and Harrisonburg with city planning.
"We tend to see disparities between lower and higher socioeconomic communities," Brooks said. "Harrisonburg and Bridgewater are both areas that are heavily developing still. We're planning to work with these local leaders to plan the city better so it can be more equitable and healthier for our citizens."
"Unlike places like Richmond where most of the city is already built, we have this unique opportunity to implement possible remedies. We're hoping that this data will let us see the disparities we already have, fix them, and, as we expand, stop them before it's even a problem," he added.
Heat Watch project partners include CAPA Strategies, Capital One, the Science Museum of Virginia and the Virginia Department of Forestry. The Research Experience @ Bridgewater (TREB), a donor-funded initiative providing support for teams of Bridgewater faculty and undergraduate students to spend the summer in collaborative and creative research, also provided funding for Brooks' research project.
"This is definitely a unique experience and not your typical summer research project," Brooks said. "Sometimes it can be hard in the classroom to place what you're doing in the real world, but when you get out and do research you can see the data and what you've done to help your community."
Learn more about Heat Watch and TREB.
---
Research project connections continue to grow
Along with the Heat Watch project, Brooks is working under the guidance of Associate Professor of Biology Dr. Tim Kreps and Assistant Professor of English Dr. Sam Hamilton to secure grant funding for an educational pavilion for the Bridgewater Food Pantry Garden. His work with both professors is part of his TREB-funded summer research project.
Located at the Bridgewater Church of the Brethren, the food pantry was organized in 1983 by churches in the Bridgewater area. A series of TREB-funded projects since 2017 has resulted in collaboration between Bridgewater College students, the Bridgewater Church of the Brethren and the local community.
In 2017, Bridgewater alumna Clara Metzler '18 assessed the community food need in Rockingham County, Va., with Senior Instructor of Sociology Skip Burzumato. That project's findings planted the idea the following year for Sydney McTigue '19, who oversaw the creation of a community garden at the church. Lauren Buckhout '20 then designed an educational program on food insecurity for children who attend the Bridgewater Child Care Center.
Brooks is working on the next stage of the project by preparing a grant submission to fund the construction of a learning pavilion.
"The idea is really to get community involvement for our students and really engage with our community while educating people on environmental agriculture. What we need is a central place to do this," Brooks said.
The grant application will be submitted this spring.
Media Contact:
Logan Bogert
lbogert@bridgewater.edu