Dr. Manuela Gabriel describes herself as a "bridge-maker" since birth. The daughter of an Egyptian father and Italian mother, she learned from an early age to navigate between two very different cultures within her family and among friends.
As Bridgewater's new Associate Dean of Students for Diversity and Inclusion, Gabriel strives to build bridges across the broad range of backgrounds and perspectives within the campus community. Her primary responsibilities include providing vision and direction for inclusive initiatives, strategic programming, policy development as well as diversity, equity and inclusion (DEI) training and engaging with students on issues related to diversity.
"The experience I bring to Bridgewater College definitely started from my birth because I was raised in a biracial, bicultural family," says Gabriel, who moved to the area from California with her husband, Francisco, and daughter, Isabella. "I have always been involved in different cultures, language traditions and communication styles."
A CITIZEN OF THE WORLD
Born in Egypt, Gabriel moved with her family to Italy when she was 6 years old. A self-described "globetrotter," Gabriel moved to Québec, Canada, for her undergraduate and master's degrees. Plans for a short-term study abroad experience in Spain during graduate school turned into a five-year pursuit for her doctorate.
Gabriel earned a Ph.D. in international and intercultural studies from University of Deusto (Spain), an M.A. in intercultural mediation from University of Sherbrooke (Canada) and a B.A. in modern languages from Bishop's University (Canada). Licensed as a qualified administrator to use the Intercultural Development Inventory, Gabriel speaks four languages: English, French, Italian and Spanish. She also can understand and speak a little Arabic—her father's first language.
Always interested in understanding how people from different cultures and backgrounds work together and how to interact successfully with those from different cultures, Gabriel is actively involved in research on DEI best practices and innovative strategies. She was drawn to Bridgewater's small, close-knit community.
"I believe I can really make a difference here, and actually see the direct impact of DEI work by enhancing a culture of equity and inclusion that will prepare our students with the necessary skills they will need to be leaders in our global society," Gabriel says.
BUILDING INTERCULTURAL COMPETENCY
Gabriel's background helped cultivate her experience in diversity and inclusion issues. Growing up, she recalls people frequently asking about her family's life: what languages they spoke at home, their values or what kind of foods they ate. She is passionate about helping people from different backgrounds better understand each other through the development of intercultural competence to be able to shift cultural perspectives and gain skills in how to appropriately adapt to cultural differences and commonalities.
"In order to work effectively and communicate with people from different cultures, we need intercultural skills to help us understand each other, have empathy for one another and adapt ourselves to different situations and different ways of doing things," Gabriel says.
A unique qualification Gabriel brings to the role is a deep understanding of the role DEI plays in student retention. Research shows that students are more likely to stay enrolled at institutions and persist to graduation when they feel a sense of belonging.
"We can create our diversity in terms of numbers, but if we are not creating spaces where people can really feel they belong, then there's no inclusion," says Gabriel, who serves as chair of the Intercultural Advisory Council and oversees the student peer mentorship program, Eagle Success. "Diversity cannot stand on its own—we need diversity, equity and inclusion. If we are not creating an inclusive and equitable campus environment and workplace, then it can have a negative impact, especially in the retention of historically underrepresented populations."
Dr. Leslie Frere, Vice President for Student Life and Dean of Students, says DEI efforts are critical at a place like Bridgewater, where connections and community are an integral part of the mission.
"We want everyone to feel like part of the Bridgewater family, and that means helping students, faculty and staff understand and appreciate our differences," Frere says. "Manuela brings a wealth of experience with diverse populations and inclusion work, and she offers the added benefit of a strong foundation in retention work. With her expertise, we have the opportunity for a more cohesive, strategic approach to our DEI initiatives on campus."
DIVERSITY BEYOND NUMBERS
At Bridgewater, Gabriel strives to move conversations about diversity beyond a focus on numbers and percentages. Instead, she wants to help students, faculty and staff understand the importance of inclusion in the broader spectrum.
"It's about recognizing and understanding identity from an intersectional perspective and being willing to consider factors such as race and ethnicity, mental and physical abilities, gender, sexual orientation, socioeconomic background and multiple axes of identities," Gabriel says. "I would like to shift the conversation from simply increasing our diversity numbers—which is one of our goals—but also making sure that we are building an inclusive and equitable workplace and campus community for students, faculty and staff."
One way that Gabriel plans to expand this focus is to engage faculty and staff in cultural self-reflection conversations and offer training on intercultural competencies. For example, a good starting point is to teach community members to recognize their unconscious biases—the attitudes, preferences and assumptions that any person holds toward another individual or group of people. These beliefs are formed from birth, outside of a person's awareness, and impact perceptions of and interactions with others.
"Diversity, equity and inclusion should be infused and embedded in every aspect of campus," Gabriel says. "DEI efforts have a starting point, but there is no ending. These efforts will be ongoing. There always will be ways that we can become more inclusive and more interculturally competent."
— By Karen Doss Bowman '91
---
ENSURING EAGLES' SUCCESS
In 2015, Bridgewater College instituted a small-scale peer mentoring program, known as Eagle Success, designed to help students who have been identified as being at-risk for a successful transition to college. The goal is to even the playing field for students who may not have all of the tools and experience other students have when entering college, by providing mentoring and programs designed to facilitate a successful transition and foundation to thrive on campus. Funding from the Jessie Ball duPont Fund has strengthened the program and allowed for additional connection opportunities.
Student mentors are matched with a small group of first-year students, whom they meet with regularly to answer questions and help connect them with social and academic resources at Bridgewater.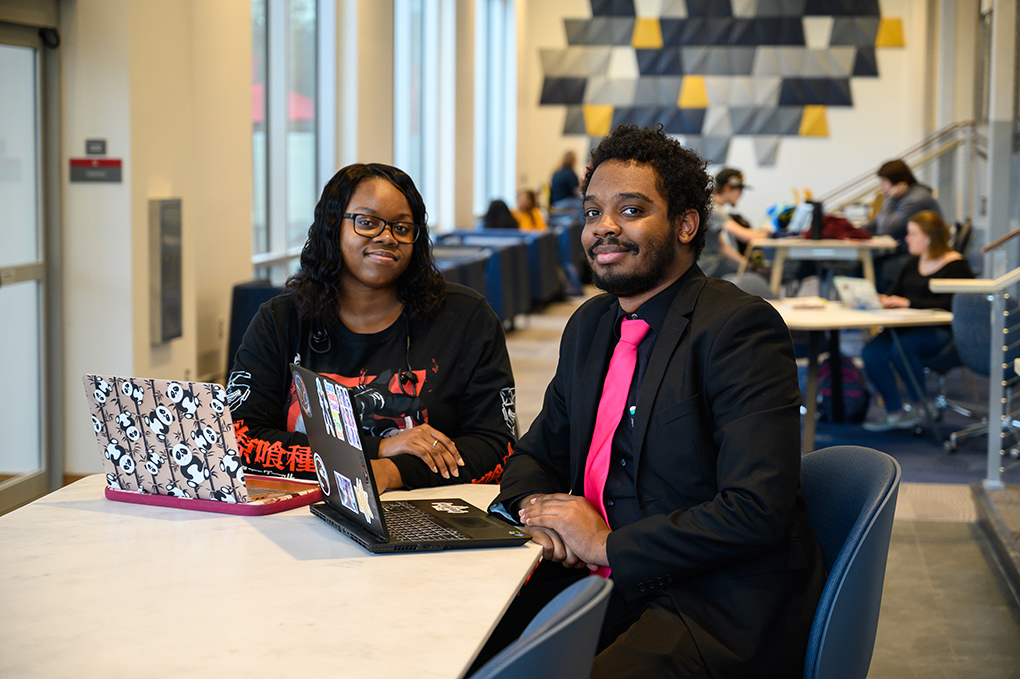 Dr. Manuela Gabriel, Associate Dean of Students for Diversity and Inclusion, says a key program component is that the mentors are diverse in terms of major, gender, sexual orientation, race and ethnicity. They serve as role models and help students build relationships.
"The biggest factor that will positively retain our students is that they are involved at the College, and they feel a sense of belonging," Gabriel says.