At the age of 10, Carl Fike's eyes were opened to the needs of others and ways to help, when he attended a dentist's presentation on a mission trip to Haiti, given at a district-wide father-and-son banquet at the Brick Church of the Brethren in Maysville, W.V.
"Fast forward 20 years, and I found myself on a mission trip in Sucre, Bolivia—my first trip of many to provide a helping hand," says Fike, a 1978 Bridgewater College graduate.
Fike worked with a building team in Bolivia to construct a Bible college and a drug and alcohol rehabilitation facility. In 1995, Fike and his wife, Suzie, helped to build an orphanage there as well. Forty children currently call Shalom Es Mi Casa home, and 85 children are served by an after-school program at Esperanza, a second facility built in 2005.
The couple is committed to a lifetime of helping children in need and are driven by "our sense of compassion for those who can't help themselves," Fike says. Hundreds of children have lived at the orphanage over the years. The after-school program provides a free meal, homework help and personal hygiene assistance and sends children home with food to share with their families.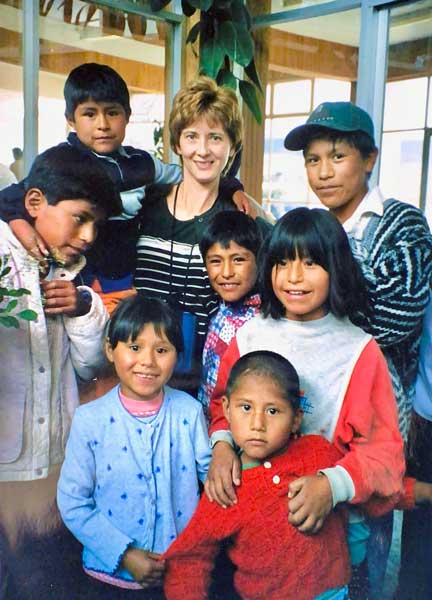 The Fikes look forward to their annual visit to Bolivia, when they spend an evening hosting previous orphanage residents along with their spouses and children.
"We are like surrogate grandparents, aunts and uncles to these children, and we stay connected with many over the years," Fike says.
Fike's parents, J.R. '59 and Elizabeth Beachy Fike '53, both attended Bridgewater, as did his brothers—Rodney '76, Andrew '84 and Matthew Fike '91—son, Jared '05, and daughter in-law, Laura Billhimer Fike '06, the 2023 Young Alumna Award recipient (see p. 36). He jokes that he "almost couldn't help attending Bridgewater College" and says his time at the College gave him a glimpse into the larger world.
Fike, a mathematics major, recalls his math professor John White's "faith in me during an impressionable time in my life when I was making mistakes and learning was so important. He saw and expected the best in me." Fike has paid that forward in his humanitarian aid work alongside his wife and in his role as pastor at Oak Park Church of the Brethren in Oakland, Md., where he has served since 2012. He has also remained connected to the College throughout the years and says it's been an honor to serve on the Board of Trustees, now as a life trustee.
"When God called out to Abraham and blessed him, he was charged with passing those blessings along," Fike says. "Likewise, the blessings we enjoy are not completely fulfilled until we pass them along to others who are less fortunate than us."
By Kylie Lehman Mohler '03