Partners. Best friends. Heroes.
Campus Police Officer John Painter and Campus Safety Officer Vashon "J.J." Jefferson will forever be known as the men who sacrificed their lives to protect others at Bridgewater College. The legacy the two officers leave behind is undoubtedly one of honor, bravery and heroism, but also one of love: of the community they served, the communities in which they lived, family and friends they cherished and, of course, each other.
At Bridgewater, each police officer is paired with a campus safety officer on every shift. The college has officers on duty 24/7. The roles of a campus safety officer and campus police officer are virtually the same with a few exceptions: Campus safety officers focus on the safety and security of campus, like unlocking and locking buildings, while police officers concentrate on law enforcement duties such as taking reports and performing investigations. But being a member of Campus Police and Safety is not just about keeping the community safe; it's about engaging with others and building relationships. Serving as role models and helping students make good decisions both on campus and beyond. Community policing at the highest level.
Painter and Jefferson embraced their roles and were often seen talking and laughing with students and taking time out of their day to visit different offices on campus. They wouldn't just help a student fix a flat tire; they would stay an extra 30 minutes to explain car maintenance and care. Students would seek the officers out at tailgating events just to catch up and would often eat lunch with them in the Kline Campus Center.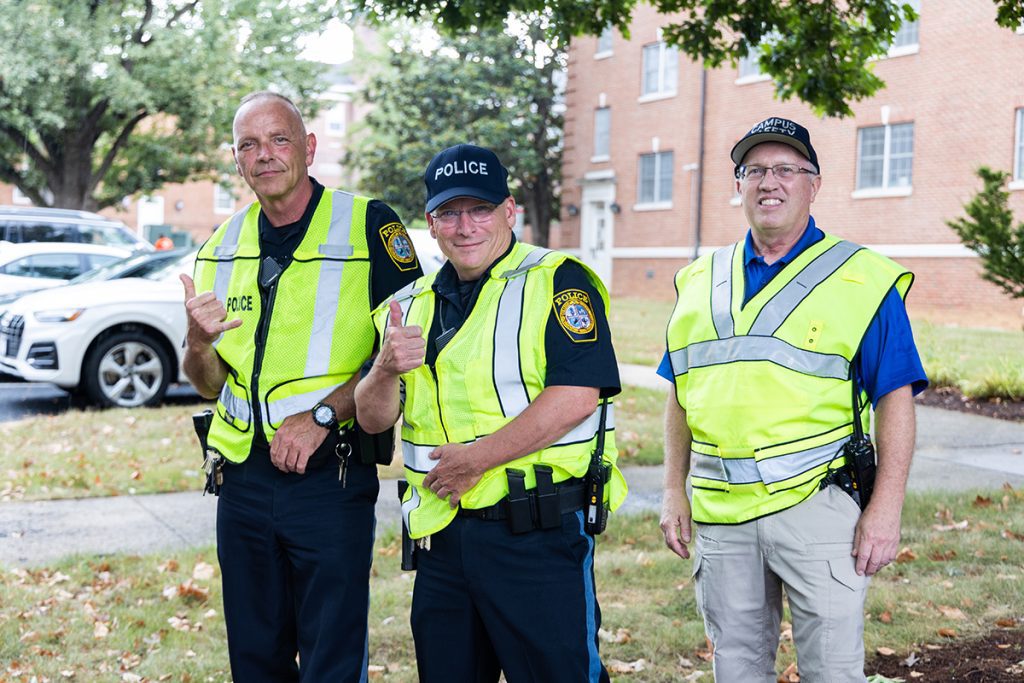 At Christmastime, several boxes of homemade cookies from students would be delivered to the campus police department with tags for Jefferson and Painter. Often, students would stop by the police department just to talk with them. They would sit on the couches in the back room, sharing stories—and no doubt many jokes—with the pair.
"They just loved engaging with students," says Campus Police Officer Thomas Holsinger.
Painter and Jefferson have often been referred to as the "dynamic duo," but Bridgewater College Police Chief Milton Franklin says they were more like "the Odd Couple." Painter was known to be a little more serious, even a little grumpy at times. Jefferson was outgoing and bubbly. When they first became partners working the night shift in 2019, Lt. Rick Biller says he was unsure how the two would get along. A month in, Painter said about Jefferson, "I love him; he's great!" It was a match made in heaven.
Vashon A. "J.J." Jefferson, 48, joined Bridgewater College in August 2018. His law enforcement career began in 1997 as a patrol officer with the Fairfax County Sheriff's Office before serving as a National Reconnaissance Officer in Chantilly, Va., from 1999-2011. Prior to joining BC, Jefferson served as a sergeant with the Shenandoah University Department of Public Safety. During his time at SU, his personable and proactive security initiatives led to him receiving the James R. and Mary B. Wilkins Appreciation Award in 2017. Jefferson was a Marine Corps veteran.
Jefferson is remembered for his character and strength while playing football for the Fauquier High School Falcons in Warrenton, Va. His record for squat lifts in the weight room still stands at 825 pounds. He went on to play football at West Virginia University and was a Mountaineers fan. His other beloved sports team was the Dallas Cowboys.
He is survived by his mother, Willie B. Brown Jefferson; wife, Shannon Oates Jefferson; sister, LaTonya Brown; uncle, Bobby Brown; in-laws, Kenny and Mary "Katie" Oates; brothers-in-law, James Oates and wife, Kristina, and John Oates and wife, Shayla; and nephews, Thomas and Gabriel Oates. He was preceded in death by his father, Willie F. Jefferson.
John Elwood Painter, 55, joined the Bridgewater College Police Department in May 2019. His law enforcement career began in 1989 as a deputy sheriff in King George, Va. Prior to joining BC, Painter retired as chief of the Grottoes Police Department in 2018 after 18 years. He worked as both a police officer and sergeant within the Grottoes Police Department. He served in the U.S. Air Force from 1985-1988 and as an intelligence analyst in the U.S. Army National Guard from 1999-2000.
Painter was a loving family man with a great loyalty to his friends and community. He was an avid outdoorsman who loved to hunt and fish. And he adored his dogs, Mercury and Bella.
He is survived by his daughter, Courtney Painter; father and mother, Willie Elwood and Roswita Ottilie "Rosie" Eppers Painter; brother, Andreas "Andy" Painter and wife, Marnie; sister, Sandra Fisher; granddaughter, Ava Grace Brooks; grandson, Aiden James Patterson; and former spouse, Jessica Harman Painter. Also surviving are two nephews, Jacob Painter and Austin Painter; two nieces, Savannah Clark and Kaitlyn Painter; uncles, Garfield Painter and wife, Janice, Earl Painter and wife, Linda, and Warren Painter; aunts, Carole Painter, Connie Painter and Nannie Mae Painter; numerous cousins, including close cousins, Dwayne and Morgan Painter, as well as many extended family members and friends.
Painter, who served as police chief for the Town of Grottoes for 18 years, was organized and meticulous; he liked things just so. Both he and Jefferson played large roles in planning the fall 2021 police department open house that welcomed hundreds of students. Painter was also tenacious. He loved animals, and one day he decided he wanted to feed the squirrels in the trees behind the department. He spent months patiently gaining their trust before they ate peanuts right out of his hand.
Jefferson, who was a sergeant with the Shenandoah University Department of Public Safety before joining Bridgewater, was a big fan of two things: the Dallas Cowboys football team and Days of Our Lives soap opera. While doing work at his desk, he would often have the soap opera playing in the background. Holsinger says he would unabashedly share details of the plotline onscreen and the backgrounds of the characters.
One thing Painter and Jefferson had in common was a deep love of their family and friends. Their activities during their time off revolved around being with their loved ones. During hunting season, it was a good bet that Painter could be found outdoors, hunting for deer and other animals with his brother and friends. Sundays were reserved for family dinners.
Jefferson was often cooking something—most likely on the grill. Burgers, steaks and ribs all had starring roles at his cookouts, especially at the campus police department. He and his wife, Shannon, married in summer 2021 after being together for 11 years. The wedding was Old West themed. Jefferson, Painter and Campus Police Officer Kelly Zander all shared a love of watching Westerns, and the three dressed in matching black cowboy hats for the wedding. Zander was a groomsman; Painter the best man.
The two also shared a love of jokes. Painter was known for his pranks. At family dinners, he was quick to make spitballs out of his straw wrapper and shoot them at his nephews. Jefferson loved giving people nicknames. When they would see a student on campus whom they had had a previous interaction with, they would tease them in a way that the student knew they cared.
"It was a joy to come to work and see them together," Franklin says. "They're a one-of-a-kind team."
After working 12-hour shifts together, Jefferson and Painter would often go home and talk on the phone for two or three more hours. When either partner was off for the day, Franklin noticed the one on duty seemed a little down. Something—someone—was missing.
"They were truly best friends, closer than many brothers by blood," Zander says. "They were constantly joking with and pranking each other. It was never a dull moment being around them."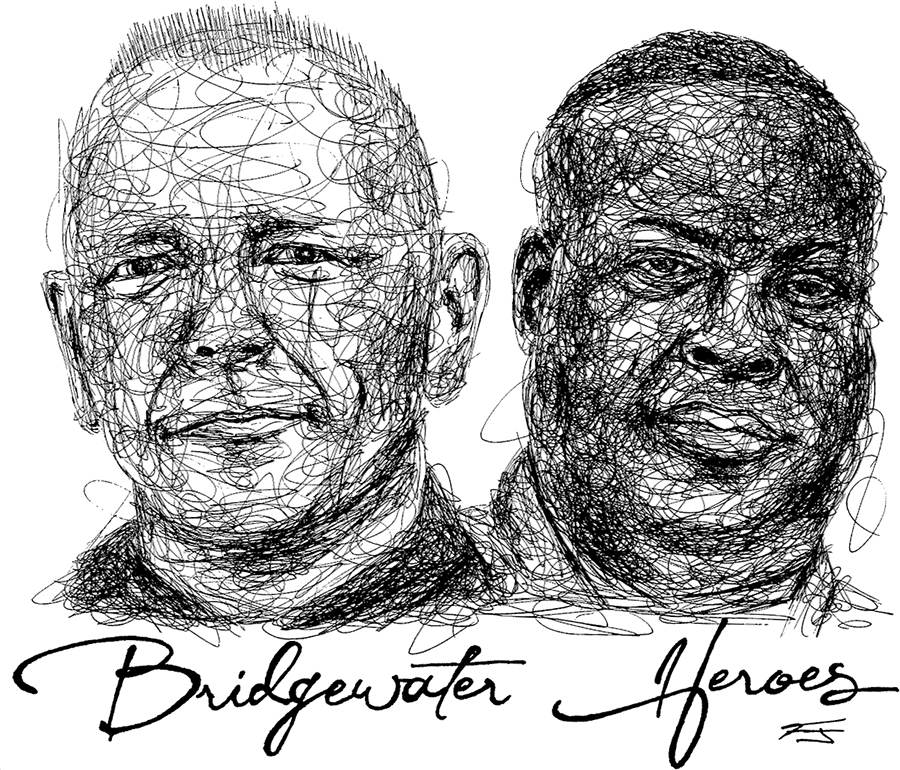 Sheepdogs are bred for one purpose: to protect livestock from predators. Their ability to guard their flock is instinctive. They blend in with their charges, keeping constant watch for intruders. Painter, a career police officer who often spoke of the importance of community engagement and a citizen-first mentality, had a sheepdog decal on the back of his truck. He was a father figure to many students on campus. Jefferson, in turn, made sure to walk KCC employees to their cars when they worked late at night.
"They would both go out of their way to help someone," Biller says.
When Zander came to work for Bridgewater in 2019, he worked the night shift for a time with Painter and Jefferson. He says the duo instantly made him feel welcome.
"We quickly became best buds and brothers," Zander says.
After moving to working days, Painter and Jefferson would often clock out after their shift and stay afterward to hang out with Zander when he arrived to work. The three would get together for meals and to celebrate birthdays. They met up to watch the Super Bowl each year.
"I knew no matter what was happening, they would have my back and be there for me," Zander says. "I miss being able to call them up and share things with them—good or bad. I miss hanging out with them; it was always positive."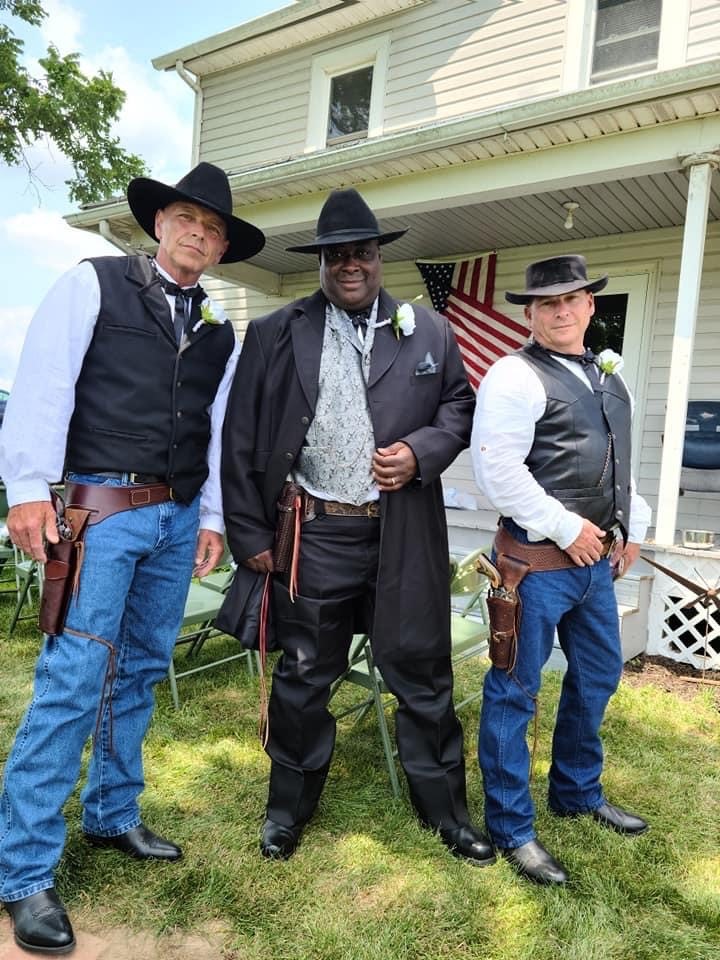 Each year, the Campus Police and Safety Department held its annual Christmas party at The Cracked Pillar Pub in town. As officers on rotating shifts, they rarely had a chance to all be together at the same time. Painter and Jefferson were always the life of the party, Holsinger says, telling jokes and making everyone laugh. It was more than just an office party; it was a family get-together.
Although the officers enjoyed celebrating the holiday with each other, exchanging gifts was not one of their traditions. This past Christmas, Biller returned to work the first day after holiday break to find a gift sitting on his desk from Painter and Jefferson.
"They were really, really thoughtful guys," Biller says. "They thought about other people more than themselves."
Jacob Painter and his brother, Austin, performed at the memorial service for Painter (their uncle) and Jefferson. They played "Knockin' on Heaven's Door" and an original song they wrote in honor of Painter, "Until We Meet Again." Jacob Painter and his uncle shared a love of music. Painter always encouraged Jacob when he was first learning to play the guitar, and once Jacob started playing with a band, Soul Cry, Painter never missed a show. He even brought Jefferson to some performances. After coming to one of Jacob's shows, Jefferson gave him his Pearl drum set.
"He was the nicest guy; it was like I knew him my whole life," Jacob Painter says of Jefferson.
Soul Cry played a benefit show for the officers' families in March at the Tempest Bar and Lounge in Staunton, Va. The band performed several originals, as well as one of Painter's favorite songs, "Gone Away."
Maybe in another life
I could find you there
Pulled away before your time
I can't deal, it's so unfair
And it feels
And it feels like
Heaven's so far away
And it feels
Yeah, it feels like
The world has grown cold
Now that you've gone away
"His purpose in life was helping people and making a difference in his community—he always cared about everybody else first," Jacob Painter says about his uncle. "Anyone willing to sacrifice their own life for other people … Like Uncle John always said, 'If you die, die living.'"
When Franklin cleaned out Painter's locker for the last time after Feb. 1, he found a Tupperware container. Inside were two homemade cinnamon rolls a Bridgewater staff member had made: one Painter had set aside for himself, and one he was saving for his partner.
"There will never be another team like that," Holsinger says. "They're irreplaceable."
---
---
---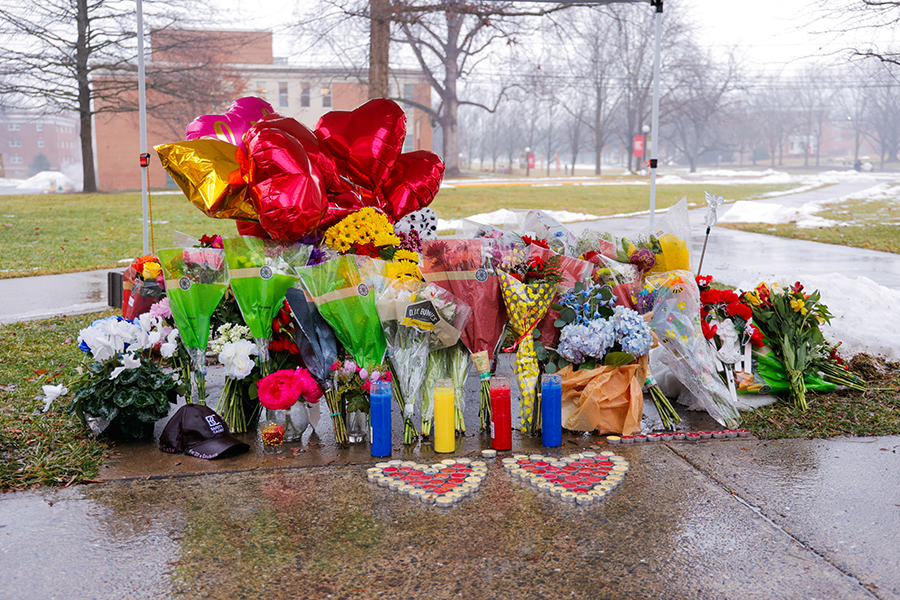 Tributes to Our Heroes
Officer Painter was the on-duty officer when I arrived at Campus Police to see if I could get a handicapped parking pass during my recovery. Officer Painter and I had never met previously, but I remember he acted more like a friend than a staff member. He made me sit down in the office and then we chatted for about 25 minutes about life.
He knew I was struggling with the injury as a student-athlete and he made sure I was taken care of, which at the time was the light at the end of the tunnel for me. He made sure that I knew I had someone who would be there in a split-second if I needed something. This memory obviously was a very small moment in his life, but I look back at it now and remember how he put me, a random student, first.
It showed his character, his willingness to stop whatever he was doing to help me, and it showed his true love for the Bridgewater community and his students.
Officer Painter and Officer Jefferson made the ultimate sacrifice and saved my best friends on Feb. 1, 2022, and for that I will forever owe them.
— Dwyer Neal '20, M'22
We all know without a doubt that Officer Painter and OSC J.J. Jefferson saved us. They went towards the danger and made the ultimate sacrifice for us all. Guilt sets in that I never thanked them before that day. They jovially joked with us daily and truly made campus a better place. While one would think they had a special connection to them, it is pretty obvious they treated us all that way. I didn't and still can't today tell them how important their impactful interactions or kindness made the biggest differences in each of our hearts. What a gift they gave us.
— Betsy Henderson, Associate Director of Financial Aid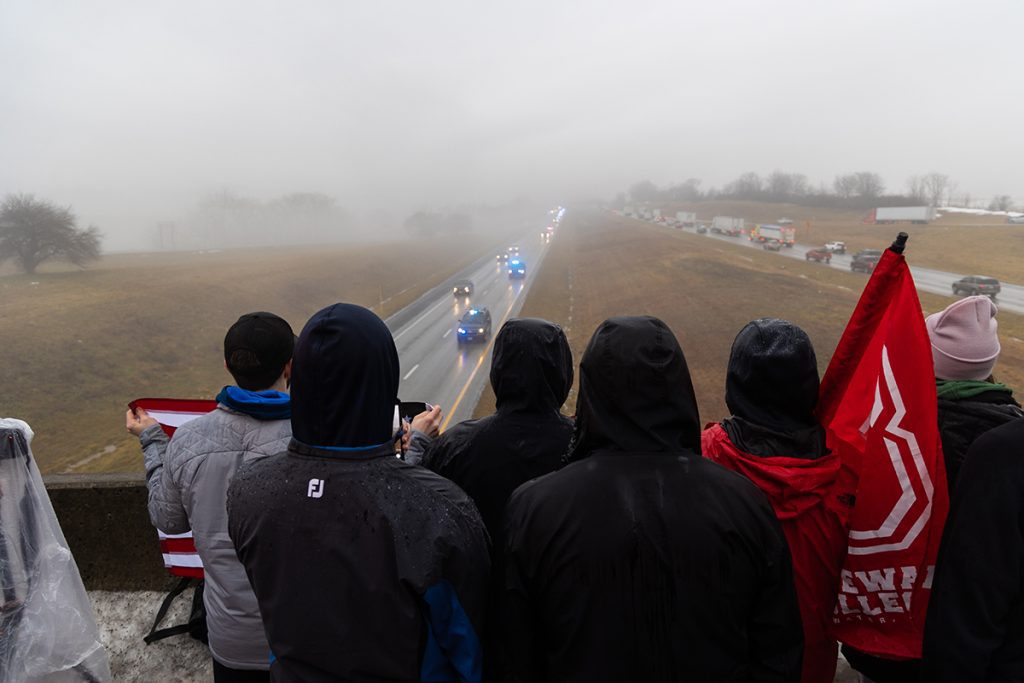 I did my senior practicum with Campus Police and Safety and spent a good amount of time with both J.J. and John.
J.J. and I shared a lot of laughs in my time with them. One day he was watching soap operas while writing a report, but he was trying to hide it. Every time Chief Franklin would walk in the room he'd freak out. We then proceeded to make fun of J.J. for being a grown man who looks all big and bad, but people didn't realize he was heavily invested in his soap operas. I would always tell him that the little transit van the campus safety officers ride in was cramping his style and, boy, did he know it.
But the jokes weren't just me harassing J.J.—he liked to make fun of me for all sorts of things. It was kind of like a brotherly bond in a way. He always gave me a fist bump when he was leaving work or saw me on campus. I will always cherish the conversations we had while doing laps around the campus for two hours.
John was way more relaxed than I first thought he would be. He and I would talk about trucks and guns, especially older antique-type guns. It was always a really good time hanging out with them—the conversations were endless. I am sad that we will never get to have the cookout that we all talked about, but we will definitely have some in their honor. They really were the best friends people made them out to be.
I hope this sheds some light on their names and shows what kind of people they were, besides obviously being heroes. As someone who was in Flory Hall when they made that sacrifice, I hope they continue to look down on all of us and protect us.
— Logan Poff '22
Your honor and bravery will not be forgotten. Thank you for serving and protecting our campus. We, as the students of Bridgewater College, will try to continue your legacy through bravery, leadership, strength and being kind to one another.
Words cannot express the sense of security Mr. Jefferson and Mr. Painter provided us with in a time of utter darkness and need. The bravery and dignity of these two saints will always be remembered by us, the community, and throughout day-to-day life from here on out. We are praying for you in such a time of need and hurt. You were true blessings and heroes to each and every one of us.
— Anonymous notes left at the Flory Hall memorial site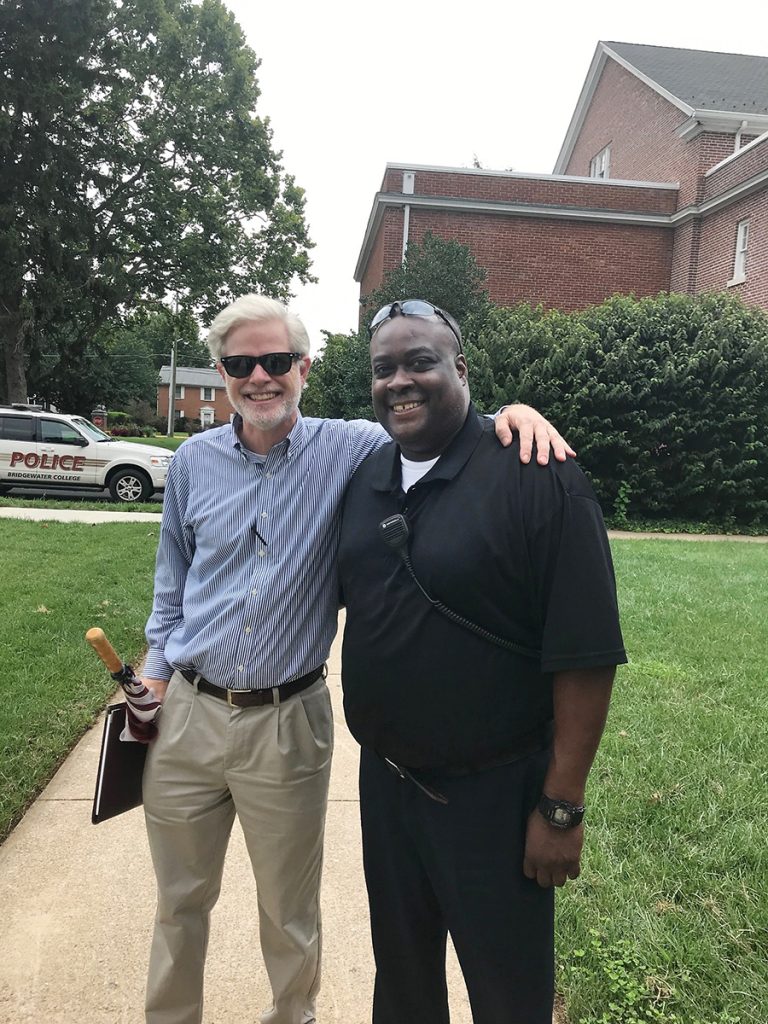 This photo was taken Aug. 21, 2018. I was glad to hear J.J. had joined Bridgewater College. I knew him by reputation from his work at Shenandoah University for supporting my daughter, Laura, in her role as an RA. He leaves a legacy of a father's gratitude and appreciation for keeping his daughter safe.
— Andrew Pearson, Director of the John Kenny Forrer Learning Commons
I was trying to learn how to longboard in the Kline Campus Center parking lot when things went south. I was going so fast down the lot that my longboard went into the rain drain. I didn't know what to do, so I called the fire department, which notified Officer Painter about the incident. Once Officer Painter arrived, he looked at me and started to laugh and asked, "How did this happen?"
The fire department couldn't get down to get my longboard, so Officer Painter allowed another fellow officer to go down to retrieve it. Afterward, we sat down and talked about each other's days; he always had the greatest jokes to share. He gave me some valuable advice on how to handle my sad days.
I saw Officers Painter and Jefferson the following week. They asked how "my situation" was going (an inside joke we had). I let them know that things were up and down but getting better. They cheered me on, told me to stay out of trouble and said they were always there if I needed cheering up.
I'm extremely grateful for the friendship I was able to have with these gentlemen. They never failed to cheer me up on my down days and were extremely supportive throughout some of my toughest experiences here. They were heroes.
— Yasmine Sebbti '22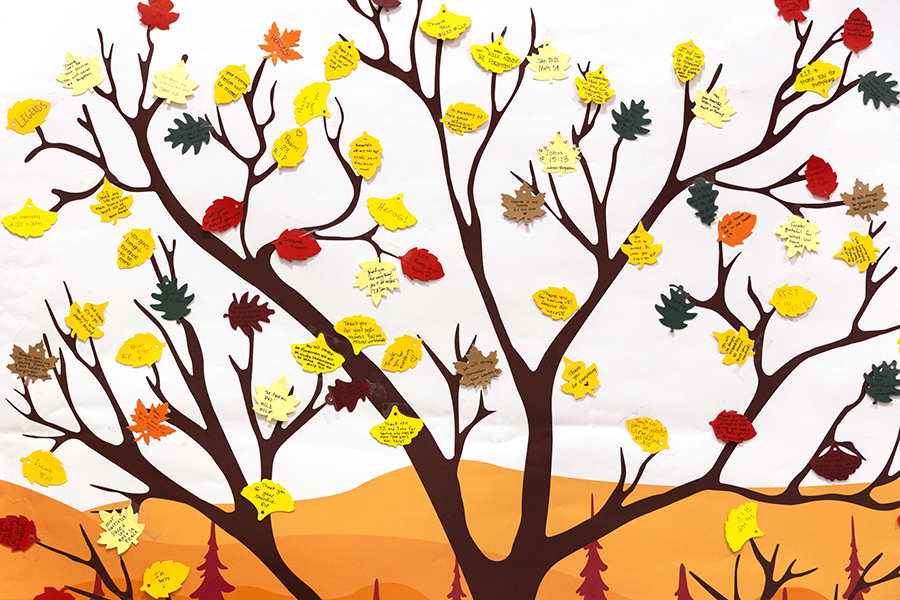 As a transfer student, I had just moved to Virginia from another state far away from my family. I was basically on my own. One day my tire popped and went flat on campus, and I didn't know what to do. Officer John Painter came up to me and asked me if I was OK and if I needed help. Being the fatherly figure he was, he took time out of his day to make sure I was able to get my car fixed. He even checked up on me a few days later to see how everything was. Although it was a small thing, it meant the world to me knowing I had someone I could go to. I miss him so much.
— Linnea Olli '23