Flory Fellows expand their horizons by participating in the Oxford Experience, during which they enroll in specialized tutorials within their academic field and work one-on-one with an Oxford University faculty member.
By Karen Doss Bowman '91
In May 2018, Joshua Wilt '19 was one of 10 students from Bridgewater's Flory Honors Program to spend the month living and studying at Oxford University, in Oxford, England. For Wilt, the "once-in-a-lifetime opportunity" to become immersed in campus life at one of the world's oldest and most prestigious universities was awe-inspiring and transformative.
"It's amazing because you're walking down many of the same paths that were once traveled by influential figures throughout history," said Wilt, an Eagles cross country and track athlete. He was excited to run on the Oxford track, where the late Olympian and neurologist Sir Roger Bannister became the first person to run the mile in fewer than four minutes in 1954. "It's fascinating to be in that environment where you have so many people from all over the world. And it's amazing to think that most of the buildings there are older than our country."
Wilt made his first trip abroad as part of the inaugural Oxford Experience, a travel course offered exclusively to Bridgewater's Flory Fellows during May Term. The six-credit-hour course (three academic credits from Bridgewater and three from Oxford) gives students the opportunity to experience Oxford's tutorial system, a method of teaching done primarily in small groups or one-on-one.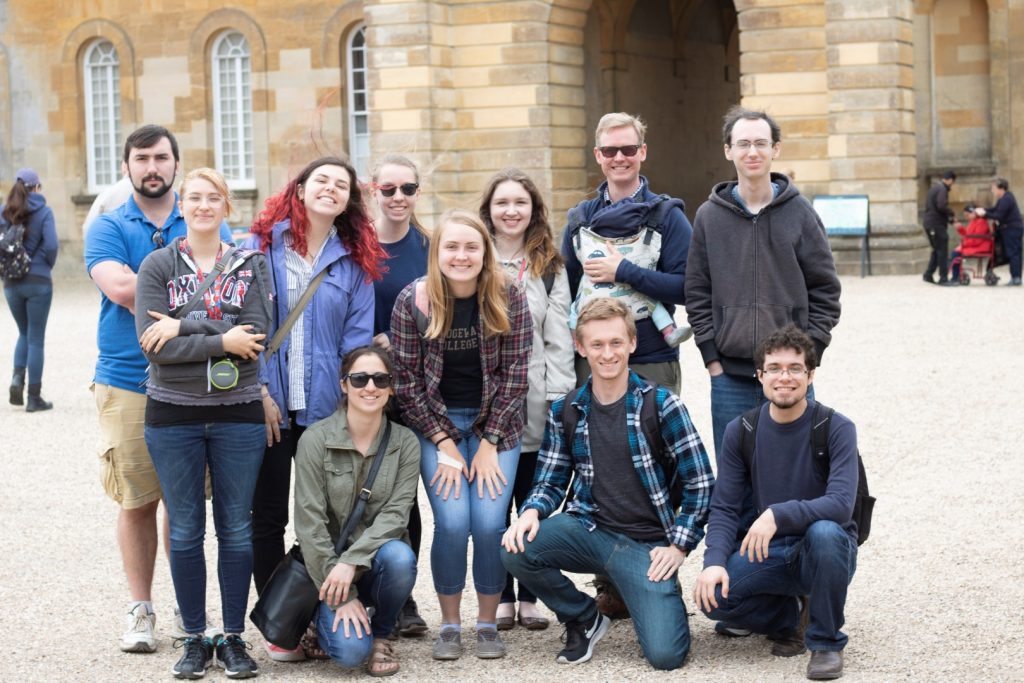 As Wilt prepares to enroll in the doctor of physical therapy program at Mary Baldwin University's Murphy Deming College of Health Sciences this fall, he said working with Professor Christopher Garland from Magdalen College's Department of Pharmacology enhanced his critical thinking and reasoning skills. These abilities will be helpful in his future career, as medical scientists' understanding of the human body is constantly changing.
"Professor Christopher Garland was able to direct our discussions in a way that the content was always related to my career goal," said Wilt, a health and exercise science major from Fishersville, Va. "He is great at figuring out where there were gaps in my understanding. Sometimes he offered an explanation to help connect the dots, and sometimes he sent me off with the assignment of finding those answers myself and explaining them in an essay. Our next meeting would then start by expanding further on those answers, then tying them into the next topic of discussion. The style of instruction was fascinating; we were able to fit a surprising amount of material into one month of studying."
Flory Honors Program Director Dr. Brandon Marsh, department chair and Associate Professor of History, launched the course to build up the honors community and to add value to the students' academic experience. He accompanied the students to England and taught Modern British History through the Eyes of the University, an honors course that all of the Flory Fellows took. Each student also enrolled in specialized tutorials within their academic field and worked one-on-one with an Oxford faculty member.
"The idea was to offer a unique, long-term honors experience that could broaden the students' horizons—especially those who have never been abroad," said Marsh. "We wanted to provide the students an immersive experience where they could learn about a new culture and challenge themselves with this rigorous Oxford tutorial system. They made connections with faculty who are at the top of their fields at one of the best universities in the world. … This program offers a nice way to encourage the students to investigate and enhance their long-term personal and professional goals."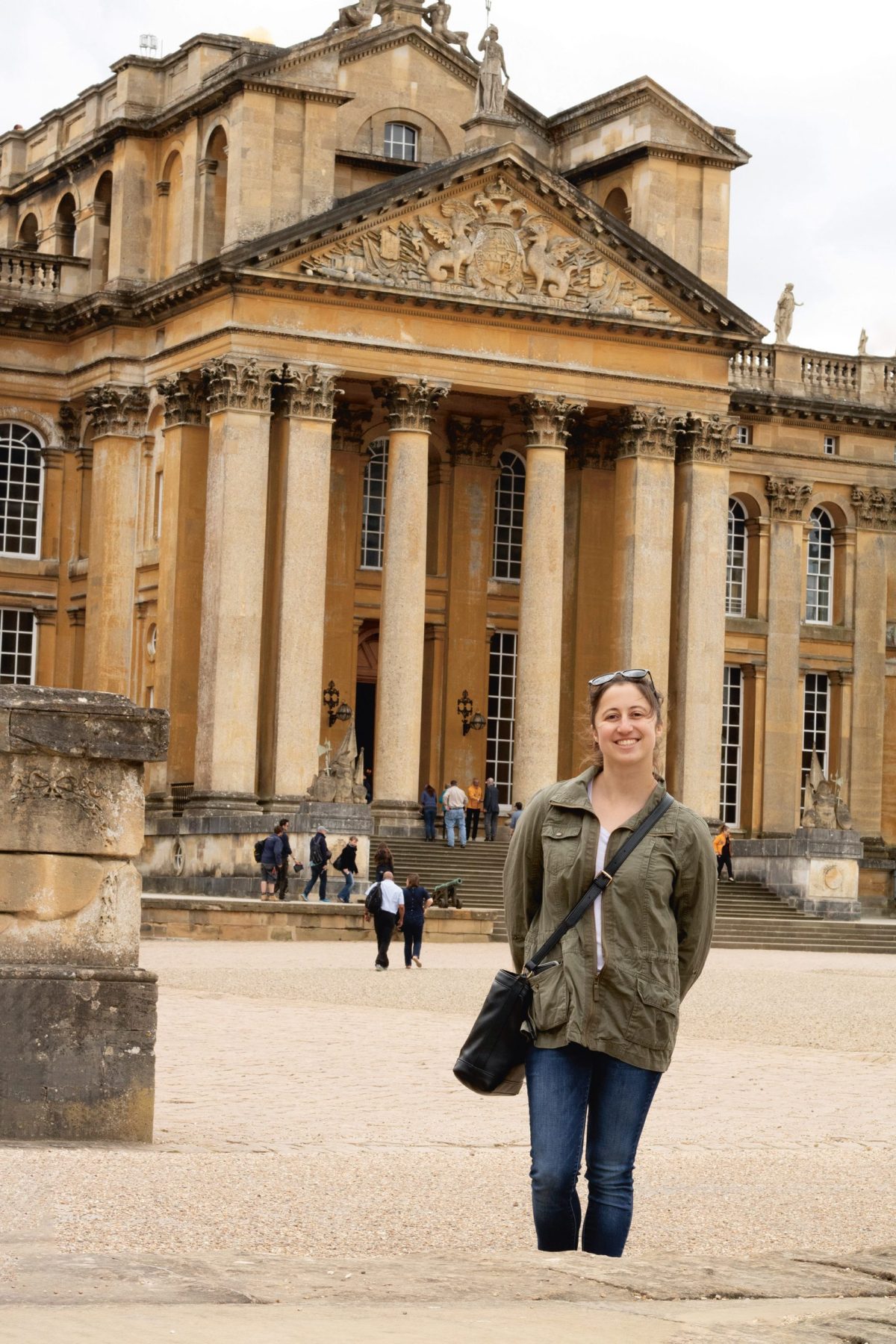 Jenna Walmer '19, a global studies major with a concentration in German studies, has focused much of her undergraduate research on the Holocaust and genocide, with a particular interest in sexual violence during armed conflict. The Oxford Experience gave her the opportunity to study under Oxford professor Zoë Waxman, one of the world's leading Holocaust historians.
"I do not have the words to describe what it was like to work with a renowned scholar in the field of women's studies during the Holocaust," said Walmer, a Lancaster, Pa., native who also studied abroad for a semester in Marburg, Germany. "Her expertise was very helpful in improving my writing skills and thinking critically about the topics for the week."
Walmer, who starts graduate school this fall at West Chester University of Pennsylvania to pursue a master's degree in Holocaust and genocide studies, is passionate about serving those who are less fortunate and helping to break cycles of poverty, lack of education and conflict. She noticed a stark contrast between Oxford's prestigious environment and the surrounding areas populated with poor and homeless people.
"At Oxford, every day we would walk by a handful of homeless people asking for spare change," said Walmer, who ultimately hopes to pursue a doctorate in Holocaust/genocide studies or peace studies. "I did not expect to see that much disparity in such a renowned place. We had a handful of discussions about the culture of Oxford and its prestige connected to the types of people who study there. With learning about the culture and elitism, my social justice interests include wanting to expand opportunities of elite institutions to those who are not as fortunate as the people who typically get accepted to places like Oxford."
Marsh hopes that every Honors Program student at Bridgewater will participate in the Oxford Experience, which is subsidized through the support of generous donors. After this spring, the course will be offered every other year.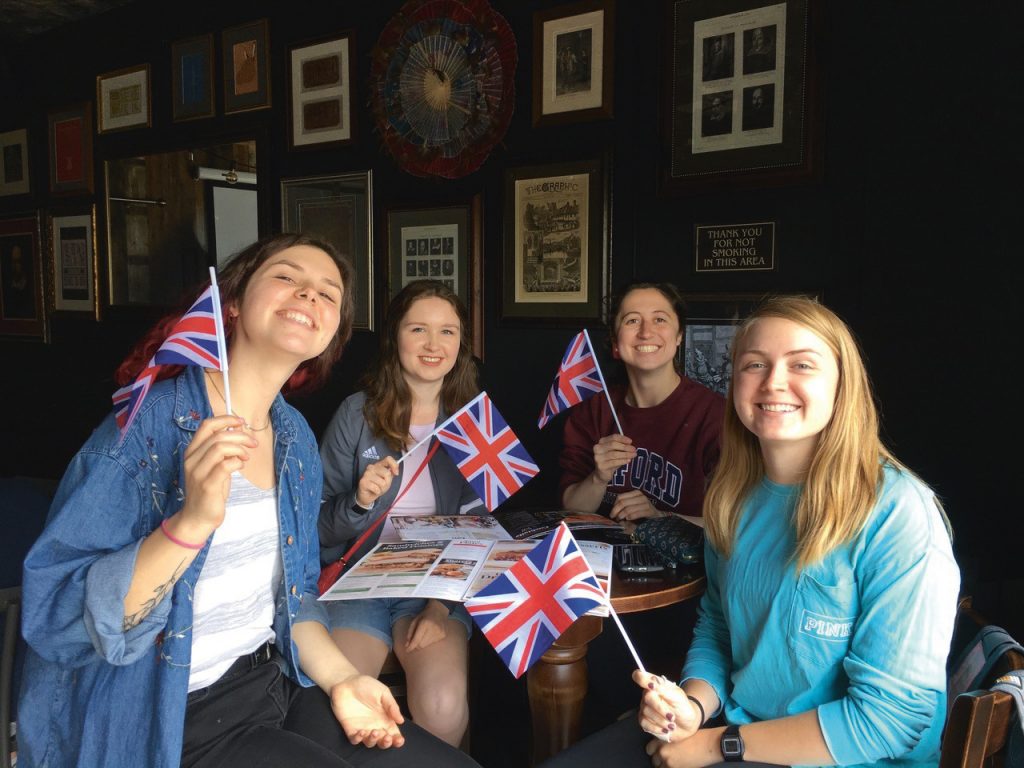 While the students' academic work was a critical component of the experience, Marsh also led them on a number of weekend excursions for a taste of British history and culture, including visits to Blenheim Palace, the birthplace of Winston Churchill; Windsor Castle; and the Imperial War Museum in London. And as millions of people across the globe tuned in to watch the wedding of Prince Harry and Meghan Markle on May 19, 2018, Marsh and the Flory Fellows gathered in a pub near Stratford-upon-Avon (the birthplace of British playwright William Shakespeare) to witness the ceremony with locals.
Even using Oxford's Bodleian Library, which Marsh describes as "extraordinarily arcane and Byzantine," was an adventure. Students had to go through an orientation session before using the facility where they had to pledge, among other things, not to bring in open flames.
"Oxford is such a tradition-bound, confusing place in a lot of ways, so it was great to see them really immerse themselves in the culture, get out of their shells and get as much as they could out of the experience in this elite atmosphere," Marsh said.