The pathways to healing after a collective trauma are numerous, but the outpouring of support that has embraced Bridgewater's campus since Feb. 1 provides a caring environment in which to move forward in time. On-campus resources and events have provided spaces for students, faculty and staff to connect with each other and process their grief. And the support from local businesses, area police departments, alumni and friends of the College has been abundant in the form of flowers, cards, care baskets and more.
"It has been a community—a broad community who has been holding our community as we collectively are grieving the tragedy," says Dr. Barbara Long, Dean of the School of Professional Studies at Bridgewater College. "And in that community, every single person has been involved and caring for each other."
Within a matter of hours after the deaths of Campus Police Officer John Painter and Campus Safety Officer J.J. Jefferson, approximately 15 mental health experts from the surrounding area answered the call for help from Bridgewater's Student Life team and made themselves available to any member of the BC community who wished to speak with them. These mental health professionals, along with Bridgewater College's counseling staff, were present at gatherings and memorials in the weeks after, ready to help the BC community process the unthinkable events that happened on campus.
In the days and weeks afterward, the College's Human Resources Office provided resources and counseling sessions to faculty and staff, and Long organized multiple counseling workshops for both faculty and staff. Sessions focused on caring for oneself and each other.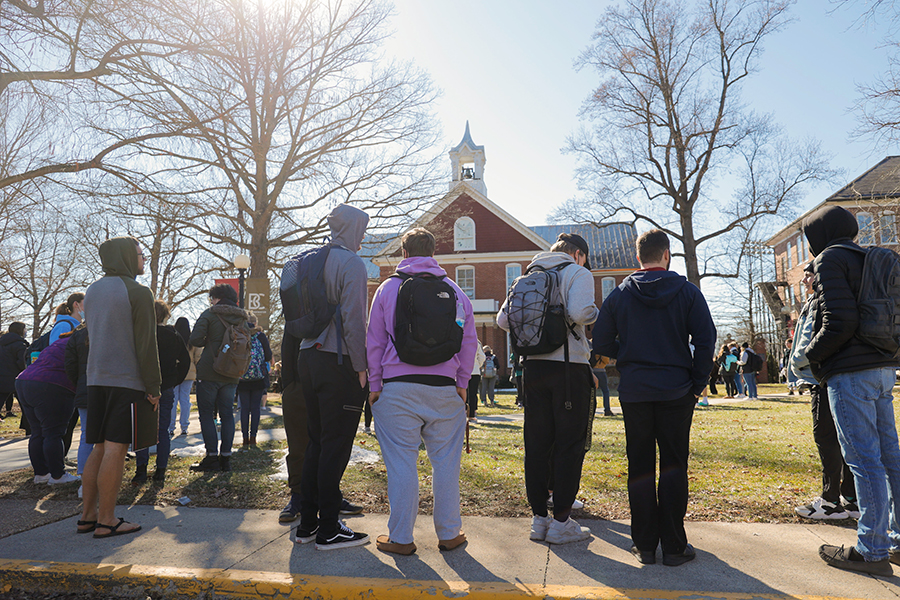 "The pathways to healing are numerous and highly individualized," says Dr. Neal Rittenhouse, Bridgewater College's Associate Dean of Students for Health and Wellness. "Undoubtedly, there will continue to be robust resources for students, faculty and staff to help each person heal in the way that works best for them."
Three days after the shooting, Long coordinated a session for BC faculty called "A Shared Traumatic Event," along with an informal discussion organized by the Wade Institute for Teaching and Learning at Bridgewater College. And a week after Feb. 1, faculty and staff were invited to a Zoom session titled "Building Resiliency in the Aftermath of Trauma" with the American Group Psychotherapy Association. The association has performed community outreach after other traumatic events, including the Sept. 11 terrorist attacks. Through multiple sessions, Long says faculty and staff were able to express their personal feelings, while recognizing that students would bring a varied response to coping.
"I think that was very helpful to the faculty and to the staff who attended those events, just to get an understanding of the breadth of reactions that people will have during tragedies such as this," Long says.
Dr. Leona Sevick, Provost and Executive Vice President at Bridgewater, says faculty were "extraordinarily thoughtful" in revising their course syllabi to remove what could potentially be triggering material for students. Returning to the classroom on Feb. 7 brought a new approach to the academic space, in which faculty and students were encouraged to share their feelings if they wished.
"We recognize the effect that a professor can have on the lives of any student—profound effects on the student experience, but also their lives beyond college," Sevick says.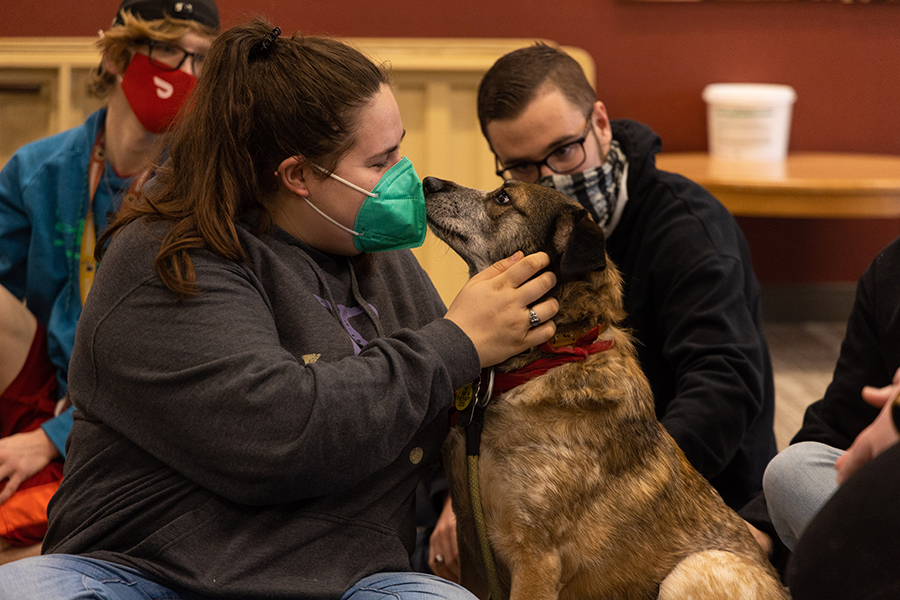 Bridgewater's Department of Student Life organized several events for the campus community following the tragedy. On Feb. 8, faculty, staff and students gathered at the Memorial Hall bell for a moment of silence, which included the bell tolling six times for each fallen officer, and two chimes representing loss of life. Therapy dogs provided a respite on multiple days in the lobby of the Kline Campus Center, where students could also talk with mental health professionals, connect with each other and write notes of support and appreciation for a tree of reflection and remembrance.
The community at large showed their support in multiple ways. Little Oaks Preschool provided more than 120 care baskets, which the College's Information Technology Center distributed across campus. The Bridgewater Retirement Community baked more than 900 cookies for the BC community. And seven local churches worked together to hand out 2,500 kindness bags as students returned from spring break.
"A very human reaction to a traumatic event like this is to want to erase it or somehow excise that terrible day from the body of our community. The disappointing reality is that we can't do that. The event has been woven into the fabric of our institution," Rittenhouse says. "The good and empowering news is that we get to sew even more love, support, resilience and the strength of the BC community into the fabric as well."
— Includes excerpts from "Teaching After Trauma," published March 11, 2022, in the Harrisonburg Daily News-Record