Bridgewater College's master of science in athletic training students immerse themselves in the world of patient-centered care.
Gauze? Check. Tape? Check. Bandages? Check. Sarah Hendrix MSAT '19 and her team had everything they needed to perform their athletic training duties on the Coastal Carolina University football team's student-athletes except for one minor detail. They had to work out of a makeshift athletic training room in a hotel.
The athletic training staff had only four hours to pack their equipment and coolers of drinks when they received notice that the university would be shutting down due to fall 2018's Hurricane Florence, later recorded as the wettest tropical cyclone in the Carolinas. Hendrix, then a master of science of athletic training (MSAT) student at Bridgewater College, was completing a clinical immersion for athletic training at the Division I school in South Carolina and was given the choice of traveling with the team during the impending storm or staying put. She chose to go on the road for a great learning opportunity.
For two weeks, the Chanticleers football team practiced at private high schools in Jacksonville, Fla., safe from the storm's path. Hendrix attended to athletes' needs from the sidelines as well as continued patient care at the hotel. Hendrix's clinical immersion that semester undoubtedly had more twists and turns than most, but that's the goal of Bridgewater College's master's program—to give students real-world, hands-on experience and to instill in them the skills and confidence required to transition seamlessly into their first jobs.
Hendrix was one of six students who walked across the stage at graduation on May 4 to accept their diplomas as graduates of the College's first MSAT class. The program, which launched in 2017, is the College's first master's program and will be one of four master's degree options within the next two years. Dr. Barbara Long '88, Division Head for Professional Studies and Associate Professor of Health and Human Sciences, helped start the College's undergraduate athletic training degree program in 1999. Long, who has been involved with the Commission on Accreditation of Athletic Training Education (CAATE) since 2007, foresaw a shift in the athletic training field as requiring a master's degree, and said that Bridgewater's faculty and administration embraced the proposed program change. The undergraduate program is currently in a teach-out phase; the College's last class of athletic training undergrads will graduate in 2020. The MSAT class of 2020 will double in size to 12.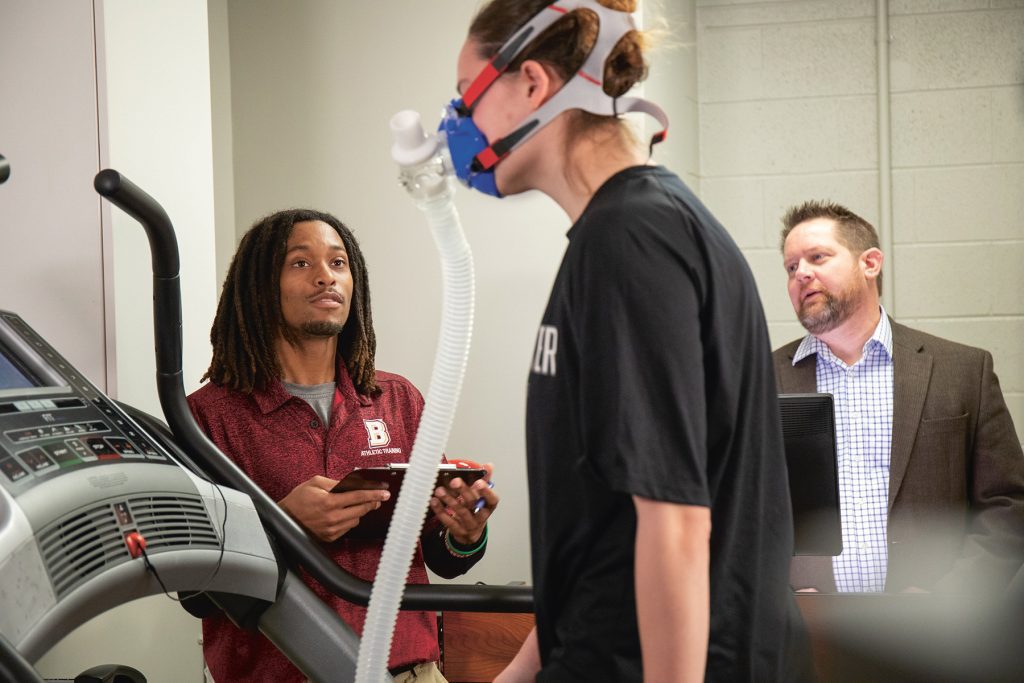 The transition to a master's program has been fairly straightforward, as the infrastructure for coursework and practical-based learning was already in place. A main component of the master's program is the opportunity for master's students to complete offsite immersions that allow for varied experiences, as well as additional learning opportunities from preceptors (athletic trainers or physicians who oversee the students). The master's students complete three clinical experiences on campus within their first year in the program, followed by a general medical clinical experience and two semesters of clinical immersions, most of which are off-campus, their second year. Bridgewater students have been placed at Division I schools across the country, as well as D-II and D-III colleges, high schools and physicians' offices.
"I think our year-long clinical immersions set us apart from most programs in the country," said Long. "We truly believe students learn best by having the opportunity to do things. And their good, sound clinical placements will help them transition to practice better than any classroom experience we can give them."
Master's students sit down with Bridgewater faculty early in their studies to discuss what kind of career within the field they'd like to pursue and are able to tailor their offsite clinical immersions to their interests. Athletic trainers don't just work in traditional athletic settings. They work in the performing arts, military, physician's offices, rehabilitation sites, public safety and industrial sites.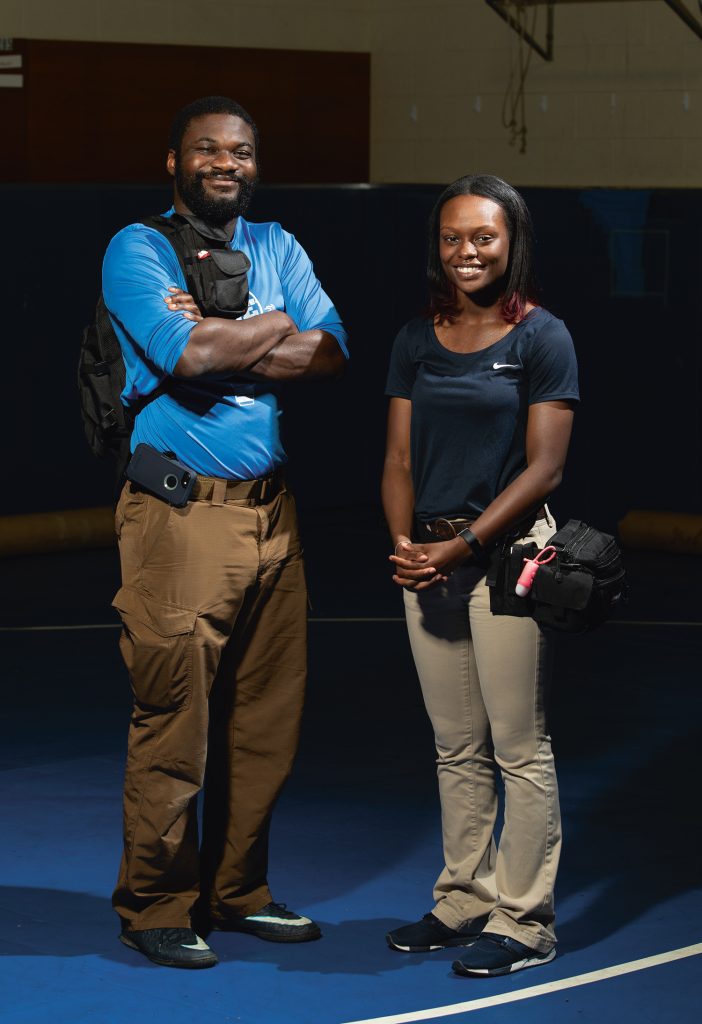 Kwadwo Donkor '12, an athletic training undergraduate major, says he wishes he had the opportunity to complete an offsite clinical immersion experience while at Bridgewater because he would have felt better prepared for his first athletic training job in a high school setting. His goal as Jasmine Pinder's preceptor in spring 2019 at Robert E. Lee High School in Staunton, Va., was to let her take the lead in assessments when situations arose in a practice or game. Pinder has been involved with treatments for everything from ankle sprains and shin splints to more serious injuries. She even had input on how the school's new athletic training room should be designed.
"The hands-on experience is amazing," Pinder MSAT '19 said. "You get thrown into real-life situations where you have to take charge and take command and have those leadership skills to diffuse and control the situation. He's been pushing me to make those decisions I would have to make on my own in a month or two."
Donkor's biggest teaching takeaway for Pinder is learning how to think clinically and creatively. He said the knowledge he learned at Bridgewater is constantly evolving and changing with each health care evaluation he performs.
"Athletic training is not just about ice and taped ankles," Donkor said. "There's a lot you need to take into consideration when you're dealing with athletes. Even if you have two people with the same ankle injury, how you treat them is completely different. That's a big thing."
Listening to patients' concerns is critical, whether about pain from an injury or the fear of lost playing time. Dr. Chase Hale, Athletic Training Program Director and Associate Professor of Health and Human Sciences, said athletic trainers are in a unique position as health care professionals to develop stronger bonds with their patients, especially in an athletic setting where they see the same players for multiple hours each day. Providing compassionate, patient-centered care is a big part of the curriculum at Bridgewater. And both Long and Hale attribute Bridgewater's foundation in the liberal arts to developing necessary critical-thinking skills as a health care provider.
"It's not just about the professional skills—anyone can learn the professional skills," said Long. "It's about how to treat people and how to make people know you care about them."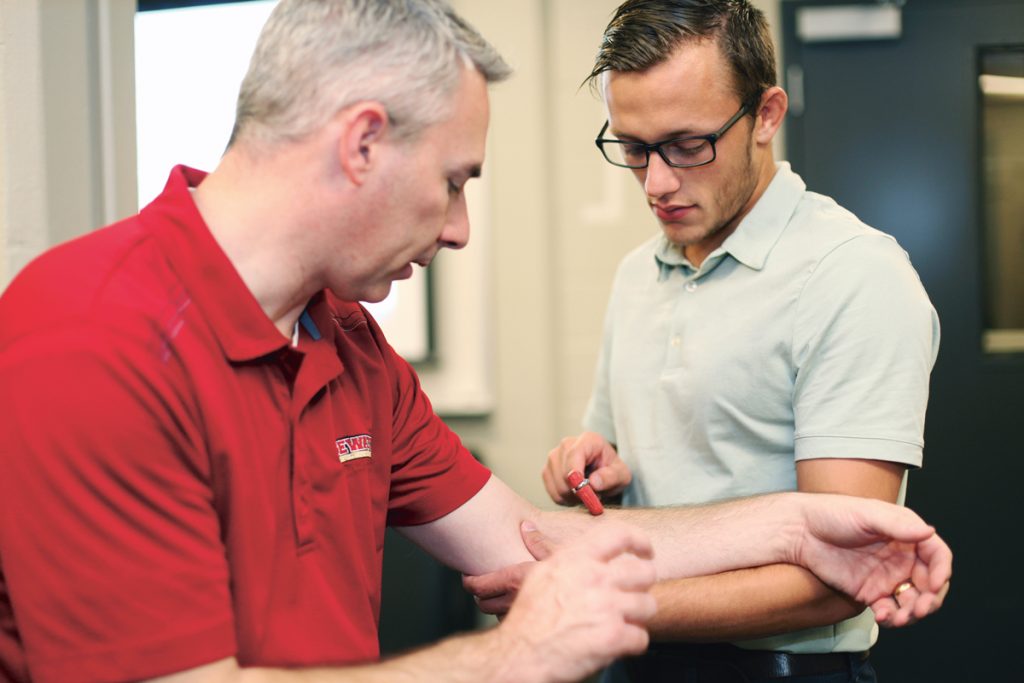 Justin Zimmerman MSAT '19 was a member of Ferrum College's first recruited class for wrestling. Although he experienced multiple injuries in high school, it wasn't until his junior year of college when he started working with Assistant Athletic Trainer Brian Duclos that he saw first-hand the impact an athletic trainer could have.
In the master's program, Zimmerman completed offsite clinical immersions at University of Tennessee, a Division I school, and his Division III alma mater, Ferrum. Although he appreciated the opportunity to work with Tennessee's football team, he says he gained more experience working with Bridgewater's men's soccer and lacrosse teams in addition to athletes from multiple sports at Ferrum. Because there are fewer health care professionals at smaller schools, Zimmerman was able to be directly involved with rehab treatments and clinical decisions.
"Working at a Division III school by far is a much better education," he said.
Before graduation, Zimmerman was hired by Work Right NW as an injury prevention specialist in an industrial setting, an emerging field for athletic training. He started work in early June at a Tesla factory in Reno, Nev., and will help devise preventative care plans for employees who undergo repetitive motions that can lead to injury. Although the company rarely hires new graduates, Zimmerman believes his education from Bridgewater and clinical experience was key in his hiring.
Pinder hopes to work for a D-I school or for a professional sports team, while Hendrix is pursuing jobs at a D-III school or high school. No matter the career goal, each MSAT student said the lessons learned from Bridgewater professors and preceptors as well as professionals at other institutions all contributed not only to an increase in their skills but a boost in their confidence in applying their knowledge and care in any situation.
"From your first day in the program to the last day, you're going to be shocked at how far you come, how much you grow during that time as both a person and a professional," Zimmerman said. "I don't think there's a better place to learn athletic training."