There is a significant correlation between meeting physical activity guidelines and pain, according to new research published by Dr. B. Michael Ray, an assistant professor of health and human sciences at Bridgewater College.
Ray's research, "The Relationship Between Physical Activity and Pain in U.S. Adults," was published in the journal of Medicine & Science in Sports & Exercise in October 2022. The research publication assesses the relationship between physical activity and pain and the impact of pain on daily activities and work, with secondary aims to assess prevalence of pain, pain levels and healthcare-seeking behaviors.
Another study Ray co-authored, "An Exploration of Low Back Pain Beliefs in a Northern America Based General Population," published in June 2022 as an abstract poster at the annual conference of the Journal of Pain, showed patients experiencing low back pain held misinformed beliefs about the body and pain. Ray's prior research and experiences as a healthcare clinician working with patients with chronic pain led to further exploration of the relationship between activity and pain.
By utilizing data from a 2020 National Health Interview Survey (NIHS) about U.S. citizens' physical activity levels and pain experience over a three-month period, "The Relationship Between Physical Activity and Pain in U.S. Adults" found that the odds of engaging in physical activity decreased in a stepwise fashion based on frequency and intensity of pain reporting when compared with no pain. Individuals engaging in physical activity—strength and aerobic—demonstrated two-times lower odds of reporting pain when compared with those not meeting the physical activity guidelines. Meeting the aerobic-only and strength-only criteria also demonstrated a large increase in odds of reporting less frequent pain, 52% and 31% respectively.
Ray's research publication concludes that physical activity is a significant correlate affecting pain reporting, and meeting both criteria of physical activity guidelines resulted in lower odds of reporting pain. Additionally, the odds of participating in physical activity decreased based on pain frequency reporting.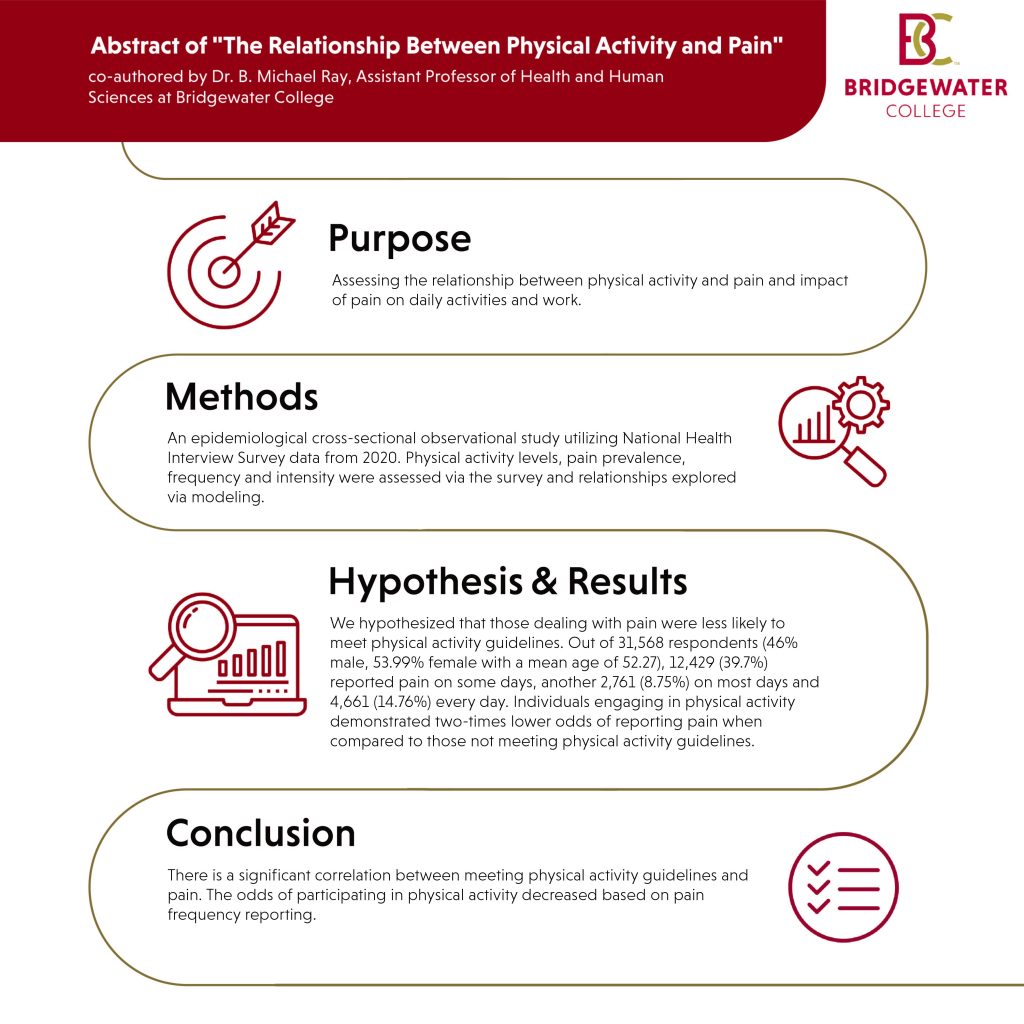 "Physical activity interventions remain a mainstay as a guideline for recommended care for chronic pain. Although causation between chronic pain and not meeting those guidelines cannot be established from the design of the current study, we do have sufficient evidence to recommend broadly that individuals should engage in physical activity on a regular basis for the mitigation and treatment of chronic pain," Ray says. "This particular publication will be foundational for our future investigations into pain and physical activity, looking toward the future for non-pharmacological chronic pain interventions."
Dr. Ray joined Bridgewater College in 2021. He earned a Doctor of Chiropractic from Sherman College, and a M.S. in exercise science and a B.S. in criminal justice from the University of South Carolina. Ray's research has been published by the American College of Sports Medicine and Elsevier. He is the founder of Tame Pain LLC, a pain management remote consultation company, and his research interests include persistent pain, therapeutic exercises and efficacy of healthcare interventions in musculoskeletal care.
Media Contact:
mediarelations@bridgewater.edu
(540) 828-5720