Among the few programs of its kind in Virginia, particularly among small colleges, the Bridgewater Academic and Social Experience (BASE) program provides an extra layer of personalized assistance for students with autism spectrum disorder and others who may benefit from the support. Students like these are intellectually capable of completing a degree and having a successful career, but they may need tailored support while at BC to ensure that success.
The program, which launched this fall, provides students with peer mentors, academic coaching, small group social events and career counseling exclusive to BASE students, as well as access to an early move-in and personalized guidance to facilitate the transition to college.
"Bridgewater has always provided support in a holistic, one-on-one manner to its students. BASE is an extension of that approach," says Regina Wine-Nash '12, Assistant Director of Academic Support and Disability Services, who helped develop the program, along with Academic Support and Disability Services Director Denise Miller, Associate Dean for Academic Affairs Dr. Rob Hammill, and Dean for Graduate and Special Programs Dr. Jeff Pierson.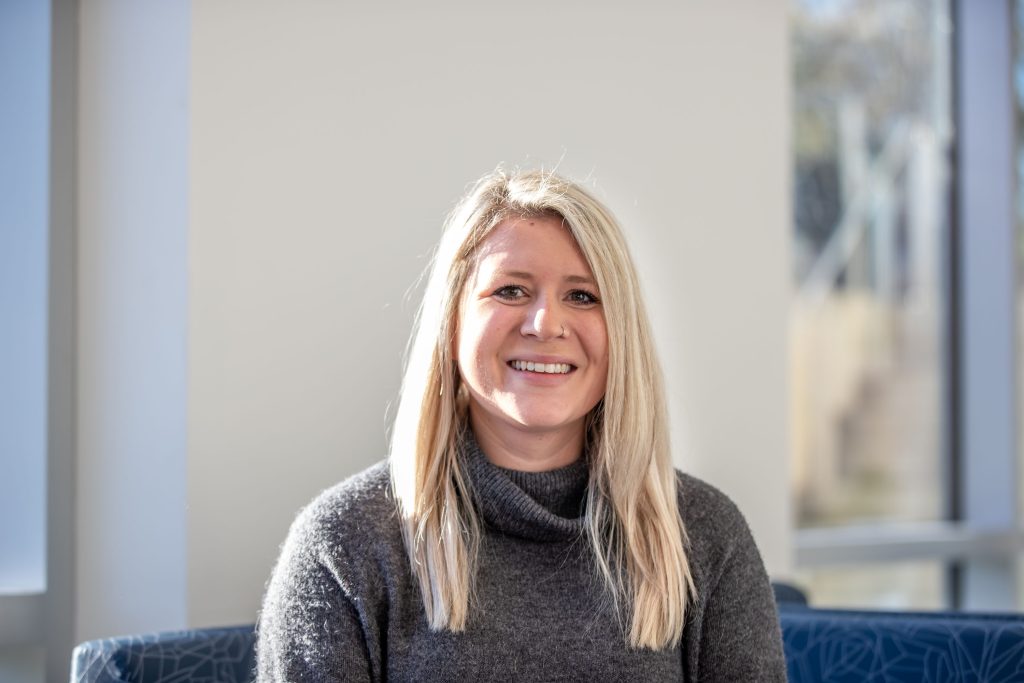 The BASE program was established to not only meet an existing need but also provide resources that were not readily available in the state and surrounding region. Margaret Benavides, Disability and BASE Program Coordinator, who was recently hired to run and oversee the program, wants the program to grow and evolve as needed to meet students where they are.
Seven students are currently enrolled in BASE, which requires an application process and costs an additional program fee per semester. The students meet with their peer mentors once a week to check in, set weekly goals and do an activity together, such as visit with therapy dogs, eat dinner in the dining hall or attend a campus event.
Katelyn Harrison '23, one of the inaugural group of mentors, describes the weekly check-ins and conversations as encompassing "things you'd want a friend to ask you, but with more intentionality and follow-up." A history and political science major, Harrison has a passion for helping people and came to the position with experience as an academic coach, tutor and SOAR mentor (current students who help lead first-year orientation) at BC. She has two cousins with autism spectrum disorder and really appreciates the opportunity to get to know her mentees personally, whether they're talking about roommates, grades or family situations.
The BASE students also participate in monthly social activities that serve as low-key, relaxed opportunities for interaction and fun in a smaller setting and also help them get to know staff in various offices on campus. In September, they enjoyed a game night with some of the Forrer Learning Commons staff and Tristan Supples '21, head coach of the new esports program at Bridgewater, while in October they painted pumpkins alongside staff from BC's counseling services. This not only provides key social interaction; it also lowers the intimidation factor if students later need to contact staff for things such as making an appointment to discuss researching a paper for a class or to meet with a counselor.
The Center for Career Development also holds specialized workshops several times a semester that are only for the BASE program students, and, in future semesters, the students will be able to take advantage of work study opportunities on campus.
James Hall, Director of the Career and Workforce Development Division at the Wilson Workforce and Rehabilitation Center in Fishersville, Va., believes the program offers many opportunities for students such as his daughter Jordan, a first-year student enrolled in the BASE program.
Having spent his career in the field of special education, Hall has a passion for programs that provide opportunities for students in need of additional support. His unique perspective and experiences as both a professional and parent make him enthusiastic about the prospects for the BASE program, which provides "wraparound support that I know most colleges do not do."
Hall describes the program as "life-altering," because it provides the support necessary for the student to achieve a four-year bachelor's degree, which is the gateway to so many careers. He says that parents of children with any type of disability, neurodiversity or other challenges always face anxiety about the future of their children. Hall believes that programs like BASE can be truly transformative, preparing a young adult with autism spectrum disorder to be independent, resilient and confident as they pursue a degree and a career.
His daughter, Jordan Hall '26, an environmental science major, feels the BASE program has helped her acclimate to college life and get introduced to campus resources sooner than she otherwise would have.
As a teen whose family attended Pleasant Valley Church of the Brethren in Weyers Cave, Va., she had been to Bridgewater's campus for the Interdistrict Youth Cabinet Roundtable (a regional Church of the Brethren youth conference) several times already and knew Bridgewater alumni from her church. Those factors also helped her feel comfortable with attending Bridgewater, although leaving home to live on campus was intimidating at first. She appreciated the opportunity to move in early this fall, before more than 400 other new students came to campus. Jordan describes herself as highly creative and hopes to take classes in art and drawing as well as the sciences.
Many students like Jordan who can benefit from the support a program like BASE provides will thrive in a smaller, more personal campus community. Kadie King, a licensed professional counselor who works with individuals with autism spectrum disorder in the Harrisonburg, Va., area, says that "a small-college setting can offer the benefits of a stronger focus on individual needs for success and fill the gap to connect students with additional resources."
"Having the BASE program in place will make the college experience much more attainable and easier to navigate for both the students and their families," she says.
— By Olivia Shifflett