The start of a new academic year ushers in a mix of emotions for new students—excitement, nervousness, pride. Between the commonality of emotions our students feel are the unique individuals that Bridgewater College welcomes to its campus as they each begin their own distinctive, but collective, journey.
BC kicked off the 2022-23 academic year with the first day of classes on Aug. 23 after an exciting and engaging Welcome Week for its new students. Among the more than 500 new faces are approximately 430 first-year students, more than 30 transfer students, nearly 30 graduate students and almost a dozen non-degree seeking students.
The Class of 2026 hails from 19 different states and 16 different countries, boasting BC's highest international student population in years. The first-year students at BC were heavily active in their schools and communities and hold an average grade point average (GPA) of 3.6.
Of the first-year class, 21% are first-generation—meaning they are the first in their family to attend college—while 58 students have a family member who graduated from BC, part of Bridgewater's legacy families. Another 26% are recipients of Pell grants, which are awarded to students with exceptional financial need. About one in three BC students are Pell eligible, and more than $2 million in Pell grants was awarded to BC students in the preceding academic year.
Seventeen members of the Class of 2026 have joined the Screamin' Eagles marching band, which made its debut in the 2021 season, and another 200 are student-athletes who join the College's successful intercollegiate sports program that sponsors 23 NCAA DIII sports and a competitive, intercollegiate equestrian team.
And eight new students will be participating in the College's newly launched Bridgewater Academic and Social Experience (BASE) program, a student-centered program offered to students with autism-spectrum disorder or who feel that they may benefit from the support provided.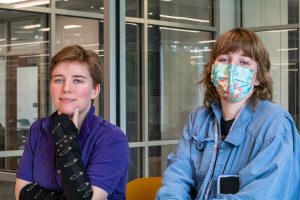 Among the nearly three-dozen new transfer students at BC for the 2022-23 academic year are Zed '24 and Julie Stahl '24. The Stahl twins transferred from Blue Ridge Community College where Bridgewater shares a guaranteed admission agreement that allows students who meet requirements to transfer directly from the community college to BC with junior status.
While the Staunton, Va., natives originally thought they would land at James Madison University in Harrisonburg, after touring Bridgewater College last year they both said they loved the BC community.
"Our mom suggested taking a look at other schools for more perspective [before transferring]. We decided to take a few tours, and we were very impressed with the focus on community and how accessible everything is," Julie says. Zed agrees, adding that in addition to the community feel, they love how friendly the campus is—including professors.
Since coming to BC, the pair has joined the BC Dungeons and Dragons Club and Comitatus Club, which promotes the study and safe practice of Western martial arts. Through D&D, Julie says she was able to join a campaign within the first week after connecting with the club's president, who is in her English class. Zed also intends to join a D&D campaign, which brings together club members to work collaboratively in a series of intertwined role-playing adventures.
The siblings share similar interests but are studying different programs. Zed is pursuing a degree in digital media arts while Julie is pursuing history. After graduating, Zed hopes to work in graphic design for publications and Julie hopes to attend the University of York, in England, to pursue a master's in medieval history.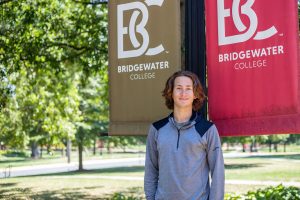 Gabe Miller '26 whizzes around the BC track as a student-athlete on both the cross country and track teams, but the first-year student is also a whiz in the classroom.
Miller, from Covington, Va., comes to Bridgewater College with an associate's degree in arts and sciences from Mountain Gateway Community College, formerly Dabney S. Lancaster Community College, that he earned during high school. He already has enough college credits to academically be classified as a junior.
Miller is in no hurry to race out of BC, though, and plans to stay at the College for a traditional four years to use all his NCAA eligibility.
"There are a lot of stressors when you're going to college, and just having the experience with college expectations academically already is something I could take off my plate," Miller says.
Miller found his way to BC after an athletics visit last summer. Keeping in contact with the College and encouragement from those around him—like his athletic director, athletic trainer and assistant coach at Alleghany High School, who are all BC alumni—affirmed that Bridgewater was the right fit. In addition to competing for the cross country and track teams, Miller is pursuing a history major. He says he's loved history ever since his dad would have him read history books over the summers.
"Everyone I talked to told me what a great school this is, and, when I came here, I started to see what they were talking about," Miller says. "I've loved it and met a lot of people so far, not just on the team, but in FILA (the Foundation in Liberal Arts program) and outside of my FILA class. Everyone's really nice and happy to have new faces around."
For his exceptional academic and athletic performances in high school, Miller is the recipient of three community scholarships from the Schoppmeyer Memorial Scholarship, Nicely Memorial Athletic Scholarship and The Glencairn Foundation. At Bridgewater, Miller is in the Flory Honors program. The College offers admission into the program to incoming first-year and transfer students who present a strong record of academic achievement. The 2026 Flory Fellows cohort have maintained a cumulative high school GPA of 3.8 or higher. Miller also received the McKinney Achievement in a Community of Excellence (ACE) scholarship from BC, given annually to select students based on cumulative high school GPA, class rank, SAT/ACT test scores and quality of high school curriculum.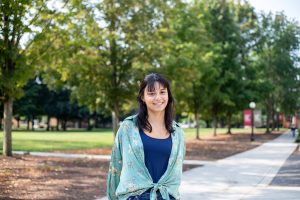 Maria Gavriilidou '26 had never been to the United States until stepping foot on Bridgewater College's campus for orientation this summer before the 2022-23 academic year began. But Gavriilidou, a first-year student from Thessaloniki, Greece, knew she wanted to pursue higher education in the U.S. from the time she was 16. After lots of research, she knew that Bridgewater College would be the perfect fit because of the close-knit community, the academic offerings and its location on the East Coast. 
Gavriilidou is the first in her family to attend college, and her family also has never traveled to the United States before. She says it was important to her whole family that she attend college and that they are all supportive of her decision to come to BC. Despite the seven-hour time difference and more than 5,000 miles between them, Gavriilidou speaks to her family almost daily. 
Family was the topic of her application essay for Bridgewater. Her family was originally from Pontus, Turkey, but left the country for Greece in 1922 in the aftermath of the Greek genocide carried out following World War I. After being forced to leave their homeland, Gavriilidou's grandmother began operating their family gas station in Thessaloniki that her father now owns and operates. Gavriilidou remembers her grandmother, who she says is one of her biggest role models, for her traditional food and dances from Pontus. 
"My parents weren't able to go to the Greek universities when they were my age. Two years ago, I decided that I didn't want to study in Greece because here I have the opportunity to take different classes and explore my interests and decide a major. I have the image in my head of my grandma telling me, 'You have to reach your goal, you can do this,'" Gavriilidou says.  
While at BC, Gavriilidou is studying digital media arts which allows her to focus on two things she loves: photography and graphic design. One of her favorite classes so far is Introduction to Visual Design with Associate Professor of Art Michael Hough because she "really likes the fact that we combine theory and practical projects." Since arriving on campus, Gavriilidou has also joined the African Student Association and is volunteering with the BC Eagles football team as a photographer and social media graphic designer. 
"I told my SOAR mentor I was interested in photography and graphic design, and she told me the football team was looking for some help," she said. "I really like this experience. It was something very new to me because I had never watched a football game before." 
In addition to new opportunities, coming to BC has allowed Gavriilidou to learn about different cultures—she had her first s'more since coming to campus. Gavriilidou speaks Greek, French and English, and because her roommate is from Mexico and fluent in Spanish, she is helping Gavriilidou learn a fourth language. 
"I wanted a small liberal arts school because I think it's better for international students to be in a small community. It's helpful for me to be here because I've met so many new people," Gavriilidou says. "I wasn't expecting to be so welcomed, and I'm really glad that has been my experience. We have so many resources here, so if I'm struggling with class or anything there are people to help, and that's important to me." 
Media Contact:
Logan Bogert
Communications Coordinator
lbogert@bridgewater.edu
(540) 828-5486