Some of Michael Clark's earliest memories revolve around football. His father, Joe, coached high school football, and 5-year-old Clark and his older brother, Joe D., would ride the team bus with their dad and his players to games. The Clark brothers wore team jerseys and served as de facto mascots. They played their own games of football together behind the bench during games.
The elder Joe Clark, who is in the Ohio High School Hall of Fame for 237 high school coaching victories, wasn't a big believer in early contact football for his children, so Mike Clark didn't start playing football until ninth grade. He enjoyed the competition, and, once he started playing, he knew he wanted to go on to the collegiate level. Clark played quarterback for his dad at Cincinnati Indian Hill High School his junior and senior years of high school.
But he wasn't just learning how to play the game: He was learning what it meant to be a coach whose players worked hard out of respect.
"Part of me said, 'If I'm a coach, that's how I would like to try to be too,'" Clark said. "I can go back now and say those two years I got to play for my father are still a highlight."
At the University of Cincinnati, a Division I school, Clark was a four-year letter winner in football as a defensive back. He helped the Bearcats to a 9-2 record and a top 20 national ranking during the 1976 season. At graduation in 1980, he was given the school's Mr. Bearcat Award as the outstanding graduating male senior. Clark earned his undergraduate degree in English literature.
After college, Clark began his coaching career as the defensive line and linebackers coach at Murray State University under Head Coach Frank Beamer. After a stint as a wide receivers coach at his alma mater, Clark rejoined Beamer at Virginia Tech in 1988, serving as the Hokies' defensive coordinator under Beamer for five seasons.
Clark counts Beamer as one of his biggest coaching influences.
"I think Mike could have been a lot of things," Beamer told the Daily News-Record in a March 2021 article. "A lawyer, a doctor probably. He's such a smart guy, so when it came to coaching football, I trusted what he was saying a lot."
In 1993, Clark moved to Virginia Military Institute serving as the Keydets' defensive coordinator in 1993 and quarterback coach in 1994. Clark had two forced coaching moves in Division I, which was part of his motivation in becoming Bridgewater's 14th head football coach in January 1995. He wanted his eldest daughter to finish high school at the same place.
At the time Bridgewater College's seventh president, Phillip Stone, took office in August of 1994, the football program had languished historically. Student athletes were not sticking with the program all four years. More people were tailgating on River Road than attending games. Stone decided to make a coaching change to reinvigorate the program. His goal was to champion a commitment to excellence in every program at the College, including football. He knew that giving student athletes a chance to be competitive would affect work ethic and success on and off the field.
During the interview process, Clark asked Stone about his dedication to the football program. Stone told him: "I may not be an athlete, but I'm a competitor." And Stone questioned whether Division III would be a big enough stage for the former DI coach. Clark promised him five years, with the caveat that it would take some time to rebuild.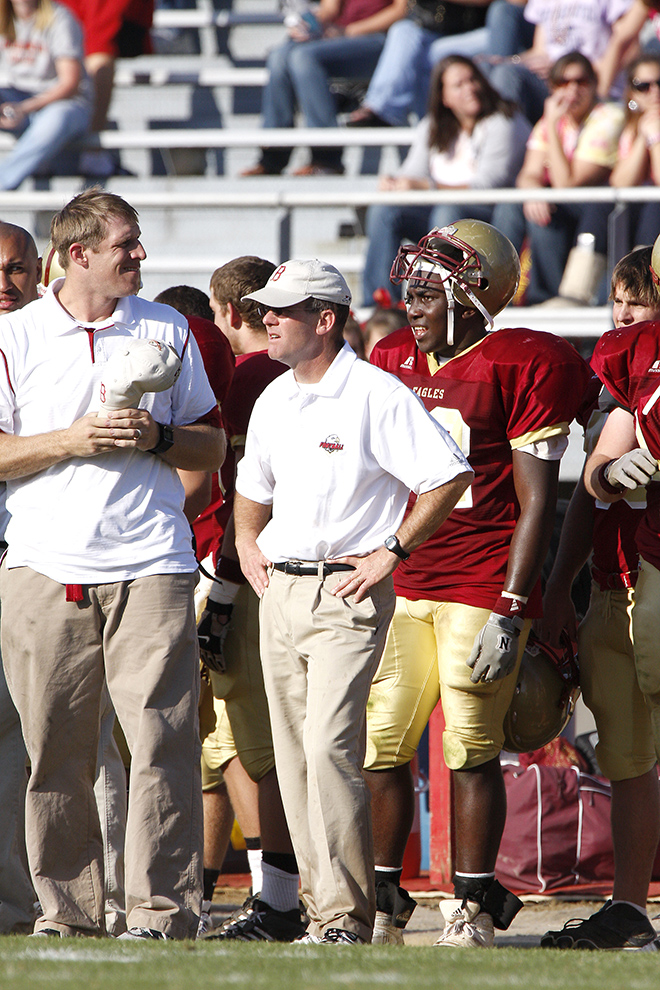 Clark's first three seasons saw 0-9, 5-5 and 2-8 records. But he stayed the course, using his connections to recruit players and coaches who saw his vision.
"I like the fact that he didn't just shake his head and say this program is not meant for success," Stone says. "He just kept talking about winning and putting it on a winning platform."
Current Athletic Director Curt Kendall, head baseball coach at the time, remembers watching one of the last football games in the fall of 1999. He saw a difference on the field that day: The players were bigger, stronger and more talented. Bridgewater football was about to turn a corner.
"Mike's always been a guy who knew how to motivate people," Kendall says. "He trusts his staff and gives them responsibility, which goes a long way in getting them to understand the plan moving forward. He had good insight on what needed to be done."
BUILDING A PROGRAM
Clark always maintained a competitive mindset, even when the scoreboard didn't go his way. He can still remember ringing the Memorial Hall bell when the team broke a 27-game losing streak and recorded their first win under Clark in 1996. At the bell, a TV station reporter asked Clark how he felt. His answer: "I hope it becomes a big story when Bridgewater loses a game."
In 1998, Clark started 13 freshmen in the final game that season. The team finished with an 0-10 record, but there were some close losses. Clark saw the potential in his young team. He and his coaching staff convinced the players to "stay and fix this."
"I'll always be grateful for that group that hung with me," Clark says. "On my good teams I've been surrounded by good people."
Matt Huffman '02 was one of those freshmen. Clark was instrumental in his decision to come to BC as the Bridgewater, Va., native was also considering the University of Virginia. He remembers Clark stopping by his house one evening after dinner to discuss a unique "window of opportunity" with the football team. In his first year, Huffman says Clark and a dedicated group of players committed to each other they would turn things around. They held each other accountable on and off the field and "developed a great culture," Huffman says.
Jermaine Taylor '04, who was inducted into the Bridgewater College Athletic Hall of Fame in 2018, joined the team in 2000, the year the Eagles went 10-2, earning an at-large NCAA bid and beating Washington & Jefferson before being eliminated in overtime by Trinity University in the Sweet 16. At the time, Taylor remembers Clark telling his team: "Why not us?"
"It was the question we needed to push to the next level," Taylor says.
Scott Lowe, a radio color commentator alongside Bill Phipps for BC football for 11 years, says the 2001 Division III semifinal game against Rowan University was the most memorable in his time covering the Eagles. Bridgewater scored a game-winning touchdown with no time left on the clock to earn a spot in the Division III national championship game.
"When I started broadcasting BC football games, it would have been hard to believe that not only would the team become competitive, but far superior to many opponents—winning by wide margins—to being nationally relevant," he says. "That's all Coach Clark. He put BC football on the map forever."
Although Bridgewater fell to perennial powerhouse Mount Union 30-27 in the Stagg Bowl, the game placed the football program—and the College—on a national stage. Stone says two benefits were an increase in enrollment and general pride across campus.
"The Stagg Bowl was one of those mountaintop experiences," Clark says. "It was neat to see how that game energized the College and the community."
---
BRIDGEWATER CAREER HIGHLIGHTS
Team accomplishments
NCAA Division III runner-up (2001)
NCAA Division III semifinals (2003)
NCAA Division III quarterfinals (2002, 2005)
NCAA Division III Sweet 16 game (2000)
NCAA Division III first round (2004, 2019)
ODAC champions (2001, 2002, 2003, 2004, 2005, 2019)
Coaching accolades
Don Hansen's Football Gazette National Coach of the Year (2001)
Don Hansen's Football Gazette South Region Coach of the Year (2001, 2003)
D3football.com South Region Coach of the Year (2019)
AFCA Region 3 Coach of the Year (2019)
VaSID State Coach of the Year (2000, 2001, 2002, 2003, 2005, 2019)
Richmond TD Club State Coach of the Year (2000, 2001, 2002, 2003, 2005, 2019)
Norfolk TD Club State Coach of the Year (2001)
ODAC Coach of the Year (2000, 2001, 2002, 2005, 2019)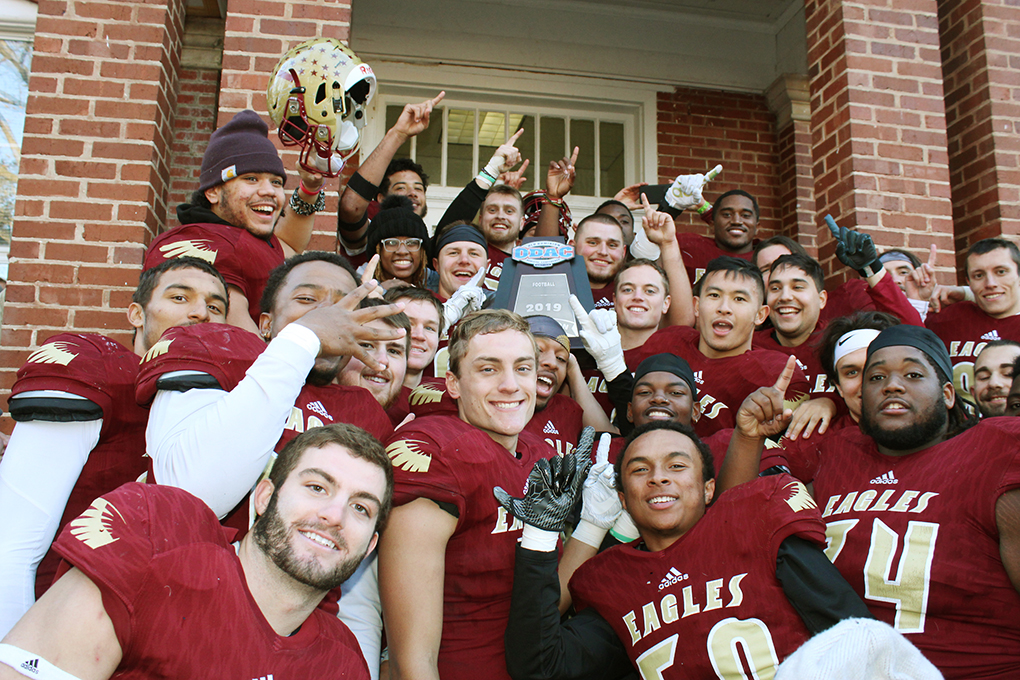 ---
Clark, who retired this spring after his 26th season with the Eagles, leaves a legacy that is unmatched. He is the longest-tenured coach in Bridgewater College football history and is the longest-tenured active collegiate head coach in Virginia. His 167 wins are the highest of any active head coach in the Commonwealth. He was the Don Hansen's Football Gazette 2001 National Coach of the Year and was twice named the South Region Coach of the Year by that publication. He's been named Virginia State Coach of the Year six times and has 16 winning seasons under his belt, including six Old Dominion Athletic Conference (ODAC) championships (most recently in 2019), a 36-game conference winning streak and 17 NCAA playoff games. Under Clark, Bridgewater has become the most prominent ODAC school in national competition, recording 10 of the conference's 15 NCAA tournament victories and its only two final four appearances.
"I've lived my dream," Clark says. "I got to coach a team that had runs at the national level as a college head coach. I never imagined it would have been at Division III, but it was the opportunity I was given. I like to tell people: 'Sometimes you don't get to pick your opportunities but you get to pick what you do with them.' I was lucky I was here at the right time."
LEAVING A LEGACY
When the College announced in January 2021 that Clark would be retiring, well-wishes and memories poured in on social media, and in emails, texts and phone calls to Clark.
"I thought the really unique thing was that they all talked about the experience, the relationships they built and the things they learned," Clark says. "Things they were able to pull from their Bridgewater College experience and how much they were able to use that in their lives with their families and jobs. To me, that was the thing that really made me feel best."
Huffman, now a cardiologist in Lynchburg, Va., still says one of Clark's most famous phrases out loud multiple times a day: "Manage your business." The sentiment carries through on and off the field: Be accountable and do what needs to be done in all areas of your life to be successful. The phrase is even engraved on a plaque in the weight room in Nininger Hall.
"The culture of BC academics and the football program instilled in me work ethic and motivation to be successful in different aspects of life," Huffman says. "Learning to connect with teammates from various backgrounds was a huge life skill that I still utilize now on a daily basis with patients and partners."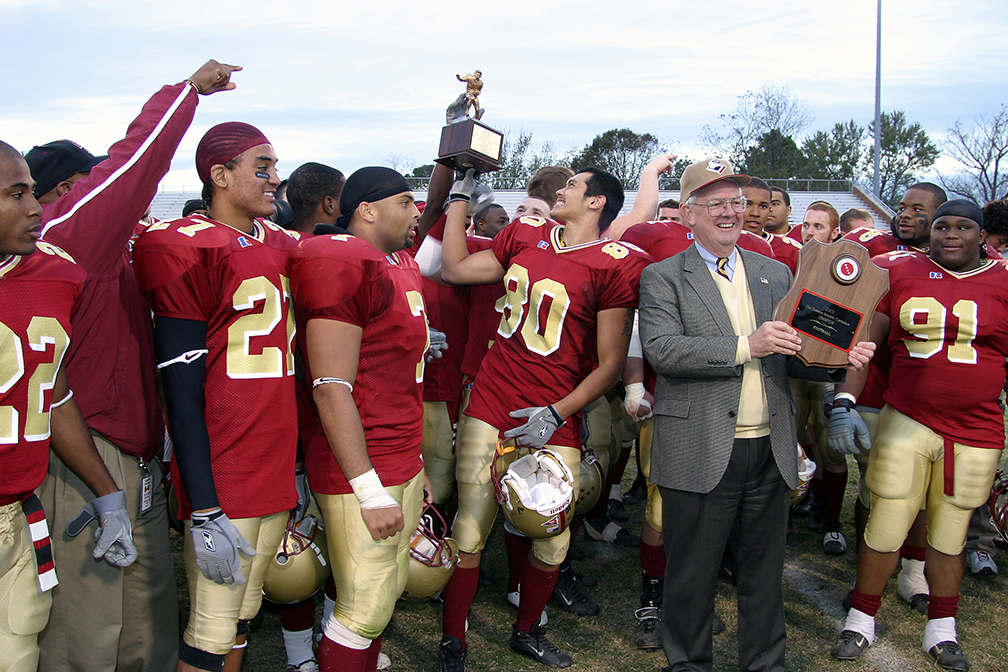 After graduation, Taylor earned NFL camp invitations from the Green Bay Packers and the Tampa Bay Buccaneers. He also started at linebacker for the Berlin Thunder in NFL Europe during the 2005 season.
"I'll never forget my first preseason game at Lambeau Field with 60,000 fans in the stands," Taylor says. "It was one of the proudest moments of my life, knowing the journey and the support to be in that moment. The name on the back of the jersey identified me as a player, but I was a representative of Bridgewater College and so much more."
Taylor, who is a systems engineer with Raymond James Financial in St. Petersburg, Fla., says Clark is a "positive straight shooter" who genuinely cares about his student athletes even after their collegiate careers.
"His phrase 'Football is a bonus' helped me identify and capitalize on the bonus opportunities in life while knowing what's important. To enjoy the experiences and learn from the teachable moments."
"I feel honored in not only the ability that I was able to have an influence, but that I was in a position where people could influence me, too," Clark says.
On campus, Clark was known as someone you could always call if you needed help. He also attended theatre programs, music recitals and other athletic events to support the BC community.
"He was the best supporter of all the athletic programs at BC, big and small," says longtime women's basketball coach Jean Willi. "He truly wanted to see others, both coaches and athletes, succeed in their sport. He would always find a way to help other programs as well, whether it was equipment needs, staff needs or facility needs. Mike is an Eagle through and through."
One of Clark's traditions was handing out letters to parents on Senior Day. He personalized each one to share thoughts about that player.
"That was a highlight," Clark says. "It's probably the non-football things that will really have long-term value for me."
And Clark received a handwritten letter of his own this spring from former President Stone. In it, Stone thanked him for his friendship and everything he did for the College.
"He certainly leaves a legacy in football that's going to be hard to ever match," Stone says. "He made football and all athletics an integral part of Bridgewater College. And he will always be known as a mentor and teacher. The effect he had on young men, that's going to be quite a legacy that's going to live on for many, many years."
"You might replace him as a coach but not as an individual," Kendall says.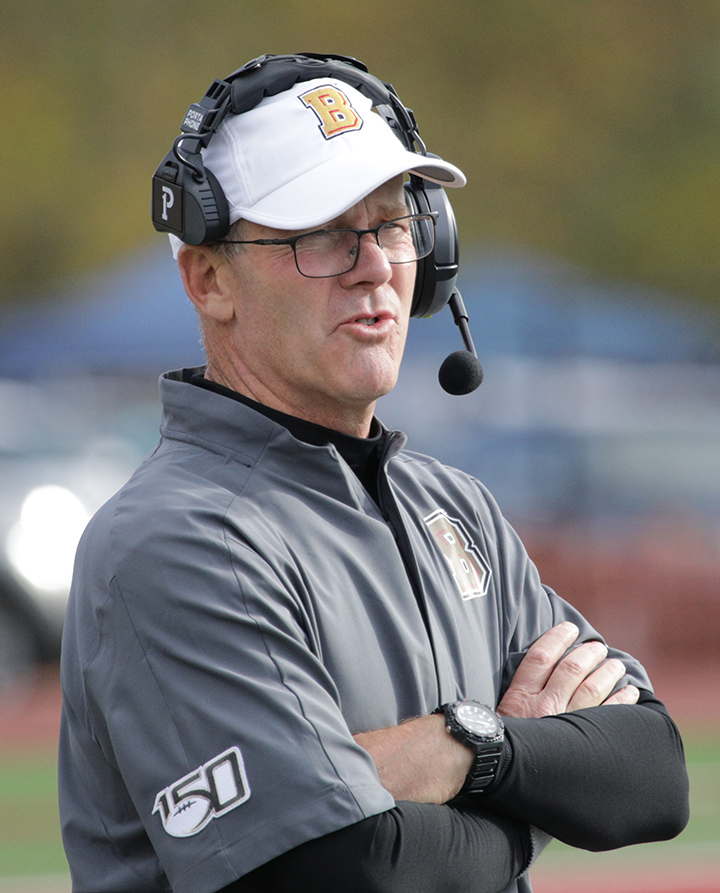 Clark isn't sure what he'll do next. But he's going to take some time to figure it out. He plans to do some trout fishing, work on his golf game and spend time with his family including his wife, Sharon, daughters Megan Clark Velez '04 and Erin Clark Reel and their families.
"I'm most proud of that fact that I have grown children who are my best friends and I've been married over 41 years," Clark says. "And I have former players who are my friends who come back to see me—that goes beyond the field."
---
NEXT IN LINE
Eagles football Assistant Coach Scott Lemn—current offensive coordinator and quarterback and tight ends coach—has been named the team's next head coach, starting in 2021-22. Lemn, a first team All-American at James Madison University and the Rimington Award winner as the nation's top center, has been an integral part of the coaching staff for the last 11 years.
"Scott has developed over the past 11 seasons as a coach under Mike Clark's guidance and is ready to take over our highly successful program," Athletic Director Curt Kendall says. "Scott was a key contributor to the 2019 ODAC championship."
"It's a great honor to be the one who follows Coach Clark," Lemn says. "The mentorship he's provided me has been invaluable."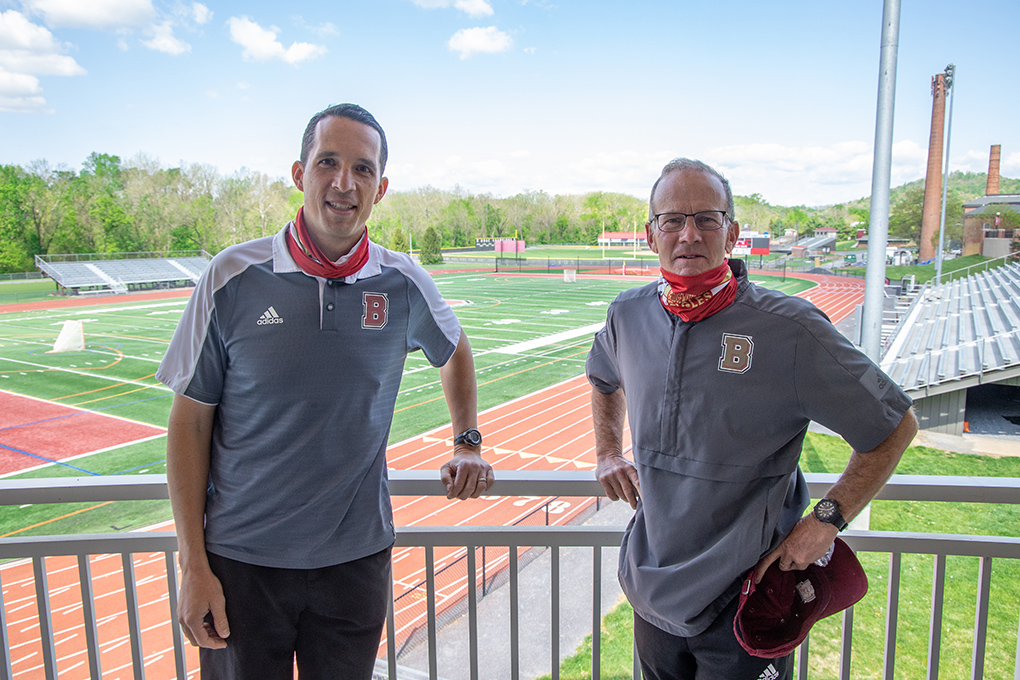 As a coach, Lemn's goal is to make it about the players: Work for the players and they'll work for you. He says the benefit of being on a college campus is spending time with students at an impactful time in their lives and being able to serve as a mentor.
"Playing football is a great part of your experience at Bridgewater but it doesn't have to be your whole experience," Lemn says. "Being involved in a variety of things is important. It only adds to the value of your experience while you're here as well as later in life. If you want to be a doctor, lawyer, head coach—the options are endless. You can come to Bridgewater and easily achieve that goal."
— By Jessica Luck