Tabitha Pryor Corradi '07 can trace the moment her life path changed to an afternoon in the office of her advisor at Bridgewater College, Dr. Jamie Frueh. Corradi had initially met Frueh, then a professor in the Department of History and Political Science, during her initial tour of campus; he was her tour guide. Corradi, who has always been interested in history, made an immediate connection with Frueh and asked if he'd be her advisor.
Fast forward four years later to Corradi's senior year at Bridgewater when the history major was pursuing teacher licensure and was set to start her student teaching in a 10th grade world history class. The reality of standing and talking in front of students all day made her quickly realize that she needed to find another career. So she asked Frueh for guidance.
Frueh started the meeting by asking Corradi questions: What did she like? What did she enjoy doing? Building things, being creative and doing research came to mind immediately. So Frueh connected the dots and told her there was a place she could do all of those things: museums.
"I attribute a lot of my success to Dr. Frueh helping me figure out where I needed to be and what would be best for me," she said.
One of Corradi's earliest memories of visiting a museum was a trip her family took to Thomas Jefferson's Monticello, a three-hour drive from her hometown of Hagerstown, Md. The 7-year-old Corradi marveled at the peek inside the life of the third president of the United States of America. Then the tour guide pulled out a photo of the Dome Room, an octagonal space on the third floor that the guide said would likely never be open to the public, as the research team was still trying to determine for what it had been used.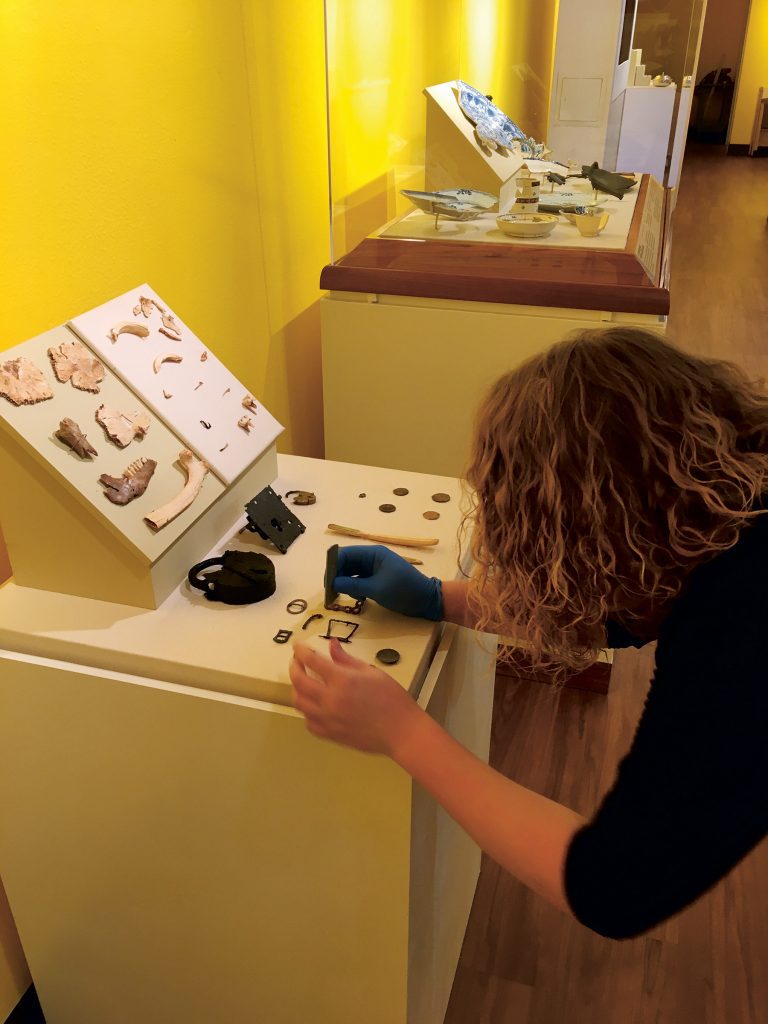 Naturally curious, a young Corradi immediately started thinking of ways she could get up there.
"I don't like not knowing things," Corradi said. "That's part of the historian in me."
That longing to investigate and dive deeper into history has stayed with Corradi, as she completed an internship during her senior year at the Woodrow Wilson Presidential Library in Staunton, Va., double majored in history and political science at Bridgewater and received her master's degree in history with a concentration in museum studies from the University of Delaware. At her internship, which Frueh helped her secure, Corradi learned how much fun working in museums can be as she used power tools to help construct a trench for a World War I commemoration exhibition. After finishing her graduate work, she spent seven years as Curator of Collections at the Banneker-Douglass Museum in Annapolis, Md., the state of Maryland's official museum of African American history and culture, and for a little more than a year, Corradi has served on the curatorial team at Monticello as the Collections and Exhibitions Manager. During her interview for the job at Monticello, she again took a tour of the house. This time she visited the second and third floors, including the Dome Room, now open to the public as part of the behind-the-scenes tour.
"I like that it's a growing institution and it's always looking for what we can do next to improve the visitor experience," Corradi said.  As an institution, Monticello is constantly looking to answer the questions "What part of history can we expand on?" and "How can we tell a more accurate story?"
Working in museums and specifically with collections and traveling exhibits satisfies both her research drive and need for a creative outlet. Each day at Monticello is different. Corradi serves as an ambassador for her department at events, and oversees the traveling exhibitions, one of which is Slavery at Jefferson's Monticello: Paradox of Liberty, a more than 300-piece collection that has been displayed at both the African American Museum of Dallas and the Charles H. Wright Museum of African American History in Detroit. When not on the road installing an exhibit, Corradi can be found liaising between the curatorial and education and visitor programs departments.
"I enjoy getting to know people but I still get to stay behind the scenes," Corradi said. "I'm making things happen and making things work."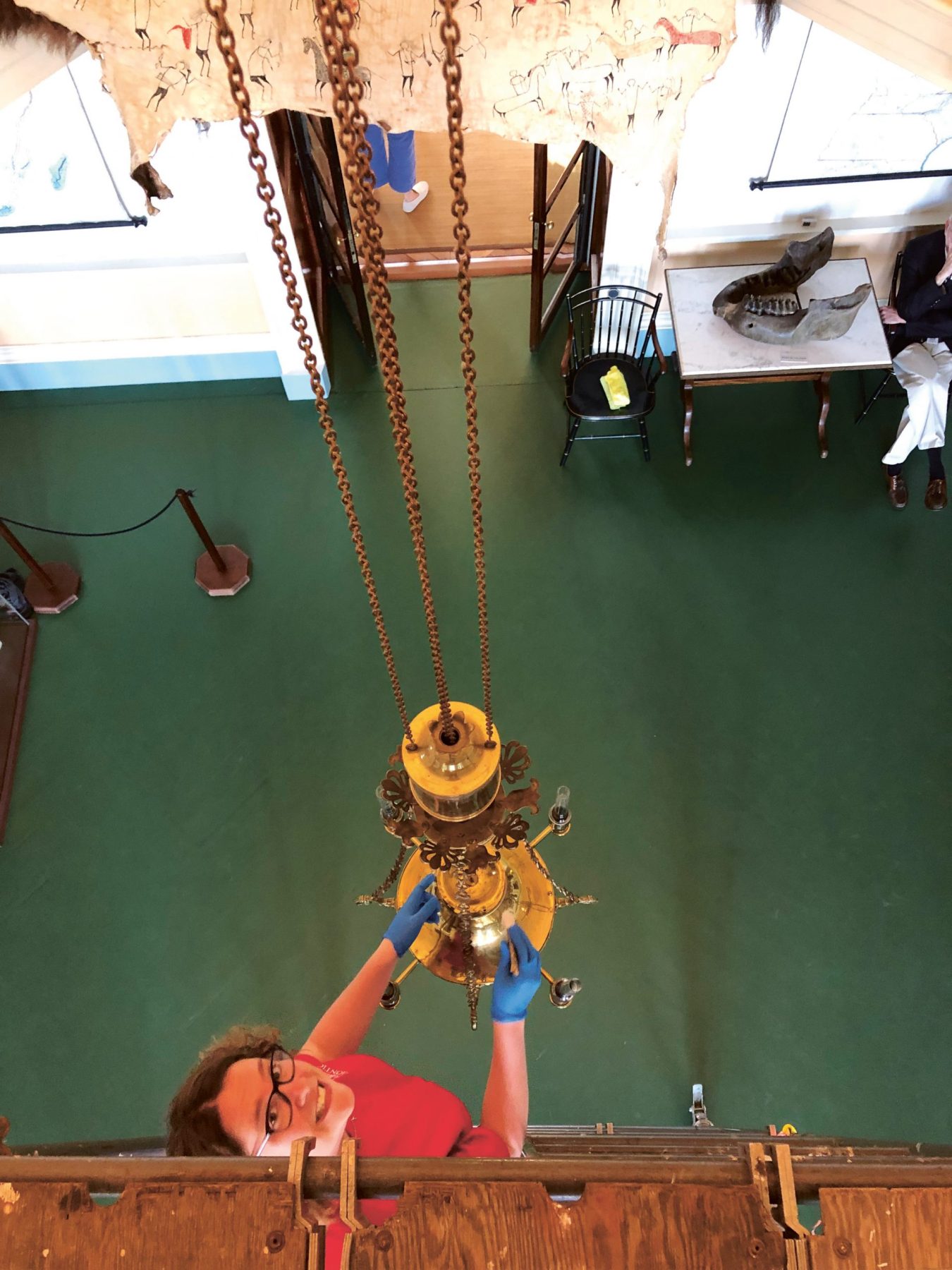 One of the key parts of her job is project management, skills for which she honed as manager of the women's basketball team her senior year at Bridgewater. An avid sports-lover, Corradi, who played the baritone saxophone in the Pep Band, was known for occasionally putting down her instrument so she could cheer more loudly for the football team. When she learned the basketball team needed a manager, she jumped at the chance of an insider role that allowed her to be part of the team's success.
Every January, Monticello undergoes a Big Clean, three days in which it's all-hands-on-deck to clean the house—and every object—from floor to ceiling. The house is open to visitors year-round, and welcomes up to 450,000 people annually. That's more than 1,000 people a day tracking in red clay dirt, slush and other environmental threats to preservation.
Corradi loves the opportunity to see and handle pieces in the house she wouldn't necessarily otherwise, doing basic preventative conservation and assessing any issues that need to be addressed. While suspended on a piece of scaffolding high above the floor with a brush or cloth in hand, Corradi can't help but wonder if a young child walking through the house that day might see her and have their own curiosity piqued.
"I hope in those moments we're inspiring some kid who walks through the house and says, 'I could do what they're doing one day.'"
After all, history has a way of repeating itself.