By Jessica Luck
As the U.S. Naval hospital ship Comfort pulled into the New York City harbor, its passengers were greeted by people cheering enthusiastically and waving handheld American flags from the shore. It was March 30, 2020, and 60,000 people in the largest city in the U.S. had contracted the COVID-19 virus. About 775 of those people had died. City hospitals were overwhelmed with coronavirus cases on top of providing regular medical care.
But help had just arrived in the form of a 1,000-bed floating hospital.
Jennifer "Jenn" Cahill '12, who received her bachelor of science in biology from Bridgewater, was one of the proud Navy medical professionals aboard the ship. Cahill, who grew up in a Navy family, always knew she wanted to join the service, but was turned down for the Navy's nursing program her senior year of college because her grades weren't high enough. Undeterred, Cahill went on to attend Marymount University's accelerated nursing program from 2012-13. She graduated with her bachelor's in nursing. Her dream was to work as a cardiac surgery scrub nurse in the operating room, but a second Navy recruiter told her there was no guarantee she'd work in the OR or intensive care unit.
So, she worked her way up the medical ladder, starting as a cardiothoracic stepdown nurse at the University of Virginia Hospital, in Charlottesville, Va., followed by time working in the ICU and at a small outpatient surgery center also in Charlottesville. Then for two years she worked in the OR at George Washington Hospital in Washington, D.C.
For the third time in five years, Cahill contacted a Navy recruiter. This time, with three years' operating room experience under her belt, she got the answer she always wanted.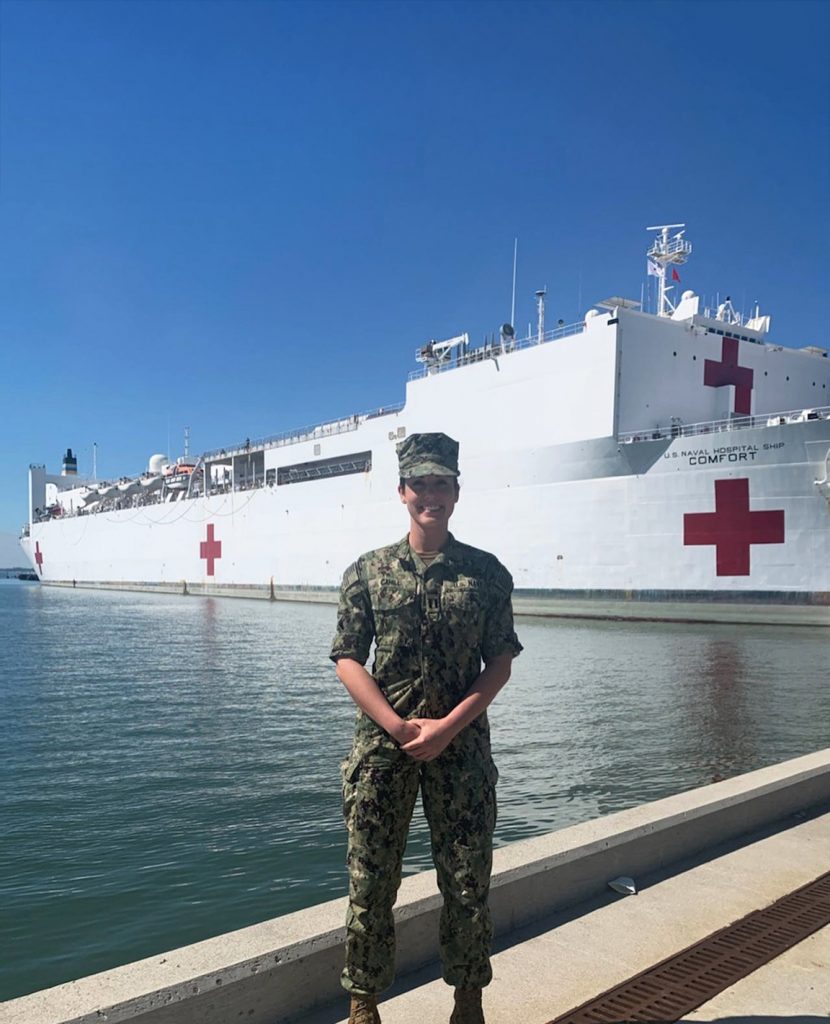 Cahill received her Navy acceptance letter in February 2018 and arrived Sept. 19, 2018, at the Naval Medical Center in Portsmouth, Va. to report for duty.
"I'm extremely excited and feel blessed to have been chosen to represent Navy nursing on this mission to help those in need," she said. "It's a very stressful time for everyone in our nation and around the world. Right now, being able to do anything to help manage the COVID-19 pandemic is what I know I'm meant to do."
The USNS Comfort was stationed in NYC from March 30 to May 1, 2020. During that time, the hospital treated 182 patients. Originally commissioned to only treat patients who tested negative for the coronavirus, the hospital eventually switched gears to allow COVID-19 positive patients to be treated onboard.
"There are a lot of unknowns, but at the end of the day, the desire to care for those in need is what comes first," Cahill said. "This is the exact kind of mission and reason why I not only became a nurse, but a Navy nurse."