Meet four recent Bridgewater College graduates who say their careers received a jump start thanks to their internships.
By Karen Doss Bowman '91
Internships are vital for professional success, offering students valuable job experience and a head start in their careers. The 2018 Internship & Co-op Survey Report by the National Association of Colleges and Employers (NACE) found that 59 percent of interns were subsequently offered full-time positions with the 300 responding companies.
Internships offer numerous benefits, including the chance to gain a realistic view of a potential career; enhance professional skills and build confidence; strengthen one's resume; and develop a professional network.
"Employers want to see how students behave in the workforce," said Sherry Talbott, Director of Career Services at Bridgewater. "It's not just about book sense. Internships give students a chance to see how they fit into a corporate culture. While employers appreciate students' academic achievements, they also want to see their competencies, such as leadership, communication and teamwork skills, tech savvy and understanding of diversity. An internship is not just a working experience—it's a learning experience." Bridgewater College is dedicated to connected learning, and an internship is an ideal venue for understanding how the collegiate experience translates to the world of work.
According to data from Bridgewater's Office of Career Services, 58 percent of the Class of 2019 participated in an internship or practicum as part of their college experience. Talbott would like to see all students complete at least one internship during their time at the College, but encourages them to do two or three for the best outcomes.
Here are stories about four recent graduates whose careers got a jump-start thanks to internships.
Giving Kids a Voice: Tiffany Weese '19
Tiffany Weese has a heart for children whose lives are in turmoil. Inspired by her 5-year-old brother—of whom her mother has had legal guardianship since he was just months old—Weese focused her Bridgewater experience around plans for a career in social work to help foster children.
"My brother's biological mother couldn't take care of him, and seeing what he went through has made me want to help other kids," said Weese, who majored in sociology with a social work minor.
Weese had the opportunity to gain hands-on social work experience through her fall 2018 internship at the Potomac Center. The nonprofit organization, located near her hometown of Moorefield, W. Va., partners with the state of West Virginia to provide safe and permanent homes for children. The 12-credit-hour field experience was required as part of her minor studies in social work. Weese was responsible for managing a caseload of five children, conducting home visits with their foster families and attending court hearings as a children's advocate.
Some of the children she works with eventually will be reunited with their biological parents, while others are to be adopted. The work can be emotional and bittersweet.
"Once the children go home [to their biological families], we lose all contact with them," Weese said. "Even when it's in their best interest, it's hard to say goodbye. On the other hand, I've been working with a little girl who will be  adopted by her foster family, and I'm super excited for her. So some days are very hard, and other days, it's totally worth it."
Before Weese's internship ended, a full-time service coordinator position at the organization opened up. She was hired for the job on a part-time basis while finishing her last semester at Bridgewater. After graduation, she went to full time and manages anywhere from 10 to 25 cases at a time.
"Tiffany has several qualities that made her a very desirable employee—she's energetic, outgoing, has a willingness to learn, is observant and a quick learner," said Jamie Hedrick, Supervisor of Service Coordination for the Potomac Center. "Tiffany's personality is a plus: She is very good at communicating and has a passion for children and the services our program provides. She is a great advocate for our children. Tiffany stands out due to her ability to get along well with others, her team mindset and her ability to communicate effectively with individuals we work with—families and children."
Social work is demanding, and Weese said the internship gave her a clear sense of what a career in the field would be like.
"The experience itself was extremely helpful because I learned what I would be getting into," Weese said. "I know what the hours look like—it can get crazy—and I'm prepared for that because of the internship. It's also been valuable for networking that might set me up for other opportunities in the future."
---
Inside Politics: Marshall Miller '18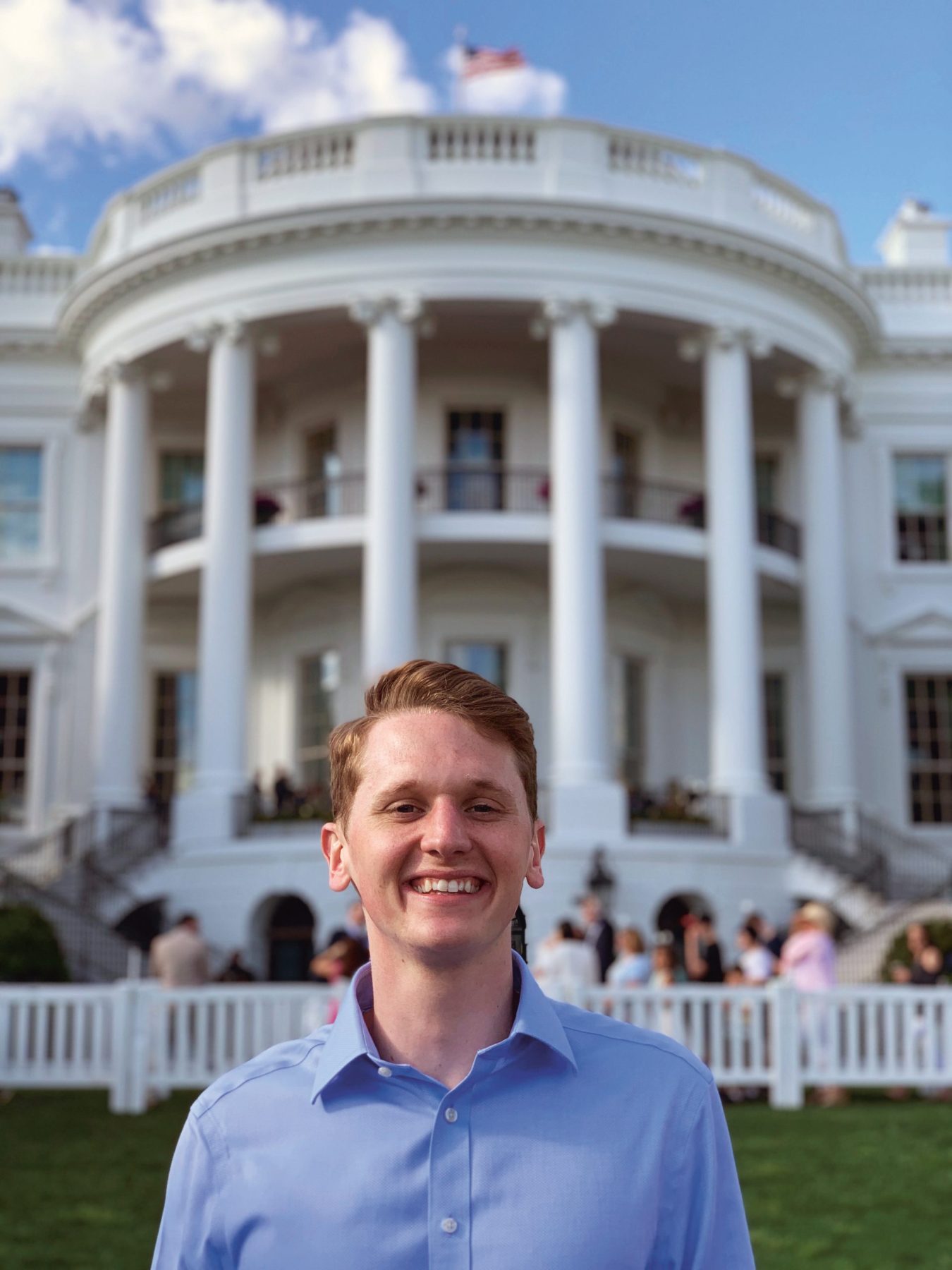 One of Marshall Miller's earliest memories is of the Sept. 11, 2001, terrorist attacks on the World Trade Center and the Pentagon. He recalls seeing footage from the tragedies and hearing President George W. Bush's speech declaring war on terrorism. As a witness to those tragic events in U.S. history, Miller realized the impact politics can have on people's lives.
"I could tell, even at that young age, that something important was happening," said Miller, who graduated in 2018 with a bachelor's degree in political science and government and a minor in English. "I was keenly aware that politics mattered, and that people with political power make decisions that have a real impact on people domestically and abroad. When I came to Bridgewater, I wanted to gain an in-depth understanding of politics and policy, and to find an area where I could fit into that process."
Miller wanted to work in Washington, D.C., the epicenter of American politics. During his senior year, one of his professors told him about Log Cabin Republicans (LCR), an organization that works within the Republican Party to represent the interests of LGBT individuals. Miller, wanting to be part of "making the Republican Party more inclusive," applied for and landed an internship as an executive assistant to the organization's president. His responsibilities included managing correspondence, scheduling meetings, editing documents and coordinating social media outreach efforts.
Miller did the internship as a course for academic credit and was able to live in the District during the semester, spending just one day each week on campus for one class and for one-on-one meetings with professors for two other courses.
The LCR internship not only developed Miller's professional skills, but also opened the door for future employment by building his network. Before he completed the internship, his supervisor connected him with a colleague at the Republican National Committee (RNC). After graduating from Bridgewater last May, Miller began working for the RNC as a rapid response research analyst.
"At a small school like Bridgewater, I was able to gain the skills that prepared me to work in politics at a level that's high enough to meet my ambitions—but until the internship, the idea of being in D.C. and doing political advocacy was an abstraction for me," said Miller, who served as student body president during his senior year. "Once I started doing the work and realizing the skills I already had—such as critical thinking, problem solving and communicating with people—and seeing where I needed to grow, it really brought it all down to earth. I made connections between what I learned at Bridgewater and the real world."
---
Sustainable Future: Devin Lattimore '19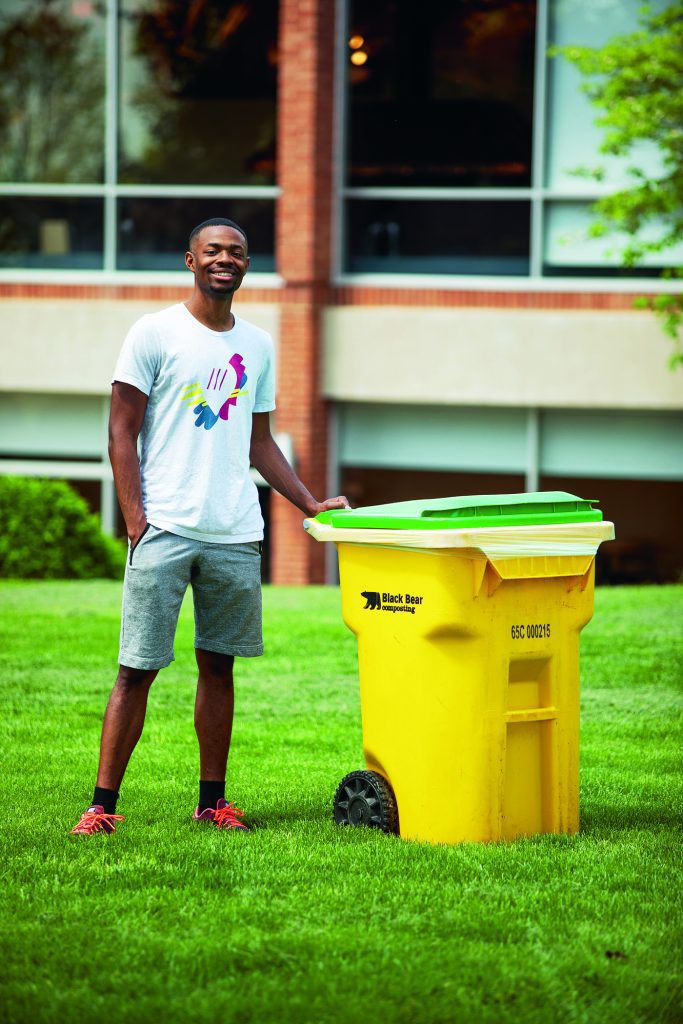 When Devin Lattimore '19 first chose a major at Bridgewater College, he admits the process was a little more organic. Presented with the list of majors, he designated accounting as his pick, likely because it was one of the first ones listed. But before the start of classes, Lattimore realized environmental science was his field of choice.
The environment had always been a topic of interest for Lattimore, who grew up in Prince George's County, Md. He watched nature documentaries for fun and always had Animal Planet on in the background.
"So many of our actions affect the environment and we don't realize it," Lattimore said. "There's so much more to it. It's not restricted to big topics like climate change."
One of those smaller but impactful environmental practices was central to Lattimore's internship with the College's Office of Community Engagement and Sustainability the spring semester of his junior year. Under Director Teshome Molalenge '87, Lattimore focused on identifying and engaging stakeholders as part of an overall composting program at Bridgewater. The College currently composts pre-consumer waste at the Kline Campus Center in a joint partnership with Parkhurst Dining Services, as well as lawn clippings and leaves for flowerbeds around grounds. Engaging students was the hardest part, Lattimore says, and he employed creative ways to bring composting to their attention, such as a Power-Point presentation played during lunch in the KCC.
As a result of Lattimore's internship, Molalenge encouraged him to apply to speak about what he had learned at the 30th Environment Virginia Symposium, held in March 2019 at Virginia Military Institute. The premier environmental conference in the state brings together individuals in the government, business, nonprofit and higher education sectors to network and collaborate on solving environmental challenges. After a highly selective application process, Lattimore learned he was one of the few college students chosen to present. Lattimore's talk on organic waste solutions on Bridgewater's campus was part of a breakout session on waste/recycling on college campuses. His fellow panel speakers included the director of the Center for Social and Cultural Research at Radford University, a senior scientist at the College of William and Mary and a senior environmental scientist from Vanasse Hangen Brustlin, a civil engineering consulting and design firm. Lattimore talked about stakeholder engagement regarding composting and discussed both successes and struggles he encountered, including engaging students on campus and the economic costs of creating a larger, post-consumer waste composting program.
"It was very inspiring to see so many people with so much passion for the environment," Lattimore said.
During fall semester of his senior year, Lattimore interned with the Department of Environmental Quality (DEQ) in Harrisonburg, Va. He performed various tasks such as database management and visiting businesses to inspect their stormwater runoff practices. In May, Lattimore started his job as a Water Permit Writer at the DEQ.
Lattimore said although internships at a college can be viewed as less prestigious, it was the internship through Molalenge's office that gave him the confidence in his skills to pursue his passion beyond campus, which led to landing an internship that segued into full-time employment.
"It's really cool to have so many opportunities available at a small school," Lattimore said. "If you really take the opportunity and you make yourself responsible for the work that's being done, it makes a huge difference."
---
Legal Eagle: Monica Iturbide '19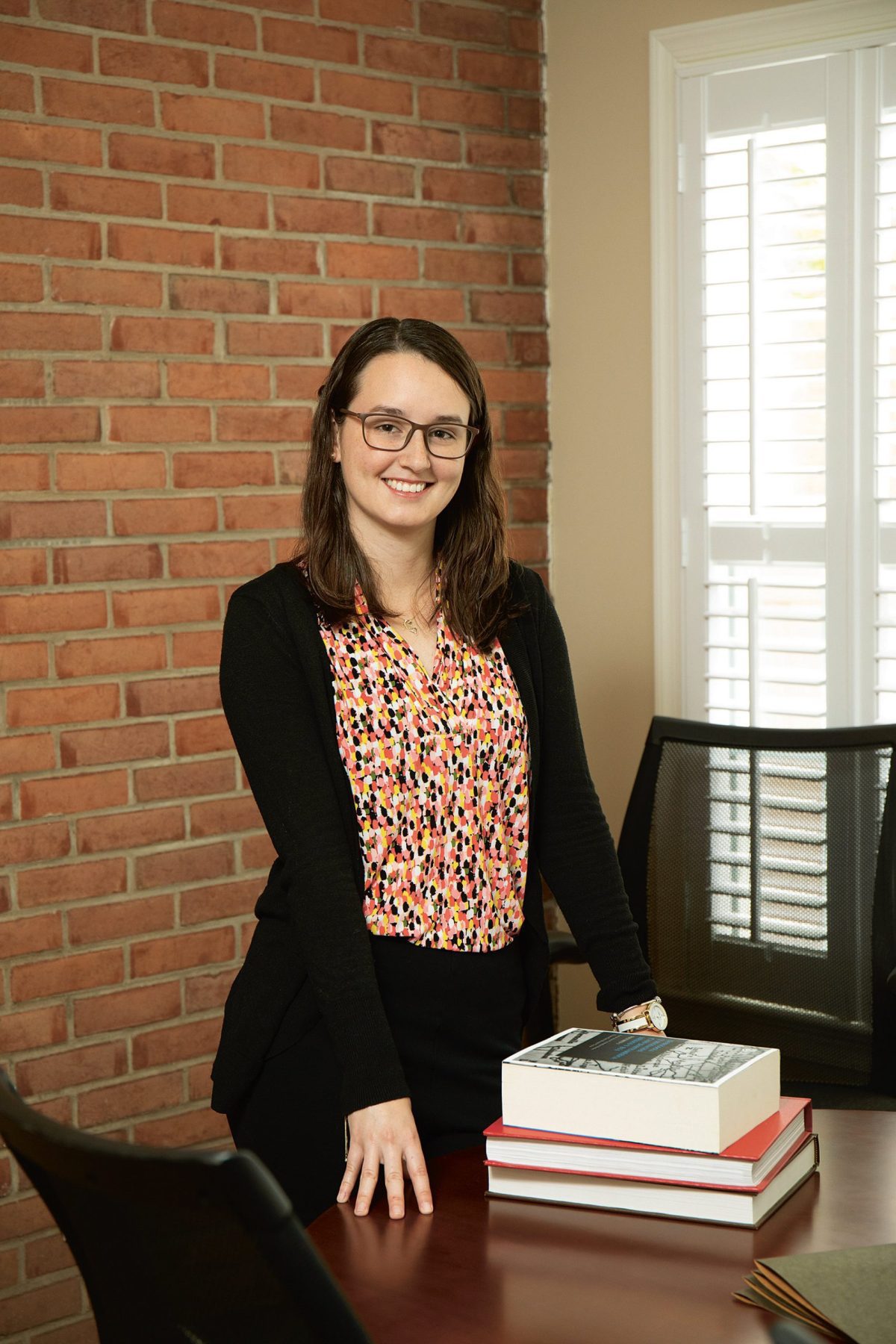 An aspiring lawyer, Monica Iturbide '19 is passionate about political issues that impact human rights, international law and public policy in Latin American countries. Interning with an immigration attorney last fall allowed her to develop a realistic picture of the plight faced by countless refugees seeking asylum in the United States.
"These people live in horrible conditions that no human being should have to go through," said Iturbide, who double majored in political science and Spanish with a pre-law concentration and minored in global studies. "It's pretty shocking, some of the stories I've heard. The U.S. has such a divided political climate over refugees, so I think it's important that we have people who are willing to help them."
Born in California and raised in Guadalajara, Mexico (where her parents are from), Iturbide handled tasks such as translating documents, interviewing clients and conducting research for the law firm of John Elledge and Associates in Harrisonburg, Va.—the only law firm in the area that handles asylum cases. She even made a trip with her supervising attorney to immigration court in Washington, D.C., to watch one case unfold.
"Asylum law is a hard type of law [to practice]—it's hard to win an asylum case because the client has to prove that they have a well-founded fear of persecution or fear for their life that keeps them from going back to their home country," said Iturbide, who was hired to continue working part-time for the firm after completing the internship for academic credit. "I did a lot of research on the clients' countries, looking at issues such as political persecution, domestic violence against women or gang activities."
Though Iturbide appreciates the work of an immigration/asylum lawyer, the internship helped her realize this field of expertise is not the right choice for her. For now, she's moving to Reston, Va., where she'll work for a government contractor as a legal aide for the U.S. Department of Justice. In two or three years, she will attend law school and specialize in international law.
"The internship validated that I still, 100 percent, want to become a lawyer," Iturbide said. "I want to help others and do something that's actually meaningful, but after working with the asylum lawyer, I realized it's not something I can personally do. It's mentally draining and will break your heart. It's too harsh. But the internship helped me see what being a lawyer is really like and how much work and research I'd have to do."
No matter where she ends up, Iturbide is confident that her experience at Bridgewater has prepared her for whatever challenges lie ahead.
"When I started the internship, I didn't know what I was getting into, but because of my liberal arts education, I was ready," she said. "My four years here taught me to think critically and solve problems. I can handle whatever life throws at me."