Catch up on all the latest Bridgewater College campus news.
Bridgewater College Adds New Academic Programs
To meet market demand, offer new opportunities to students and provide the College with additional revenue streams, Bridgewater is launching two new master's programs and two new undergraduate programs, following Southern Association of Colleges and Schools accreditation.
The Master of Science in Human Resources Management  (MSHRM) will kick off in summer 2020. The degree is intended to be completed in a single year by full-time students. Dr. Roslyn Vargas, Assistant Professor of Economics and Business Administration, is spearheading the move to add the program. Applications for the summer 2020 admissions cycle will open in August 2019.
The Master of Science in Psychology – Mental Health Professions (MSPsy) will launch in August 2020. The degree may be completed in one year by full-time students. Admissions applications will open in August 2019.
Undergraduate major in Digital Media Arts
Undergraduate major in Data Science and Analytics
Dr. Sam Hamilton, Assistant Professor of English, has been named Director of the Master of Arts in Digital Media Strategy program (MDMS), effective July 1. The MDMS program kicked off in January 2019 with 11 students who were enrolled in cross-listed undergraduate and graduate courses in communication studies, art and professional writing. In June, the core curriculum of the program launched with the first cohort of 12 students. The program has three application deadlines each year: June 1, Oct. 1 and Feb. 1.
Members of the departments of communication studies, art, English and computer science developed this interdisciplinary program for students interested in designing, managing and measuring the effects of multimodal messages in a web environment.
---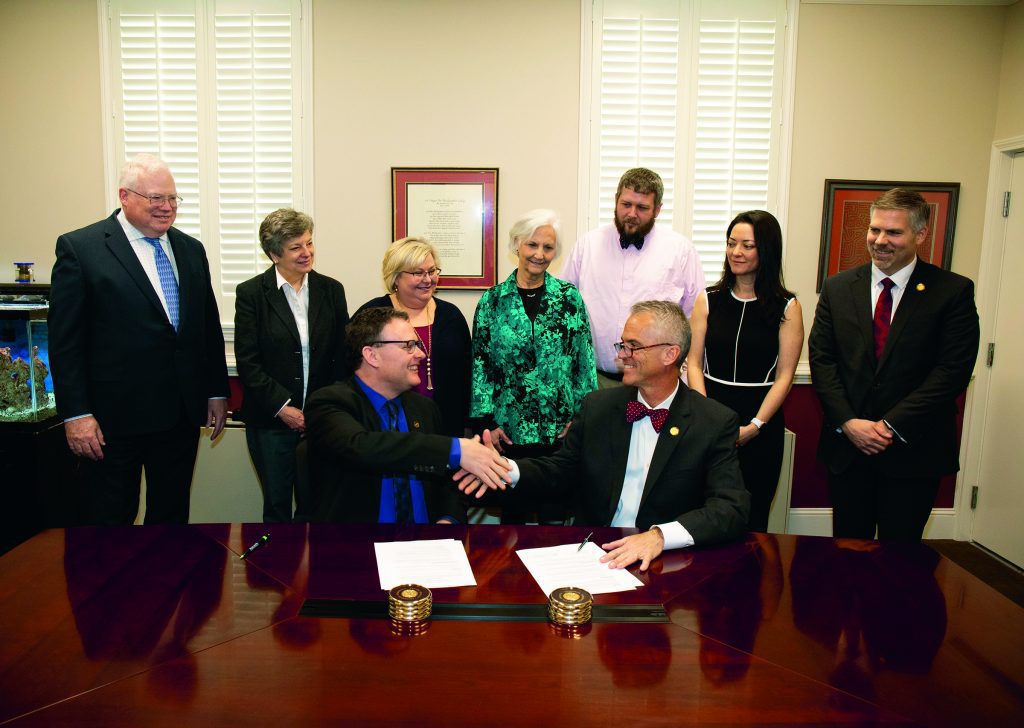 Bridgewater College and Blue Ridge Community College Sign Articulation Agreement
To make a bachelor's degree more accessible to local students, Bridgewater College and Blue Ridge Community College signed a new Guaranteed Admission Agreement that will allow students meeting certain requirements to transfer directly from the community college to Bridgewater's bachelor's degree program and enter with junior status. Bridgewater President Dr. David Bushman (right) and Blue Ridge Community College President Dr. John Downey (left) signed the agreement on April 2.
---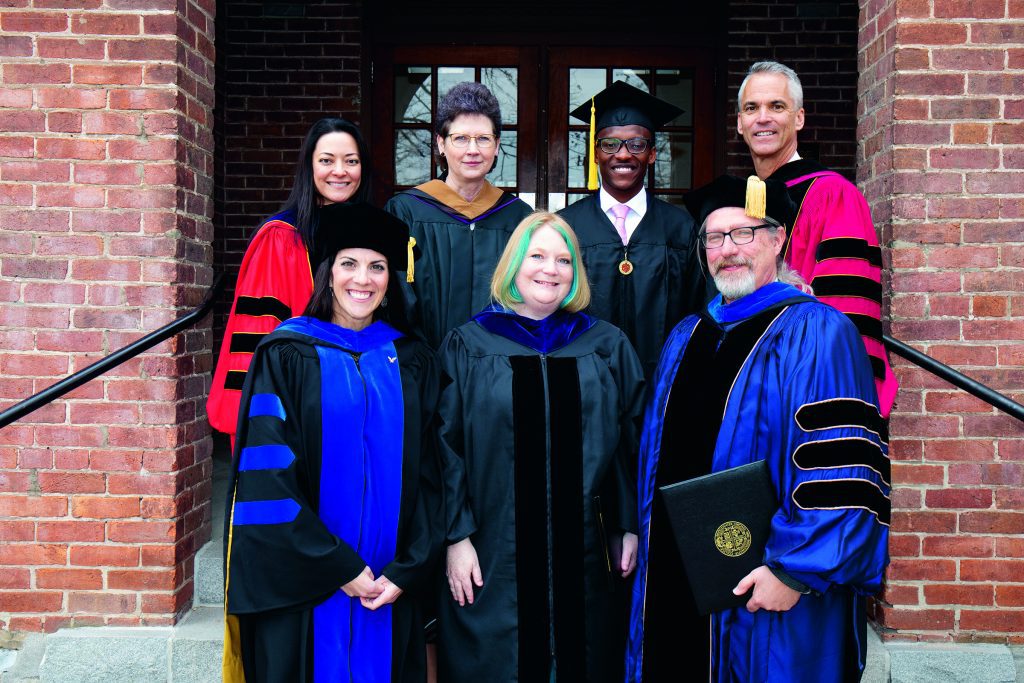 Bridgewater College Bestows Awards at Founder's Day
In honor of Bridgewater College's founding 139 years ago by Daniel Christian "D.C." Flory, five awards were presented at the annual Founder's Day ceremony on April 2. The ceremony marked the College's 100th observance of Founder's Day, which began in 1920.
At the ceremony, Dr. Leona Sevick, provost and vice president for academic affairs, recognized three faculty members for excellence in teaching and scholarship. Inaugural awards for excellence were also given to a staff member and a student. Bridgewater President Dr. David Bushman presented the awards to each recipient.
Dr. Jennie Carr, Associate Professor of Education, received the Martha B. Thornton Faculty Recognition Award; Dr. Erin Morris Miller, Associate Professor of Psychology, received the Faculty Scholarship Award; and Dr. Scott Suter, Professor of English and American Studies, received the Ben and Janice Wade Outstanding Teacher Award. Cynthia Howdyshell-Shull, Registrar, received the Daniel Christian Flory Award, and Johnny Haizel-Cobbina '19, an information systems management major, received the Bridgewater College Founder's Award.
---
Paging All Book Brigade Participants!
Were you one of the Book Brigade students who helped move books into the Alexander Mack Memorial Library when it opened? If so, we'd like to hear some of your fond memories ahead of the opening of the John Kenny Forrer Learning Commons this fall. Please email: alumnews@bridgewater.edu.
---
10%
Nearly 10% more of BC's 2019 graduating class has full-time employment than BC's Class of 2018 at time of graduation. (The trend is in line with National Association of College's and Employers' projected 10.7% national increase in hiring for Class of 2019 over Class of 2018.)
Class of 2019 information collected at or before graduation, courtesy of the Office of Career Services
---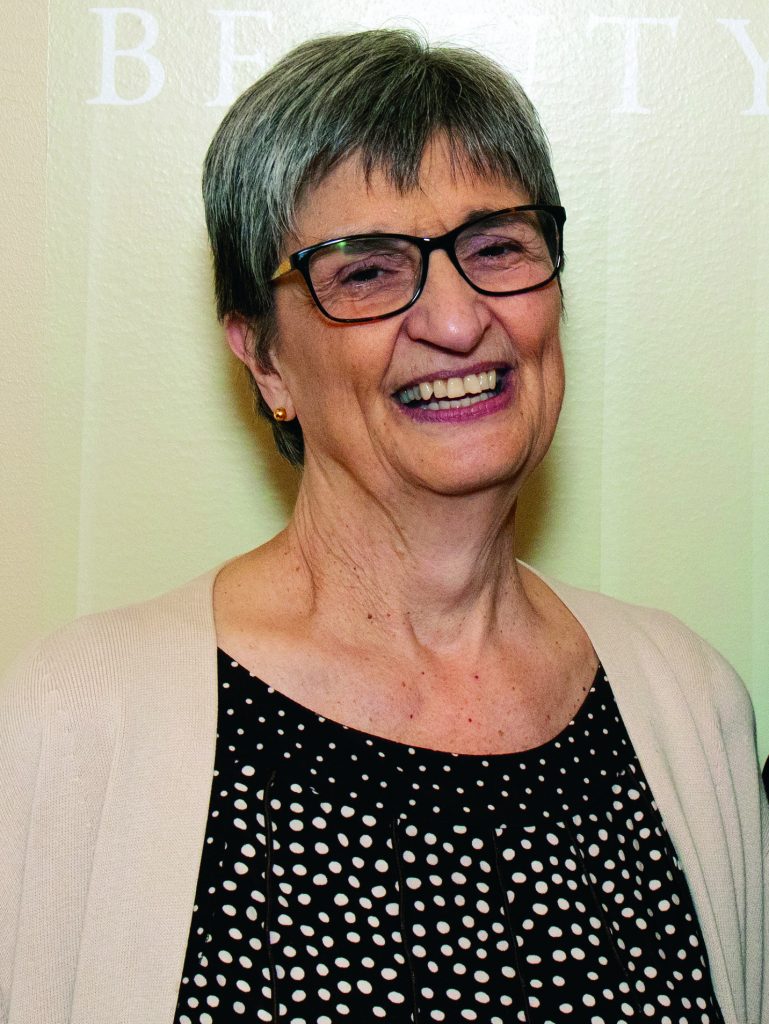 Hawk Retires From Teacher Education Program
Dr. Jean Hawk received the President's Medal for her service to the College at the Commencement ceremony on May 4. After 13 years in the Teacher Education Program, Dr. Hawk retired as a Professor of Education, Emerita. Dr. Hawk has been in the teaching field for 46 years.
---
Womack and Lempicki Win National Championships
Davonta Womack '20 closed out his career in the best way possible—as a national champion. Womack took first in the 100-meter dash at the NCAA Division III Outdoor Track and Field National Championships in May with a 10.2-second performance. His time is a new school record and a new Old Dominion Athletic Conference record.
Melissa Lempicki '20 earned a wildcard spot to compete in the Intercollegiate Dressage Association's National Show and rode away with the first national championship for Bridgewater College equestrian program's IDA team.
---
33%
The Class of 2019's percentage of students enrolled in or planning to enroll in graduate and professional schools (33%) is higher than BC's previous three graduating classes of 2016-18
Class of 2019 information collected at or before graduation, courtesy of the Office of Career Services
---
Bridgewater Delegation Participates in International Collaboration
In February, Bridgewater College hosted delegations from the University of Sarajevo and the International Islamic University of Malaysia. Subsequently, six Bridgewater College delegates (two faculty, two staff members and two students), along with delegates from Shenandoah University, traveled to Bosnia and Malaysia for two weeks at the beginning of March. These visits kicked off the Barzinji Project, a collaborative international exchange that seeks to foster cross-cultural understanding as well as innovation in higher education.
---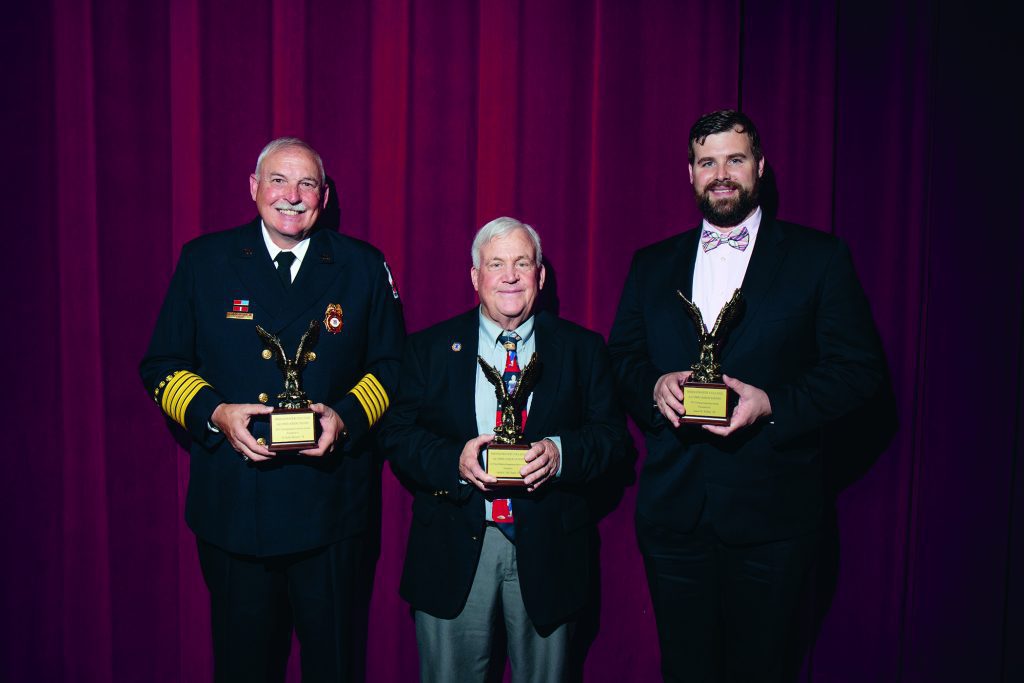 College Alumni Association Recognizes Honorees
At the annual college awards ceremony on April 14, the Bridgewater College Alumni Association honored three of its alumni with awards for achievements and service.
The Distinguished Alumnus Award was presented to Keith Brower '78. Brower, who has logged more than 46 years of service in both a volunteer and employment capacity for fire departments in Virginia, has devoted his life to helping others. He retired in April 2018 as Fire Chief of the Loudoun County Combined Fire and Rescue System.
The West-Whitelow Humanitarian Award was presented to Dr. Harold "Hal" Hedley Jr. '70. Dr. Hedley has 40 years' experience in education and nonprofit management. Throughout his life, he has served on numerous boards and in volunteer roles, especially those helping children. He served as president/CEO of the Child Protection Center Inc. for 17 years.
The Young Alumnus Award was presented to Dr. Jason Ridlon '02. Dr. Ridlon, Assistant Professor at the University of Illinois Urbana-Champaign, has received wide recognition within his field for his research of gut microbiology, specifically on what he has termed the "sterolbiome." In 2016, Dr. Ridlon was awarded the Young Investigator Grant for Probiotics Research.
---
BC Alumni Enjoy Memorable Weekend in NYC
Fifty-two BC alumni and friends traveled to New York City for three nights over Easter weekend. The group, ranging in graduation years from 1957 to 2018, took in the Easter Parade, toured the 911 Museum and Memorial, MOMA and the Met, visited Times Square and Central Park, saw two musicals and enjoyed a jazz cruise. They even had time to join NYC area alumni for a happy hour reception.
---
On the Ground Floor
Bridgewater College's Board of Trustees was treated to a sneak peek of the John Kenny Forrer Learning Commons the week of their spring meeting. Board members donned hard hats to join Bridgewater College staff for the behind-the-scenes tour that included a walk-through of the building and updates on the construction process.
The Forrer Commons, an update and expansion of the Alexander Mack Memorial Library, is set to open this fall.
---
Showker Prize Winners Revealed
The team of Syrga Kanatbek kyzy '19, Alan Bowman '19, international exchange student Sofia Martinez Garcia del Real, Joshua Matheney '19 and Luke Morgan '20 took top prize in the Showker Prize competition with "Moving Borders," their project to increase awareness of and opportunities for internships for BC students. The team received a $5,000 prize. The second-place team won $2,000 for their "Greenhouse on the Go" project.
---
58%
Rate of internship participation (58%) increased 5% for BC's Class of 2019 compared with Class of 2018. The internship rate is at its highest point in the past five years.
Class of 2019 information collected at or before graduation, courtesy of the Office of Career Services
---
Awards and Accolades
Briana Moore '19 received an NCAA Postgraduate Scholarship for $10,000. Moore finished her Eagles women's basketball career ranked No. 5 all-time in scoring with 1,419 points and was a two-time, first-team Academic All-America selection. She was also a finalist for the prestigious Jostens Trophy, awarded to the top student-athlete in Division III women's basketball … Nine Eagles qualified for the NCAA Outdoor Track and Field Nationals: Calista Ariel '20, English Jackson '20, Tye Meador '20, Emily Valle '20, Dianté Cannon '22, Alex Galloway '19, Davonta Womack '20, Dirk Jones '19 and Jamie Hiegel '19. … Meador was named the South/Southeast Region Field Athlete of the Year while Assistant Track and Field Coach Brian Cunningham was named South/Southeast Women's Assistant Coach of the Year … Dr. Jamie Frueh, Professor of History and Political Science and Director of the Center for Engaged Learning, received the 2019 Deborah Gerner Innovative Teaching Award, which is presented annually to a professor who has developed effective new approaches to teaching in the international studies discipline … Ben Spotts '97 was named Bridgewater baseball's new head coach after Curt Kendall '81 announced his retirement after 34 years … Eric Husselbaugh '21 is Bridgewater's first-ever men's lacrosse All-American selection … Canon Secord '22 was named ODAC Player of the Year and Rookie of the Year in men's tennis … Michael Golinowski '22 was named the winner at the inaugural Intercollegiate Horse Show Association Metropolitan Equitation Invitational hosted by the Longines Masters of New York … The men's track and field team won the 2019 ODAC Outdoor Championship for the second year in a row. The women's track and field team took second at the championships … Bridgewater College students performed Men on Boats under the direction of Associate Professor of Theatre Dr. Scott Cole at the Kennedy Center American College Theatre Festival (KCACTF) regional theatre festival at Montclair State University … The Bridgewater College Women's Indoor Track and Field team placed second at the ODAC conference championships. Emily Valle was named the Women's Track Athlete of the Year while Calista Ariel was named the ODAC/Va. Farm Bureau Scholar-Athlete of the Year … Equestrian rider Georgia Osborne '20 qualified for the IHSA national show and placed third in the individual Novice on the Flat class … Three Bridgewater College professors published books recently: Dr. James Josefson, Associate Professor of History and Political Science; Dr. Hope Rias, Assistant Professor of Education; and Dr. Johanna Birkland, Assistant Professor of Communication Studies and Theatre
---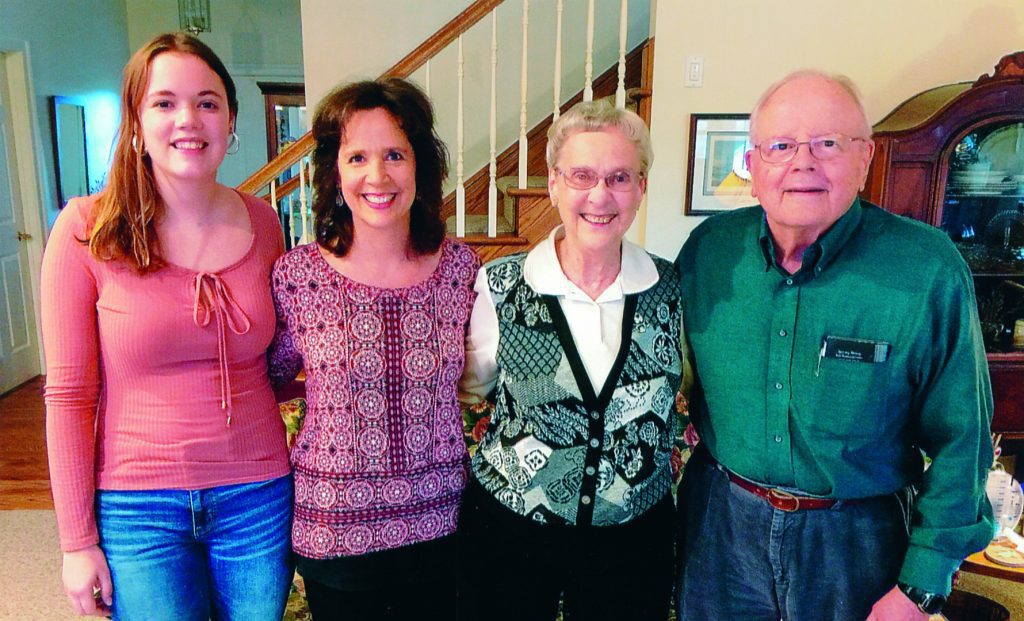 Legacy Family: The Bowman family
James "Jim" Owen Bowman '57 and Sylvia Kline Bowman '57 have enjoyed a long history with Bridgewater College as well as the Church of the Brethren. Many members of their families attended college at BC, and the couple established the Kline-Bowman Institute for Creative Peacebuilding at the College, which advocates for the study and understanding of peace and justice issues in local and global communities. In addition, the Kline Campus Center is dedicated to Sylvia's ancestor, the martyr Elder John Kline, a 19th-century leader in the Church of the Brethren. Sylvia's parents are also part of the proud Bridgewater tradition: the late Wilmer M. Kline '23 and the late Nora Harley Kline '23.
In this photo, the Bowmans are pictured with their granddaughter (the newest family graduate of BC!) and their daughter: Angela Lynn Harner '19 and Lavonne Bowman Harner '88. In fact, all of the Bowmans' children graduated from Bridgewater College: Carol Bowman Weaver '81, Dale Owen Bowman '84 and Lavonne.
The couple's siblings are all proud BC alumni as well. Sylvia's siblings are Wilma Kline Robertson '47 and her late husband, Jesse. D. Robertson '45, the late E. Harley Kline '49 and the late Leon Miller Kline '51. All of Jim's siblings and their spouses attended BC: Fred M. Bowman '46 and his late wife, Wanda Martin Bowman '49, Freeda Bowman Snavely '50 and her late husband, Royal Snavely '59, and Lois Bowman Whitmore '61 and her husband, Joe Whitmore '61.
Many of the Bowmans' nieces and nephews also attended Bridgewater College.
Want to be considered as a Legacy Family for this space in the magazine? It's easy. Gather the Bridgewater College graduates in your family, take a high resolution (1 MB or larger) photo and email it to us with a description of who's in the picture. You can submit Legacy Family photos to jluck@bridgewater.edu.