Catch up on all the latest announcements and achievements of Bridgewater College alumni.
Email your news on births, deaths, marriages, job changes, achievements, etc., to alumnews@bridgewater.edu.
Log in to bridgewateralumni.com.
Or, mail to Office of Alumni Relations, College Box 40, Bridgewater College, Bridgewater VA 22812.
Remember to include your name, maiden name, class year, spouse's name and class year if applicable, mailing address, phone and email address. Please avoid using abbreviations and limit your submissions to 75 words or fewer. We look forward to hearing from you!
---
1957
Dr. Fred Eichelman of Salem, Va., has released his latest book, Mrs. Hudson's Cat. He describes the book as "a short, fast, no-extraneous-nonsense tale of a holiday criminal crisis told through the eyes of a cat." After retiring as Principal at the old South Salem School, he began writing books and for various publications. His books are available on Amazon.
1966
After 44 years, Dr. Jerry Martin of Sperryville, Va., retired Dec. 28, 2018, from his family medical practice in Washington, Va. He earned his medical degree from the University of Virginia in 1970. In retirement, the 74-year-old plans to do volunteer work at the free clinic. He also enjoys traveling and says he has many places to explore.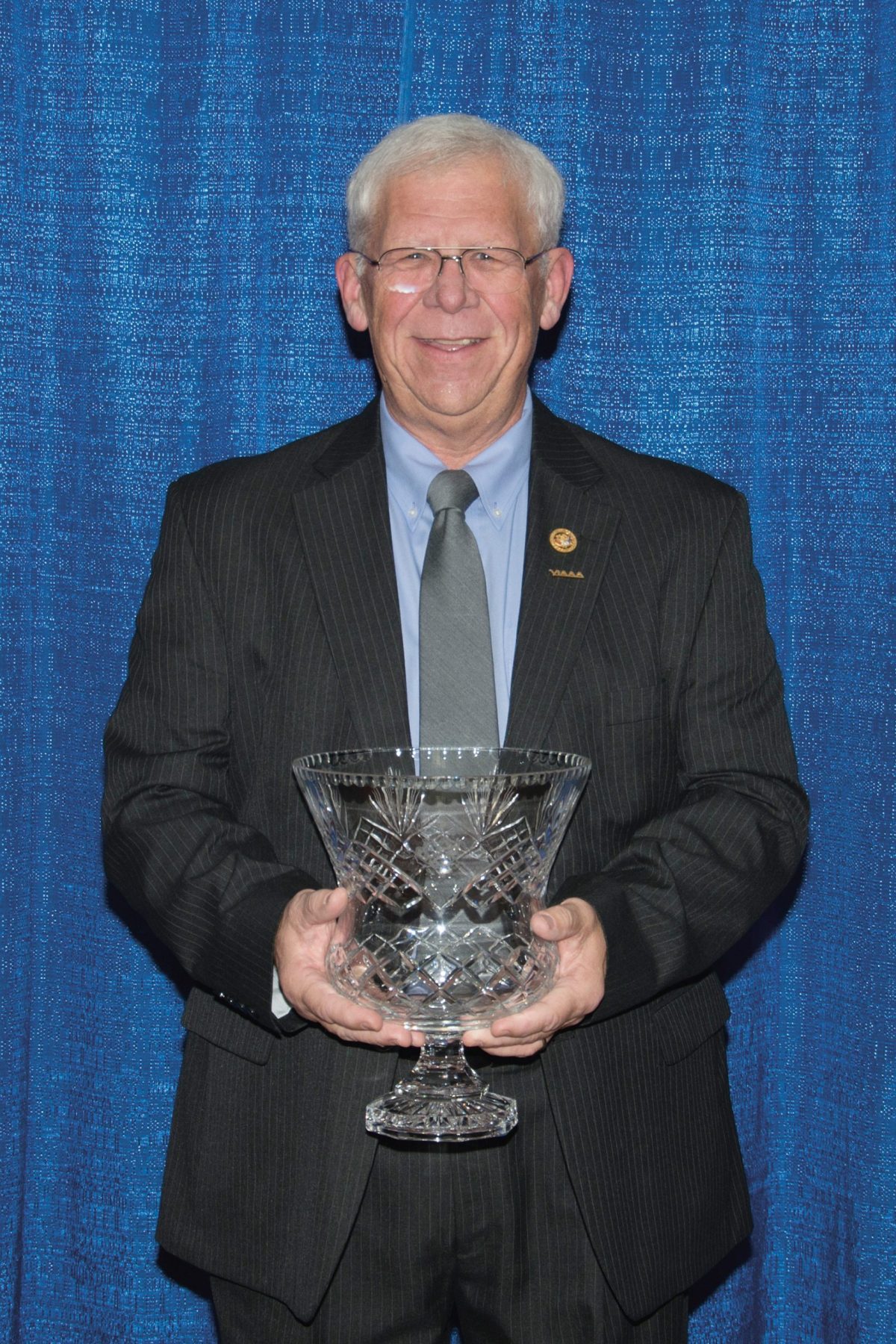 1972
In December 2018, Bruce Bowen of Mechanicsville, Va., was inducted into the National Interscholastic Athletic Administrators Association (NIAAA) Hall of Fame in San Antonio. He was the founder of the Central Virginia Interscholastic Athletic Administrators Association (CVIAAA) and has been Executive Director of the VIAAA since 2008, following a 37-year career as a teacher, coach and athletic administrator at Hermitage High School in Richmond, Va. In his time with the NIAAA, he has served as a moderator at several National Athletic Directors conferences and is a state Leadership Training Institute instructor. In April 2018, he received Bridgewater College's Distinguished Alumnus Award.
1973
Grover Collins just celebrated 40 years with Prudential Financial, located in his hometown of Berlin, Md., named the Coolest Small Town in America by Budget Travel in 2014. It is located a few miles from Ocean City, Md., and he invites all BC alumni to stop by when in the area.
1980
Carolyn Phillips Erbaugh of Locust Grove, Va., retired Jan. 1 from Stafford County (Va.) Public Schools. She was a Health and Physical Education Teacher and Coach. Her 39-year career in Virginia public schools was in Rockingham, Spotsylvania and Stafford counties. She is currently the Recreation Supervisor at Wilderness Presidential Resorts in Spotsylvania County. She serves as a caregiver to her parents who are both in their 90s.
On Jan. 1, Reggie Moore of Naperville, Ill., reached 100,723 lifetime miles as a runner. Through his 43 years of running, he has averaged more than 2,300 miles a year, running almost every day. For the past two years, he exceeded 2,500 miles per year at ages 59 and 60. He has completed 18 of 26 marathons—including the Boston Marathon—with a time under three hours. He plans to continue his daily running.
1981
On Feb. 14, Kevin C. Black of Woodstock, Va., was elected by the Virginia General Assembly as a Judge of the 26th Judicial Circuit.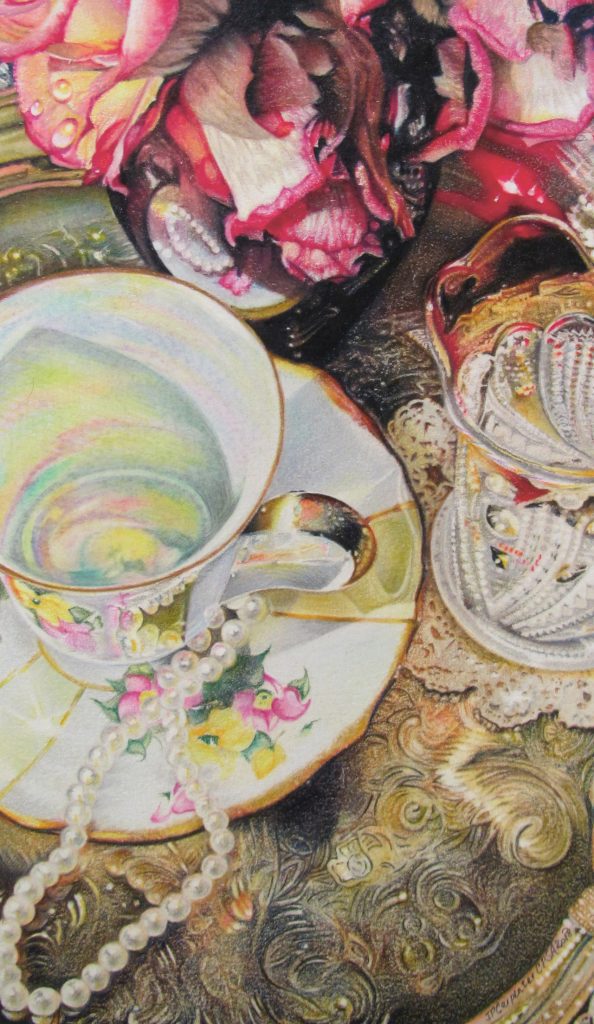 1987
Jennifer Phillips Carpenter of Christiansburg, Va., was awarded Best of Show for her colored pencil drawing, "Tea for Two, Missing You," at the fifth annual Edna Curry/John Bower Exhibition at the Bower Center for the Arts in Bedford, Va. She received a cash award, dinner with the judge and a solo exhibition at the Bower Center from November 2020 through January 2021. She has worked exclusively in colored pencil for more than 30 years, winning awards on the international level and receiving publication in colored pencil books and magazines. She invites people to visit her Facebook page at facebook.com/JPCarpenterArt.
Tammy Sensabuagh Talbott of Natural Bridge, Va., has been promoted to Vice President, Loan Officer and Portfolio Manager at the Bank of Botetourt's branch in Troutville, Va. She has been working in the banking industry for nearly 30 years. She graduated from the Virginia Bankers Association (VBA) School of Bank Management in 2006. She is active in the community volunteering with Habitat for Humanity, Relay for Life and hospice.
1991
Chris Dodson of Rockingham, Va., and Head Girls Basketball Coach at Spotswood High School, led the team to its fifth state championship in program history. He was named the Virginia High School League's Class 3 Girls Basketball Coach of the Year after leading the team to a 28-1 overall record. He also is a Special Education Teacher at Spotswood.
1999
Courtney Fears Johnson and her husband, Evan, welcomed a daughter, Paige Catherine, on July 19, 2018. The family lives in Glen Allen, Va.
Megan Swink Roane of Fishersville, Va., became Director of Blue Ridge Court Services (BRCS) on March 18. She previously served as a probation officer and a court services technician at BRCS before
becoming assistant director in 2015.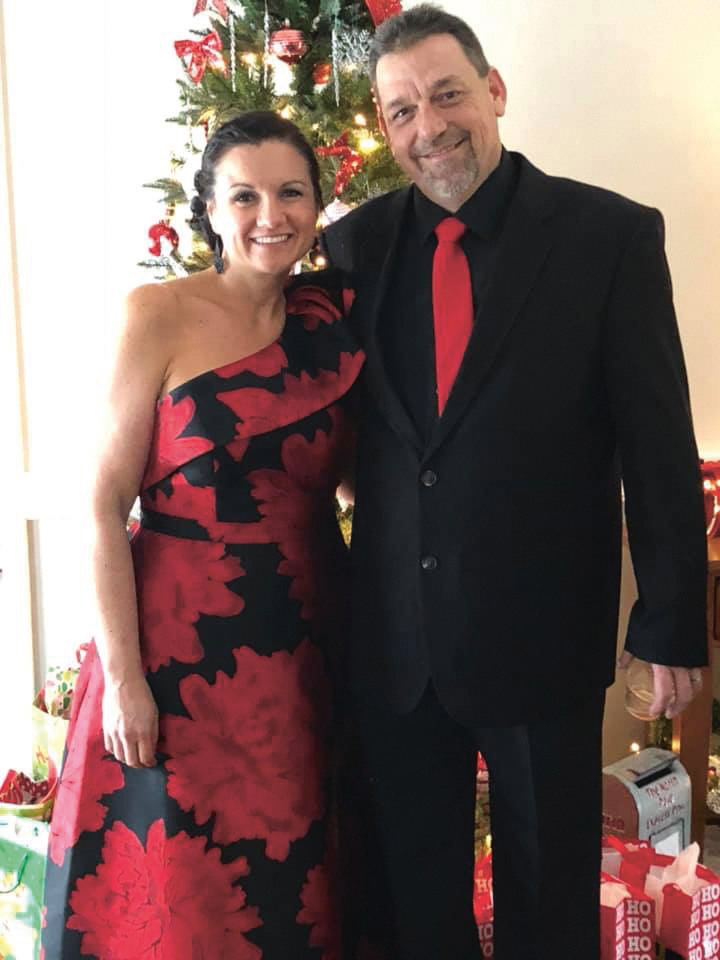 2000
Elizabeth Stringer and Michael Nunley were married Dec. 28, 2018. The couple lives in Galax, Va., where Elizabeth teaches ESL (English as a second language) and Spanish for native speakers at Galax High School.
In February, Chris Tibbs of Lynchburg, Va., completed his ChFC® (Chartered Financial Consultant) certification/designation. He previously achieved designations of the AAMS® (Accredited Asset Management Specialist) and CRPC® (Chartered Retirement Planning Counselor). He is a financial advisor with Edward Jones of Madison Heights, Va.
2001
Benjamin "Ben" Hall of Fredericksburg, Va., Commercial Loan Officer, has been promoted to Senior Vice President at Community Bank of the Chesapeake. He is responsible for growing commercial relationships and loan activity within the Fredericksburg area. He currently attends Virginia Bankers School of Bank Management at the University of Virginia. In 2017, Hall was awarded a "Top Ten of Next Gen" award from Fredericksburg Regional Chamber of Commerce. The award honors individuals who excel and are innovative in the business environment and have a passion for the community.
2002
Dr. Ryan Keebaugh of Stephens City, Va., was selected as Composer-in-Residence by Texas A&M University as part of the 2019 Society of Composers Conference, held in April in Commerce, Texas. In addition, Keebaugh's choral compositions were part of a MusicSpoke Choral Reading Session held during the 2019 American Choral Directors Association National Conference in Kansas City, Mo.
2003
Scott Hearn, a long-time Bridgewater College Assistant Baseball Coach, has been named Head Baseball Coach of Mary Baldwin University's new program. The team will begin play during the 2020 spring season as a club program and move to varsity status in 2021 in the USA South Atlantic Conference. While at BC, Hearn also served as Assistant Athletic Director for NCAA Compliance.
2004
Bret Colbert of Greensburg, Pa., has been named Head Football Coach at Greensburg Central Catholic High School. Prior to joining the GCC staff, Colbert was a defensive assistant, wide receivers coach and a recruiting coordinator at Duquesne University for three seasons. He is an abstractor for Penns Woods Property Searches.
Daryl Funk of Front Royal, Va., has been appointed as judge for the Juvenile and Domestic Relations District Court for the 26th District.
2005
The Rev. Emily Miller of Berea, Ky., is the new Director of Spirituality and Religious Life at Transylvania University in Lexington, Ky. She earned a master of divinity degree from the Louisville Presbyterian Theological Seminary, where she served as Director of Recruitment and Admissions. She is married to a chaplain at Berea College and together they have served in multiple ministries in the United States. They have a daughter.
2006
Craig Smith has joined the Bridgewater College football staff as Wide Receivers Coach. He spent the past four years at North Carolina Wesleyan as special teams coordinator, wide receivers coach and strength and conditioning coordinator.
2008
Holly Moyers Thorne of Harrisonburg, Va., has been promoted to Vice President of Farmers & Merchants Bank. She joined F&M in 2013 as a marketing director.
2009
Karen Swartz Smith and her husband, Jacob, have a son, Colin Everett, born Dec. 8, 2018. The family, which includes another son, Jackson Levi, lives in Mebane, N.C.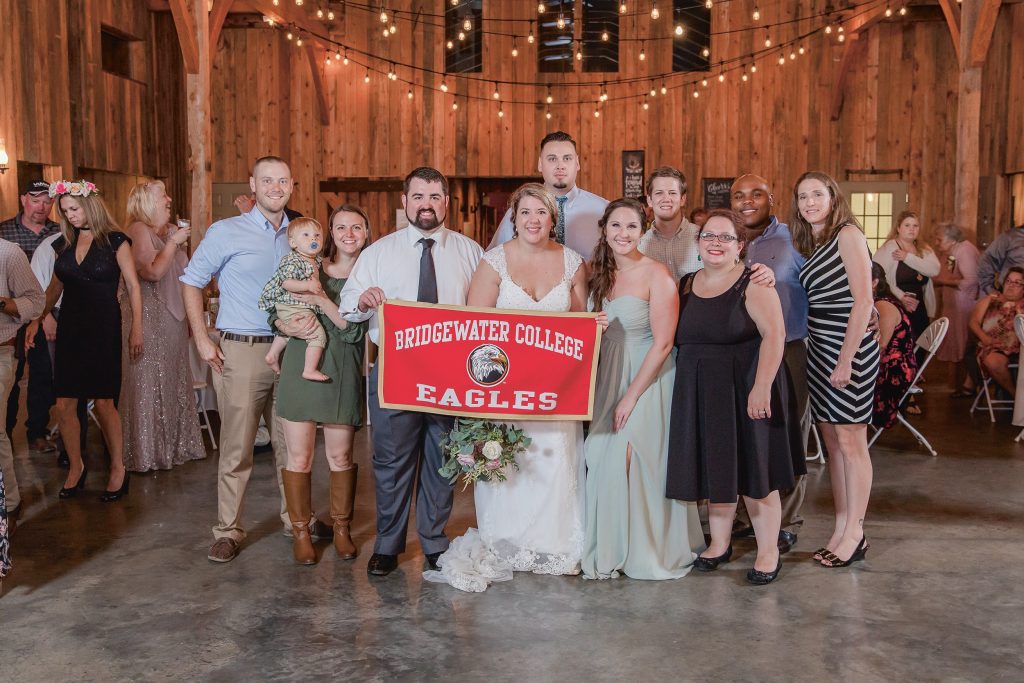 2010
Amanda Outland and Michael Gonzalez were married Oct. 6, 2018. The couple lives in Catlett, Va.
2011
Audrey and Tim Hollenberg-Duffy welcomed their first daughter, Anita Claire, on Dec. 25. The family lives in Hagerstown, Md.
Dr. Angela Spinelli has completed her residency and board certification from the American Board of Internal Medicine. She is practicing internal medicine at Tallahassee Memorial HealthCare. She earned a doctor of osteopathy from the Edward Via College of Osteopathic Medicine, Carolinas Campus in 2015.
Will Thompson of Carroll County, Md., has been named Varsity Football Coach at Francis Scott Key High School. Most recently, he was defensive coordinator at both King George and John Handley high schools in Virginia.
2013
Nicholas Hulse has joined the law firm of Fisher Phillips in Charlotte, N.C., as an associate. He will focus on representing employers in a variety of employment matters in state and federal courts. He earned his juris doctor, magna cum laude, from the University of South Carolina's School of Law. He began his law career as a clerk to the Hon. David R. Duncan, Chief Judge of the U.S. Bankruptcy Court District of South Carolina.
2014
Christopher Michael and Rachel Donaldson '16 were married Oct. 27, 2016. The couple lives in Elkton, Va.
2015
Lauren Dower and Jessy Kersey were married Oct. 27, 2018. She gained a 9-year-old stepdaughter, Elizabeth, through marriage. Dower works for AT&T Corporate for Compliance Management, where she does leasing and prepares government documents and historic information for new-build or modified cell towers, covering the areas of Maryland, Pennsylvania, Virginia, West Virginia and the District of Columbia. The family lives in Chesapeake, Va.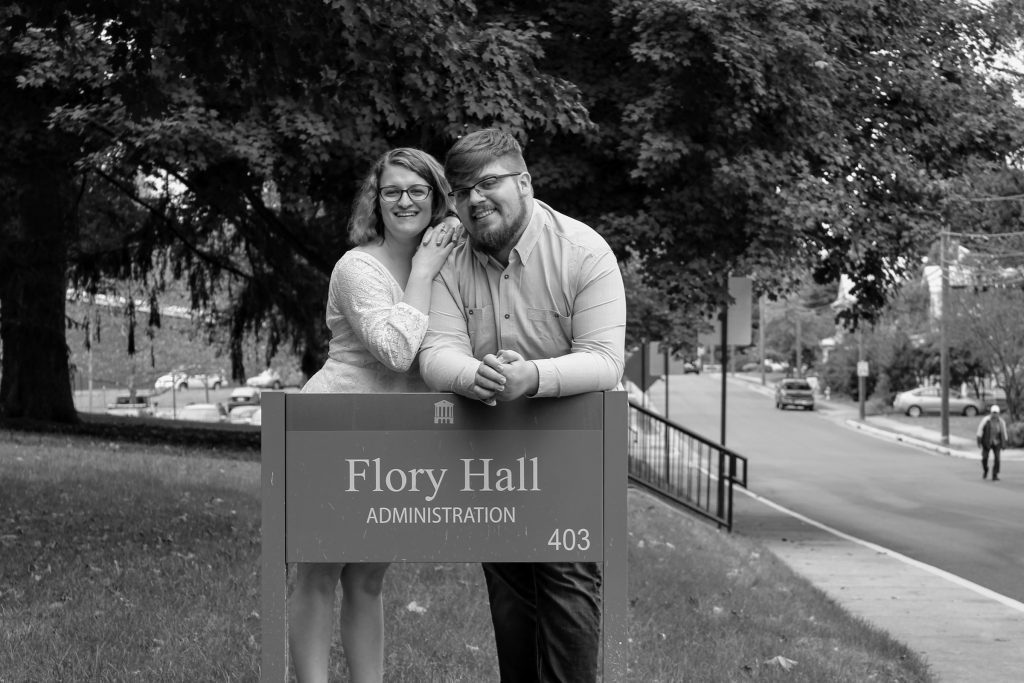 Nathan Flory and Kirsten Moessner were married in October 2018. The couple lives in Ashburn, Va.
2016
Rachel Donaldson (see Christopher Michael '14)