Growing and strengthening Bridgewater College's graduate programs is a key focus for the College, which has launched four programs within the last five years. The College's current strategic plan, The Vision for Our Future: Strategic Plan 2025, emphasizes that graduate programs are a crucial component of the College's commitment to excellence and part of building a distinctive identity. And with the digital media strategy, athletic training, human resource management and psychology master's programs being housed within each of the three schools at the College (Rhodes School of Arts and Humanities, School of Natural Sciences and School of Professional Studies), the opportunity arose for a new role to oversee all graduate programs, including coordinating recruitment efforts with program directors and streamlining the operational process between the admissions and registrar's offices.
On July 1, Dr. Jeff Pierson moved into his new role as Dean for Graduate and Special Programs, as the division he previously oversaw merged into the Rhodes School of Arts and Humanities with Dr. Betsy Hayes as Dean. Pierson, at the College since 1992, has a long history of nurturing and starting new programs and initiatives at Bridgewater. He helped the College launch a communication studies minor, then major, and, as the founding department chair, led that program into becoming its own academic department. He was among the first directors of the College's Leadership Institute (now the Zane D. Showker Institute for Responsible Leadership), which was founded in 1996, and was among the first group of division heads when the College announced a new academic structure six years ago.
In his role as Division Head of Communication, Fine Arts, and Literature, Pierson oversaw the addition of the master of arts in digital media strategy (MDMS) and undergraduate majors in theatre, professional writing and digital media arts. And he played a large role in this year's launch of the Screamin' Eagles Marching Band, which now falls within his special programs purview.
"I've always been excited by the possibilities of new programs," Pierson says.
Adding new programs requires evaluating the current demand, both from employers in the workforce and among students seeking degrees, as well as looking at the ways graduate programs can enhance the undergraduate experience. When the MDMS program was founded in 2019, the College added a full-time teaching position in graphic and web design that would also eventually enable the addition of the digital media arts major in the Department of Art.
Pierson says the College is cognizant that its curriculum and program offerings need to continually modernize and adapt over time.
"It's really important to grow and evolve, while striking a balance between the liberal arts and a career focus," he says.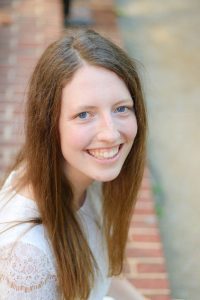 Alumni Spotlight: Sarah Riley '20, M '21
Master of Science in Human Resource Management
College graduation marks an exciting time for students. Among all the excitement, recent graduates might find themselves asking, "What's next?"
For business major Sarah Riley, the next step was the master of science in human resource management (MSHRM) program at Bridgewater College. With one more year of post-grad education, Riley '20, M '21 says she was able to advance her career as well as her knowledge of HR.
"I think it really helped me land the job I have now and increase my legitimacy with some of the places I interviewed with because I was so well-rounded," Riley says. "We had Adjunct Professor Michael Sharp for Employment Law and Labor Relations and he was absolutely excellent. I learned so much from that class that I was able to use in interviews."
The Baltimore, Md., native now works as an HR Specialist in Learning and Organizational Development and Diversity & Inclusion at the Greater Baltimore Medical Center (GBMC). Riley was hired within weeks of graduating from the MSHRM program. Her job duties include facilitating employee orientation and training, running all employee recognition programs, scholarship programs and diversity initiatives.
"I'm very grateful that I see employees from all departments at their best, when they're just starting and when they're being recognized," she says. "I think the Talent Management course really helps me now because I do learning and organizational development as well as diversity, equity and inclusion. That helped me understand how to bring new people into a workforce and get them acclimated."
Riley also credits her time as a SOAR mentor as an undergraduate student at Bridgewater for giving her the leadership experience to lead new-hire orientations at GBMC.
Riley says the Diversity and Inclusion Management class with MSHRM Director Dr. Roslyn Vargas helped her learn how to navigate all the different dynamics to diversity while learning how to give people a voice and make sure employees feel included. For example, at GBMC, Riley has worked with the cafeteria on including multicultural meal options, and National Disability Employment Month events were organized in October.
"The MSHRM program explores organizational excellence, as well as internal issues, legal and regulatory factors, analytics in HR, and consulting concepts and practices. Sarah is a great example of how the program positions and prepare its graduates for success post-graduation," Vargas says.
For Riley, the many aspects of HR are what make her love the field. From training to diversity to talent acquisition to employee relations, Riley says she likes the "opportunity to be able to represent people I work with and make sure they're comfortable and happy."
"MSHRM really gave me a leg up in the interview process. The courses were rigorous, but also very manageable. Even if you've already graduated a few years ago, you can come back to school and still keep working. If you're fresh out of school, it's also a great opportunity to ease into adulthood. I am very grateful for my time at Bridgewater," Riley says.
— Logan Bogert
When the master of science in athletic training was announced five years ago, Dr. Barbara Long, Dean of the School of Professional Studies, says that it was not the first time she had thought about the transition to master's programs. An increased openness to adding master's programs was already present in various conversations on campus and in the last strategic plan. In addition, Long saw that nationally the requirements and accreditation for athletic training were moving away from undergraduate to the master's level, as they have in many healthcare professions.
Being a professional goes beyond just evaluating the health of a knee or interpreting current law in the area of human resources, Long says. She believes it comes down to connecting with the people you're serving and learning how to communicate effectively with them.
"We truly believe the College can help our professionals who are going into master's programs think more broadly, beyond the content of their discipline," she says.
Both Long and Pierson reiterate that a program's fit with the College's mission is paramount. It's about developing the skills that enable Bridgewater students, in the words of the mission statement, to "lead principled lives of purpose and consequence marked by professional accomplishment and personal fulfillment."
"The mission is the overarching map," Long says. "We couldn't start a program that didn't fit with the mission."
Alumni Spotlight: Lane Salisbury '20, M '21
Master of Science in Psychology – Mental Health Professions
QMHP: the four letters that impelled Lane Salisbury '20, M '21 to pursue his master of science in psychology – mental health professions (MSPsy) at Bridgewater College.
BC's MSPsy graduate program meets Virginia requirements to register as a Qualified Mental Health Profession (QMHP). Students focus on QMHP specialties in their master's coursework, accumulating the experience and practical skills for many mental health and human services careers.
"What makes the master's program at Bridgewater so unique is that focus on becoming a QMHP and the well-rounded delivery of content from various areas of the field," Salisbury says. "One of the big driving factors in the creation of this program was the fact that QMHP has become more and more common and now has guidelines on how to earn the designation, meaning that the demand specifically for QMHPs in jobs has increased. You can have that designation and a master's degree all in just one year. It's really a huge opportunity that people can take advantage of."
An undergraduate psychology major with minors in biology and neuroscience, Salisbury says he saw the MSPsy program as the perfect stepping stone to his long-term goal of obtaining a doctorate of psychology. During his time as a MSPsy student, Salisbury interned with Pleasant View Inc., a Broadway, Va., nonprofit that runs residential and daytime services for adults with intellectual and developmental disorders. Post-graduation, Salisbury accepted a position with Pleasant View as a direct support professional. He now works as a Mental Health Associate in the Behavioral Unit at Sentara RMH Medical Center.
In the future, Salisbury hopes to become a clinical psychologist and provide services to younger clients, as well as services within the population of intellectually and developmentally disabled people. He hopes to do some consultation, assessment, research and teaching in his career.
"All of the MSPsy coursework was very specifically chosen and planned to produce a well-rounded curriculum that would create professionals who have the ability to carry out a variety of tasks," Salisbury says.  "Everything I learned has the potential to be used in my career path."
In addition to the curriculum MSPsy offered, Salisbury says the welcoming environment at Bridgewater and learning how to be a leader during his undergraduate years were other reasons he chose BC for his graduate degree. He says realizing his capabilities "has been and will continue to be one of the biggest impacts" on his career and perhaps even the biggest impact on his life.
— Logan Bogert
Long emphasizes that the breadth of support and buy-in from faculty and the institution across the board has been important in allowing the College to launch the programs and lay a foundation for success.
"I'm extraordinarily excited that our faculty understand this is a great opportunity to extend our mission and reach students at a different level," she says.
Long says that it takes time to build a foundation in graduate education, including establishing a pipeline to bring in graduate students and building those connections. Recruiting at the undergraduate level is much broader, and it's easier to reach prospective students, who are largely in high school and looking for opportunities. Graduate recruitment requires a personal touch, reaching one student at a time and convincing them that your program is what they're looking for to help them attain their goals.
Master of Science in Athletic Training (MSAT)
Director: Dr. Chase Hale (Associate Professor, Health & Human Sciences)
Announced in 2015-2016
First cohort graduated in 2019
Produces competent, caring healthcare professionals
Students learn through real-world, hands-on experience both on campus and at a variety of clinical sites throughout the country
100% of the MSAT class of 2021 were employed within the athletic training field within three months of graduation
3+2 program for entering first-year students interested in athletic training; two-year program for candidates from elsewhere who already have their bachelor's degree
Master of Science in Human Resource Management (MSHRM)
Director: Dr. Roslyn Vargas (Assistant Professor, Economics & Business Administration)
Announced in 2019-2020
First cohort graduated in 2021
The 30 credit-hour MSHRM can be completed in one year (if full-time)
Students can specialize in a particular HR field, such as health care or finance, during their capstone experience
Career field projected to grow over the next decade
MSHRM will be offered online beginning in summer 2022
Master of Science in Psychology—Mental Health Professions (MSPsy)
Director: Dr. Alan Eby (Professor, Psychology)
Announced in 2019-2020
First cohort graduated in 2021
Meets Virginia requirements to register as a Qualified Mental Health Professional (QMHP)
Students can complete their master's degree and the hours needed for QMHP at the same time
Program can be completed in as little as 35 weeks (if full-time)
Students accumulate the experience and practical skills for many mental health and human services careers, such as mental health case manager, occupational specialist, vocational specialist and behavioral specialist
Master of Arts in Digital Media Strategy (MDMS)
Director: Dr. Sam Hamilton (Assistant Professor, English)
Announced in 2018-2019
First cohort graduated in 2020
Flexible program that most students can take after the conclusion of their bachelor's degree, regardless of major
Applied skills in writing, visual design, sound editing, videography and web design, as well as broader communication strategy and project management skills
Career opportunities and applications in a wide variety of fields
Pending faculty approval, MDMS will also be offered online beginning in summer 2022
Increasing accessibility, especially for working professionals, is critical for the future success of Bridgewater's graduate programs. To that end, the admissions office has hired its first full-time graduate recruiter: Tori Hudson '20, Assistant Director of Admissions—Graduate Recruitment.
"It is an exciting time of potential growth for our graduate programs," says Michael Post, Vice President for Enrollment Management. "We're very fortunate to have a dedicated professional recruiter who can consistently communicate BC's flexibility, affordability, quality and accessibility to a growing population of students seeking graduate education."
Pierson believes that accessibility extends into the graduate programs themselves.
The master of science in human resource management (MSHRM) program has recently been approved by the Southern Association of Colleges and Schools Commission on Colleges (SACSCOC) to offer classes in an online, HyFlex model, meaning classes will be offered at the same time to both online and in-person students. Other Bridgewater graduate programs may soon be offered online.
"We are constantly trying to figure out our niche and identify programs that both fill important needs and fit with the mission of the College," Long says.
— By Olivia Shifflett