Picture this: Dozens of students, decked out in their crimson-and-gold best, taking the field in style with their instruments and flags in the Jopson Athletic Complex. The stands are full, and everyone's eager to see the first football game of the season.
Get ready—the Screamin' Eagles are going to soar!
WHY MARCHING BAND?
The marching band and color guard will take their place among the latest examples of top-notch musical groups and ensembles at the College, including the Symphonic Band, Jazz Ensemble, Chamber Strings, Concert Choir and Chorale. The new marching band has roots in a strong and enthusiastic pep band that started in the early 1990s. (See sidebar below for a brief history of marching band and pep band at BC.)
But the marching band program, open to both music and non-music majors, will serve as more than just a musical outlet for students.
"Not only will a marching band add excitement to our sports and campus events, it's also a wonderful way to teach teamwork and communication and leadership skills that are transferable into nearly every vocation," says Dr. Jeff Pierson, Professor of Communication Studies & Theatre and Division Head of Communication, Fine Arts, and Literature.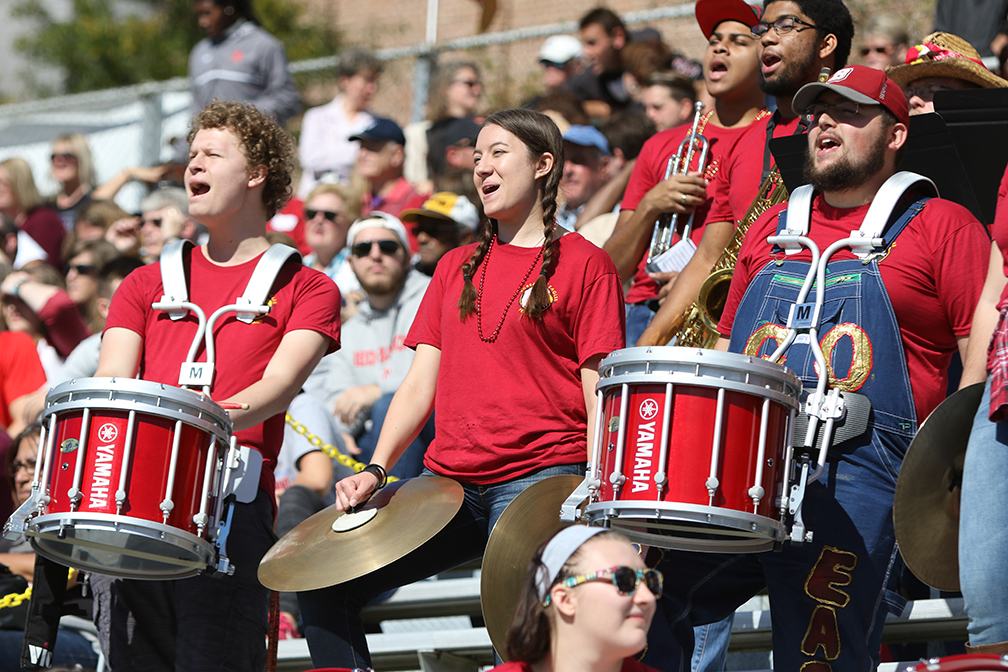 The marching band, which includes brass and woodwinds, color guard, front ensemble and full drumline, will perform at home football games and some away games, join in Homecoming week events and participate in local festivals, parades and exhibitions. In the spring, band members will have the opportunity to be part of the basketball pep band.
A marching band also offers students valuable leadership skills with the chance to take active roles as a section leader or drum major. This opportunity for real-world experience will be especially beneficial to instrumental music education majors who are planning future careers as high school band directors.
"There are not many other schools in the region that offer the small liberal arts college experience as well as a marching band experience," says Dr. Christine Carrillo, Associate Professor of Music and Department Chair. "This will attract a whole new group of future Eagles."
Robert Meeks '10 has been playing lead trumpet in the marching band of the National Football League's Baltimore Ravens since 2015, in addition to his career teaching music at the Baltimore Leadership School for Young Women. He says that marching band is exceptional preparation for music majors, especially instrumentalists, pursuing careers in music education. "It's a musical outlet that teaches you about discipline, hard work, leadership, respect and commitment."
The marching band, expected to number 110 students in a few years—double the number of the current pep band—will serve as a tool for both recruiting and retaining students. In addition, participating students from all majors will be invited to audition for scholarships. Michael Post, Vice President for Enrollment Management, says, "It is exciting to know that we'll be able to provide students, with any college major, the opportunity to continue doing what they love when they attend Bridgewater College."
Carrillo is also hoping to bring in students from nearby Blue Ridge Community College (BRCC) to join the Screamin' Eagles. Through an articulation agreement with BRCC, their students will be able to register for the marching band as an activity and receive college credit at both institutions.
Sara Urry Booth '14, Director of Music at Buffalo Gap High School, directed the pep band for two years at BC when she was a student. Booth says the marching band is a great opportunity for students coming out of high school who want to "keep their love and passion for music alive in a different avenue." She believes a few of her recent graduates may transfer to Bridgewater for the marching band experience.
"They want that family, the sense of belonging on the field," she says.
HIRING NEW LEADERS
Music specialist and band director Barry Flowe will join the Department of Music as Director of Athletic Bands in July. In the new role, Flowe will oversee the Screamin' Eagles Marching Band as well as teach courses in music education at Bridgewater.
Flowe brings three decades of experience leading middle school, high school and college bands, including 19 years as Pep Band Director at Randolph-Macon College, in Ashland, Va., and 10 years as Director of Bands at Patrick Henry High School, also in Ashland.
"We are thrilled to have Barry join our department, as his extensive background in teaching, as well as his marching band leadership experience, is exactly what we were looking for," says Carrillo.
As a music specialist, Flowe has been instrumental in landing innovative performance opportunities for his students, such as playing in the Orange Bowl Parade on New Year's Eve in Miami, the Chicago Thanksgiving Day Parade and New York City Veterans Day Parade. Both he and Carrillo share a goal of having the Screamin' Eagles Marching Band perform at regional events and parades as well as at national and international events to show Bridgewater College on a bigger stage.
"I've been so impressed with everything I've seen at Bridgewater College and with everyone I've met—from students to faculty and staff," Flowe says. "One of the most exciting aspects of this job for me is starting a marching band program that builds on a fantastic and well-established pep band."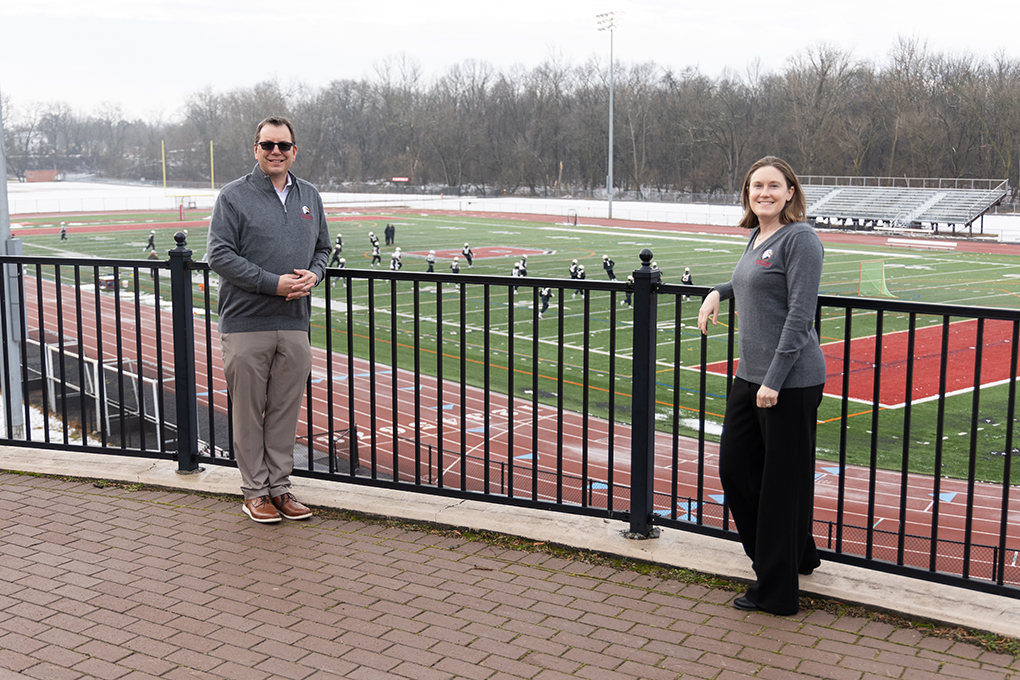 Carrillo says Flowe, with a background in teaching at the secondary education level, will add to the music department's robust roster of faculty who bring their areas of expertise to prepare music education teacher candidates for a successful career after college. And his connections with band directors all over the state is an additional boon, as part of his role will be liaising with high school band directors to connect with prospective students.
"So many of our music majors are pursuing careers in music education. I am excited for our students to have a secondary music specialist who will provide them with incredible experiences that will help them become strong music teachers," Carrillo says.
Carrillo recently hired a drumline instructor as well: Jon Wilson, a 2017 graduate of Bridgewater College. Wilson, the Band and Choir Director at Shelburne Middle School in Staunton, Va., majored in music education at Bridgewater.
Color guard instructor Brandon Gray will round out the marching band leadership team. Gray has been teaching color guard for more than 10 years with James Madison University's Nuance winter guard and with the Fort Defiance High School Marching Band.
THE GIFT THAT MADE IT POSSIBLE
Judy Nolen Henneberger '64 and her late husband, Ed '63, supported the College in numerous ways throughout the years, including two gifts that funded upgrades to the Concert Hall at the Carter Center for Worship and Music and helped transform music education classrooms on campus into interactive learning spaces. Henneberger's most recent gift, in honor and in memory of her husband, provided funding for the startup costs of the marching band.
"Giving to Bridgewater College has been a natural thing for me and my husband because of our great appreciation for what the College has done for us and for what it continues to do for others," Henneberger says. "Being able to help current and future students on their paths to success has brought us such joy."
Dr. Maureen Silva, Vice President for Institutional Advancement, says the College is incredibly thankful for alumni and donors such as Henneberger, who support Bridgewater's vision for the future in establishing new avenues of learning and experiences for its students.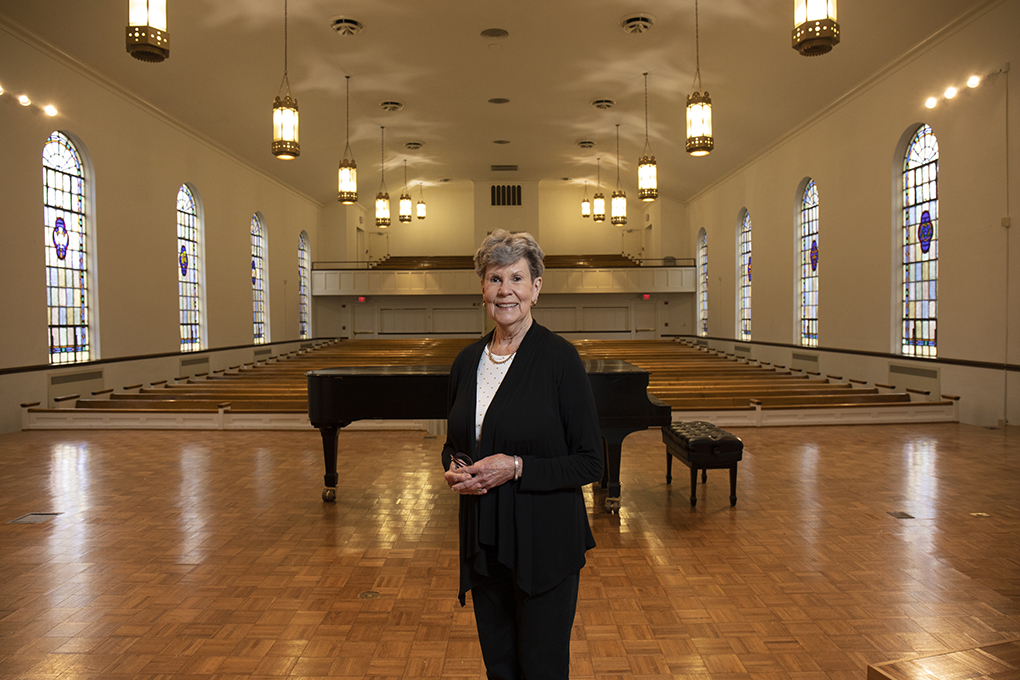 "It's really an honor to be in partnership with the College on establishing the marching band program," says Henneberger, who was a music major at Bridgewater and went on to work as a music educator in the Fairfax County Public School System. "Through the years I've seen how a marching band program can enhance one's intellectual abilities, social abilities, group collegiality, school spirit and so many other things. It brings the community together in a lot of different ways, which is tremendous."
In appreciation of the Hennebergers' support, the College will name the forthcoming band pavilion, both a rehearsal and storage space for the marching band, the Ed and Judy Nolen Henneberger Band Pavilion. The pavilion is scheduled for construction during the summer; the Screamin' Eagles inaugural band camp will take place in August.
PREPARING FOR TAKEOFF
Luke Cronin '23 was ecstatic when he heard Bridgewater was starting a marching band, as he plays trumpet and was part of a marching band in high school. A music major with a focus on education, Cronin hopes to be a band director and high school music director one day and believes that being in Bridgewater's marching band will take his career preparation to the next level. He'll take on a leadership position with the Screamin' Eagles by serving as one of two drum majors.
Health and exercise science major Noel Harrison '24 wanted to be part of a color guard or dance club at BC, after joining color guard during her senior year of high school. When she learned Bridgewater was adding a marching band, she was excited to be part of the color guard and help build new traditions. The second incoming drum major for the Screamin' Eagles, music major Najee Griffin '22, says band "makes you feel part of a group, something bigger than yourself."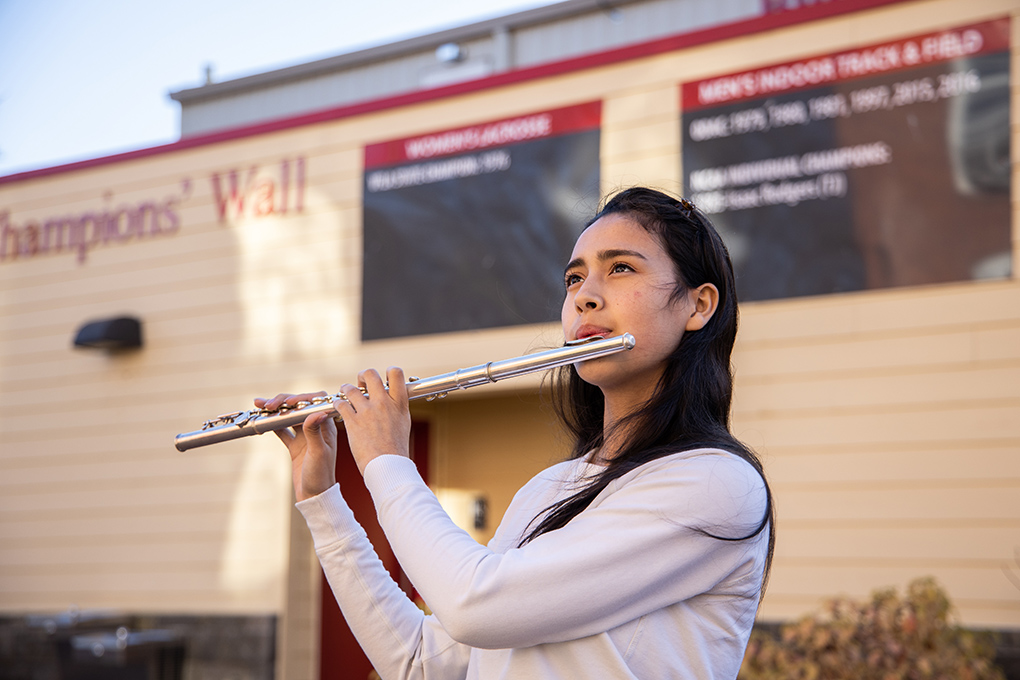 When the Screamin' Eagles perform, they will bring together the entire Bridgewater community—alumni, students, parents, faculty and staff—in one shared experience.
"I might just cry tears of joy when I am at Jopson Field seeing our new Screamin' Eagles Marching Band performing, celebrating both them and a return to more of the live and in-person Bridgewater experience I love so very much," Division Head Pierson said in a recent message to alumni.
When Rockbridge County High School's Director of Music Miranda Fitzgerald '15 heard about the formation of the marching band at BC, she said "it felt like a beacon of light in the middle of the pandemic, something to be excited about when so many things weren't happening.
"The marching band is going to be a catalyst for a new stage of BC."
---
The History of Marching Band and Pep Band at BC
The Screamin' Eagles will not be the first marching band at Bridgewater College. According to Francis F. Wayland's Bridgewater College: The First Hundred Years, 1880-1980, the first student pep band formed at BC in 1944, and a marching band made its debut at Homecoming on Oct. 28, 1950. It appears to have disbanded in the late 1960s or early 1970s, but not before winning "best band" three years in a row at the annual Veterans Day parade in Harrisonburg, Va.
The Screamin' Eagles Pep Band formed at BC in the early 1990s, playing at home basketball games initially. Dr. Stephen Longenecker, Edwin L. Turner Distinguished Professor of History, recalls attending the first rehearsal for the pep band. He became the group's first faculty advisor and played alto saxophone for nearly 30 years.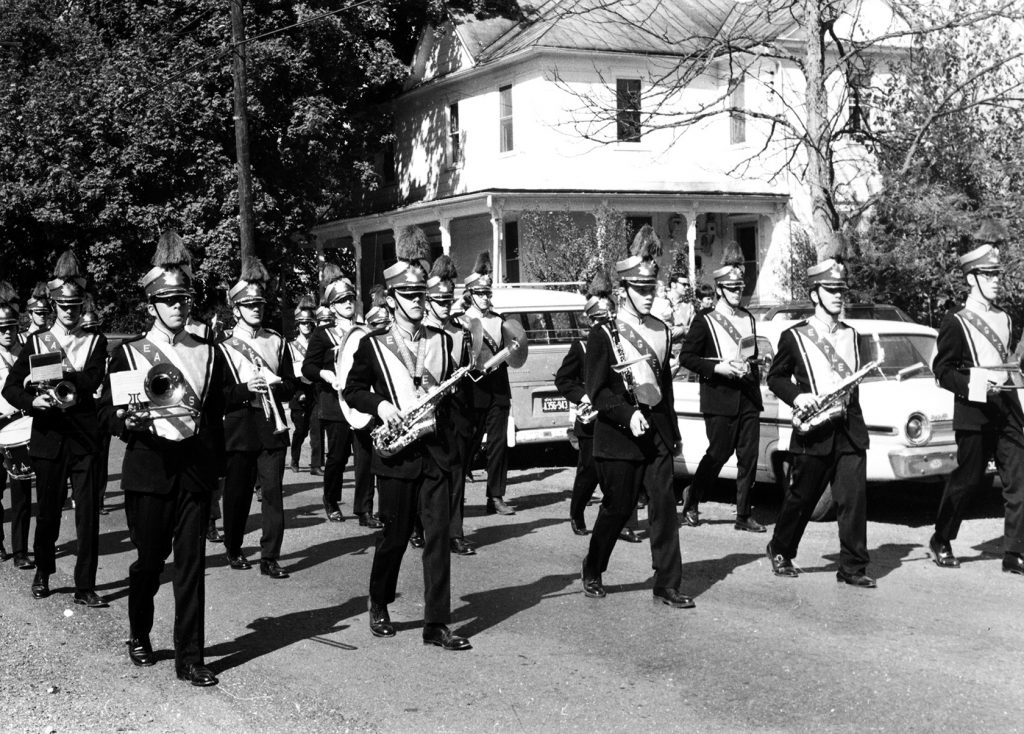 As the football team began to enjoy success a few years into Head Coach Mike Clark's tenure, students began to get excited about playing for football games as well, and the pep band started to travel with the team. Longenecker says, "Everything about sports is better when you win, even the band." The pep band accompanied the Eagles to several playoff games, including the Stagg Bowl (the NCAA Division III national championship game) in 2001.
As the first pep band in the Old Dominion Athletic Conference (ODAC), Longenecker says that other coaches complained about the noise they made and that it was fun to give the team a bit of an edge in the early days. "We showed up, and they couldn't send in the plays verbally anymore. They had to use signals instead."
With the steady growth of student enthusiasm and participation over the years, the pep band grew to include approximately 50 to 60 participants. The Screamin' Eagles Marching Band is expected to grow to at least double that number, bringing even more energy to Jopson Field in the years to come.
— By Olivia Shifflett