One thing all athletes have in common: passion. Passion for pushing one's self beyond perceived limits; passion for learning new skills and developing strengths and mental toughness; passion for celebrating victories and bouncing back after losses. The track & field program at Bridgewater College features some legendary names, including longtime head coaches Doc Jopson and Shane Stevens. Student-athletes have also claimed their spots in the College annals of the sport, with five to date winning NCAA Division III national championships. Each one has seen how his or her athletic skills and strengths have benefited them at Bridgewater and beyond.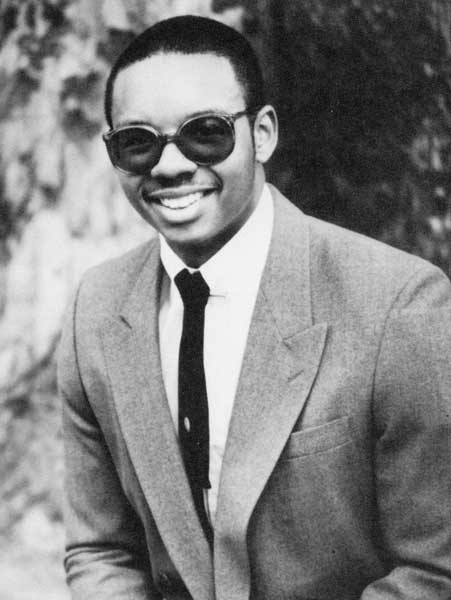 Isaac Rodgers III '85 | 3D artist/software engineer
Indoor triple jump national champion
One of the biggest lessons Isaac Rodgers learned as a student-athlete at Bridgewater is something that carries over into both his personal and professional life: not only how to prepare for victory but also how to accept losses and learn from them.
"Being an athlete, you learn lessons that follow you through life," he says. "You learn to accept the good and bad and keep moving forward."
Rodgers, who was inducted into BC's Athletic Hall of Fame in 2007, competed in a variety of events (sprints, triple jump and relays) as a member of the track team, which he says challenged him to get better day after day, year after year. He applied that same growth mentality to his art major and learned a variety of skills that have served him well in his profession.
Today, he works for Huntington Ingalls Industries in 3D development for military simulations and games, and he's done everything from illustration to photography to video animation. He's passionate about his work and says he's found his niche.
"There's always something new to learn and try, not just in artwork, but in life in general," Rodgers says.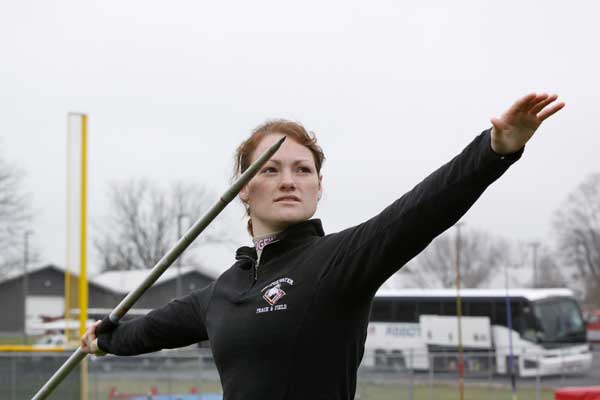 Courtney Hartman Williams '10 | Farmer and youth athletics coach
Heptathlon national champion
As a child, Courtney Hartman Williams '10 competed in a "neighborhood Olympics" with her older sisters and friends. At Bridgewater, Williams became the first BC athlete in team history to win a national championship in the heptathlon, which allowed her to pursue a wide range of interests in several events. She says sports cultivate hard work, discipline and confidence, especially in youth.
"Then and now I realize that achievement doesn't just fall into your lap. You have to go get it," says Williams, who was inducted into BC's Athletic Hall of Fame in 2022.
Today, Williams continues to pursue a wide range of passions, including raising beef cattle on 200 acres with her husband, Torrey, and coaching youth athletics. She says she loves being able to directly apply the knowledge and practical skills she gained at Bridgewater to the kids she coaches today.
"Bridgewater has given me so much, not just things I learned in the classroom but interacting with the community. One aspect I love about the school is they push volunteering and community involvement," Williams says. "Bridgewater feels like home, and the community is unmatched."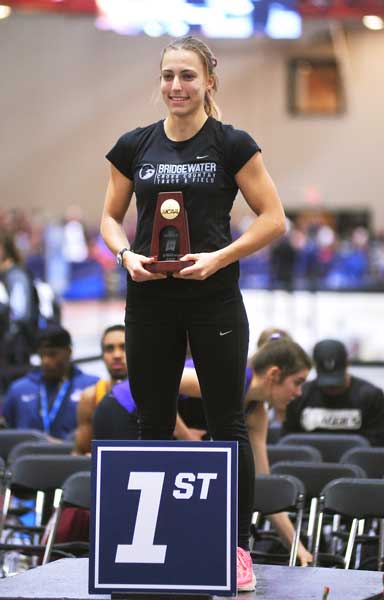 Amber Celen '18 | Cruise director
Three-time national champion in the 60m and 200m indoor and 100m outdoor
Amber Celen fell in love with the cruise industry at age 7, when she went on her first cruise with her family and was invited to perform on stage. She's been working toward her dream job ever since and says her current position as cruise director with Carnival Cruise Line Entertainment is the most rewarding experience. Her time as a student-athlete helped her with time management, teamwork, goalsetting and leadership, as well as giving her the courage to "dream big."
More than 60 nationalities are represented on Celen's cruise ship, and her double major in communication, technology and culture and sociology "allowed me to appreciate how truly amazing it is to be in an environment where so many cultures, languages and nationalities coexist and create such a unique and rich experience."
"What makes me so passionate about this is that I get to meet so many people and play a part in making memories that will last a lifetime," she says.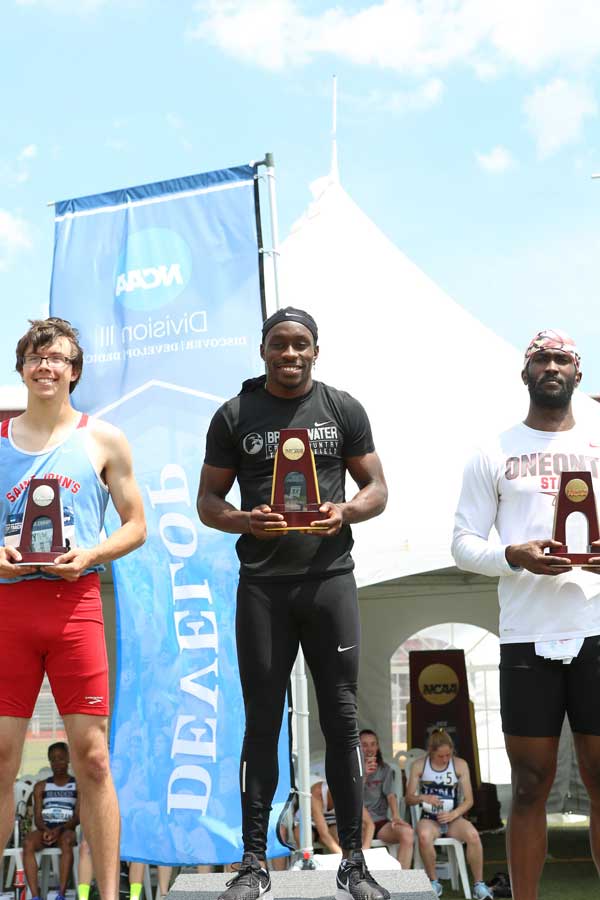 Davonta Womack '20 | Sociology major
Outdoor 100m dash national champion
Davonta Womack '20 remains one of the most prolific men's track and field athletes in Bridgewater College and Old Dominion Athletic Conference (ODAC) history. A two-sport collegiate athlete (he was a third-team All-ODAC cornerback on the football team), Womack found his lane in track and field.
In 2019, Womack took first in the 100-meter dash at the NCAA Division III Outdoor Track and Field National Championships with a time of 10.20 seconds. His time was a new school and ODAC record and was the second-fastest mark in meet history under any conditions. It was also Womack's fifth All-American honor.
He was on track to claim even further accolades at the March 2020 indoor national championships in both the 60-meter dash and the long jump after breaking Bridgewater and ODAC indoor championship records for both events that season. But his collegiate athletic career was cut short when the championships were canceled due to the COVID-19 pandemic.
Adalia Coleman '24 | Health and exercise science major
Two-time indoor 60m dash national champion
Continuing athletics after high school was not part of Adalia Coleman's original plan, but visiting Bridgewater and witnessing the tightknit community and decorated track & field team changed her mind. She captured her first national championship as a sophomore and defended her title again as a junior. She credits her coaches, especially Director of Cross Country and Track & Field Denver Davis, for being amazing mentors who have guided her on and off the track.
"The culture that he [Denver] has built and the values instilled in the program have not only impacted me as an athlete but as a growing young adult," she says.
Coleman's favorite part about track is that it's a team sport, and that support is what keeps her working toward new goals and achievements. A health and exercise science major with a minor in biology, her plan after graduation is to work one-on-one with patients in a healthcare setting.
"Since coming to Bridgewater, a big thing that has changed for me is the confidence that I have been able to find within myself," she says.
By Jessica Luck