Ashley Smith '85 has been hiking for much of his life, and a chance encounter with the first Virginian to summit Mount Everest inspired him and his wife, Ann Benecke Smith, to trek to Mount Everest Base Camp. Smith, President and CEO of Smith-Midland and Bridgewater College Board of Trustees member, says he and his wife spent seven months training for the trek, including hikes at 10,000 to 12,000 feet of elevation in Colorado and using a hypoxic tent while they slept that mimics an elevation of up to 20,000 feet.
The Smiths reached Everest Base Camp in November 2022 after an 11-day trek. They spent a couple of days in Kathmandu afterward, learning more about Nepal and its people.
"The best part of hiking and trekking for me is being outside. It is awesome to be in God's creation, experiencing it and connecting as we walk through it," Smith says. "I have traveled and hiked many places around the world, and I am always changed by this."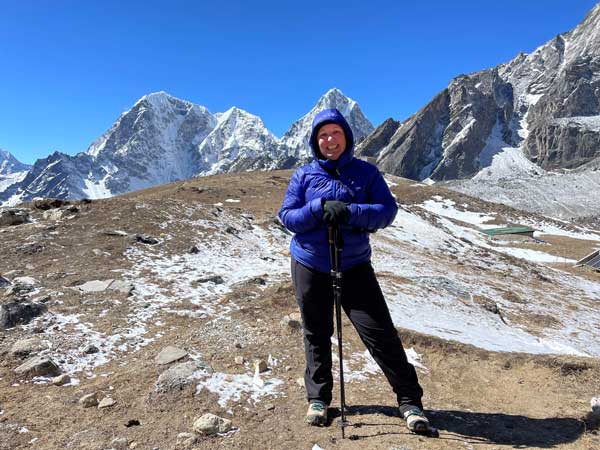 Dr. Jennie Draper '03, OB/GYN with Virginia Physicians for Women and Bridgewater College President's Advisory Council member, started pursuing endurance sports during her medical residency as a way to challenge herself and establish a healthier routine. She completed her first Ironman competition in November 2017 and has run 50K ultra marathons. Mountaineering is a way for Draper to combine her passions for travel and physical pursuits, and she's always been fascinated with the world's tallest mountain. She made the trip to Mount Everest in February 2022, and her trek stopped just shy of the 17,600-foot base camp due to low oxygen. Since then, she's taken a mountaineering course and plans to use what she's learned to climb glaciers in Mongolia this fall and hike Mount Kilimanjaro in January 2024.
"I have found there is great peace in the mountains," Draper says. "They're a place to carry out deep gratitude, and it gives you such power to know you can climb above the clouds."
By Jessica Luck