Keep up with the latest news from your Bridgewater College classmates!
How to Submit Your Class Notes
Email your news on births, deaths, marriages, job changes, achievements, etc., to alumnews@bridgewater.edu.
Log in to bridgewateralumni.com.
Or, mail to Office of Alumni Relations, College Box 40, Bridgewater College, Bridgewater, VA 22812.
Remember to include your name, maiden name, class year, spouse's name and class year if applicable, mailing address, phone and email address.
Please avoid using abbreviations and limit your submissions to 75 words or less. We look forward to hearing from you!
---
1947
Dr. Fred Wampler of Bridgewater, Va., along with his late wife, Dorris '47, received the Distinguished Service Award presented by the Shenandoah Valley Chapter of Phi Delta Kappa International for their service to education. Fred taught 10 years in public schools and more than 30 in the Department of Education at Bridgewater College. Dorris served as a librarian in Augusta and Rockingham counties. She taught library science classes at James Madison University and was the founder of the North River Library in Bridgewater.
1953
Jan Smith '53 retired from the Botetourt County Social Services Board after seven years of service.
1955
Wallace and Carolyn Lantz Hatcher '57 of Harrisonburg, Va., received the 2018 Individual Philanthropists Award presented by the Shenandoah Chapter of the Association of Fundraising Professionals. The Hatchers are very involved in the Virginia Mennonite Retirement Community and donate their time and financial resources.
1957
Carolyn Lantz Hatcher (see Wallace Hatcher '55).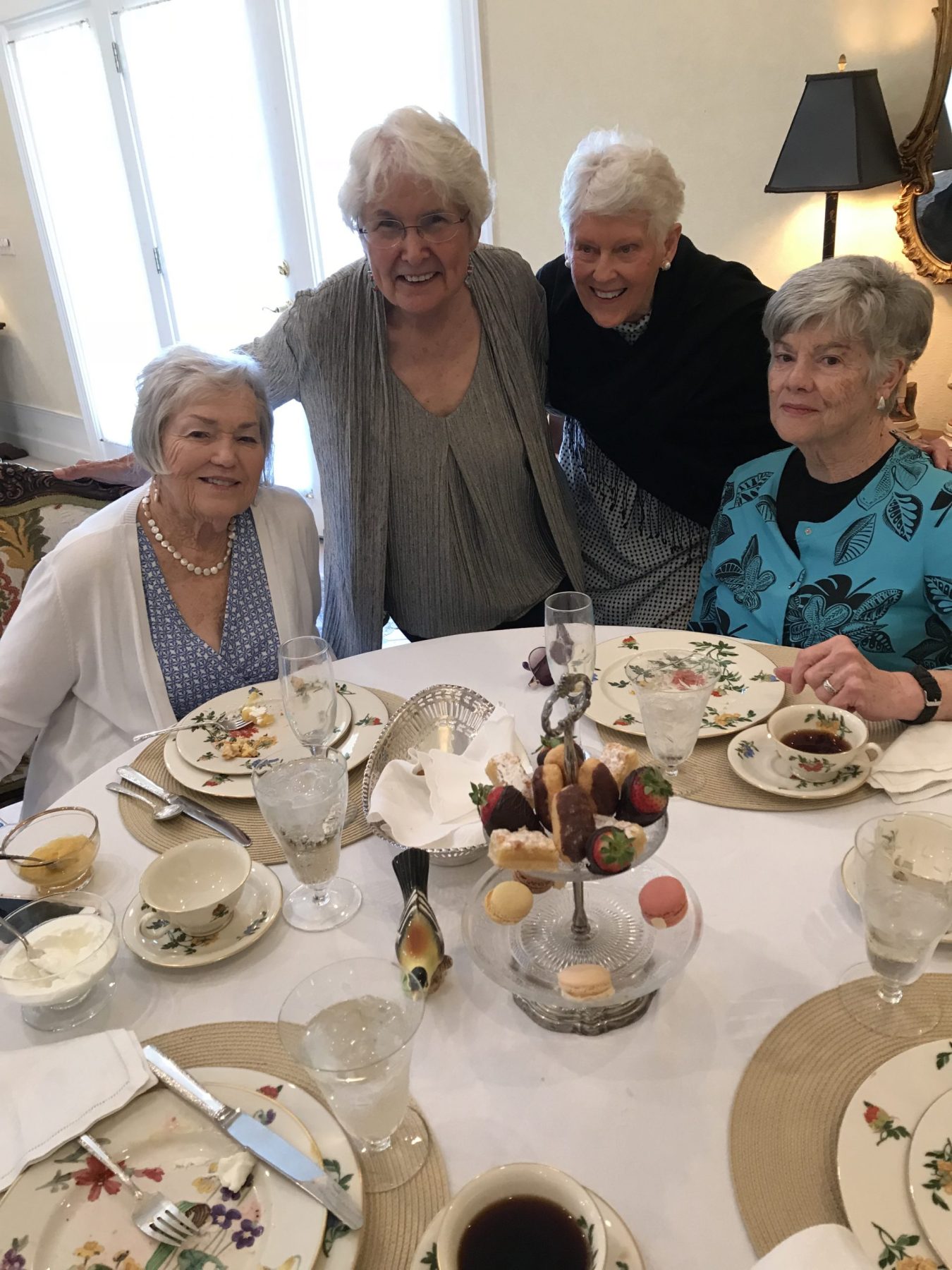 1958
Nancy Cline Driver of Escondido, Calif., Dee Lowry Warner of Dunedin, Fla., Bee Wade Ellerbee of Lexington, Ky., and Norma Aist Diehl of Charlottesville, Va., all class of 1958, were suitemates at Bridgewater, who still enjoy sweet celebrations. This photo was taken in Dunedin, at Warner's 80th birthday party.
1959
In June, the Town of Bridgewater honored Carlyle Whitelow, Associate Professor of Physical Education, Emeritus, by dedicating Whitelow Park in his honor. The park is located off West Dry River Road.
1961
Mary Cline Detrick '61 of Harrisonburg, Va., received the 2018 Garber Award on July 7, at the Alumni Luncheon at the Church of the Brethren Annual Conference in Cincinnati.
1963
Nancy Werking Poling of Black Mountain, N.C., received $1,000 from the North Carolina Literary Review as the winner of the 2018 Alex Albright Creative Nonfiction Prize, sponsored by the North Carolina Literary Review. She received the award for "Leander's Lies," one of 63 submissions for the nonfiction prize.
1973
Dr. Kirk Ways '73 has been named Chief Medical Officer of Nuvelution Pharma Inc. He has more than 30 years of experience in medical research, and he will support the company's objective in advancing late-stage clinical assets toward U.S. Food and Drug Administration approval. He earned his M.D. and Ph.D. in pharmacology from the University of North Carolina. He has authored more than 100 publications in the fields of diabetes and cancer.
1976
Andrea Steppe Collins was recognized in D Magazine as one of the top real estate agents in the Dallas/Fort Worth, Texas, area. She retired after 33 years of teaching, which began at Fort Defiance High School in Augusta County, Va., and ended in Rockwall County, Texas, before starting a second career in real estate.
1979
The Rev. Dr. Cathie Stivers of Richmond, Va., had her first book, Reviving Our Indigenous Souls: How to Practice the Ancient to Bring in the New, published by Balboa Press. The book is available on Amazon.com. Stivers is an ordained Unitarian Universalist minister and a former pediatric hospital chaplain at Virginia Commonwealth University's Children's Hospital of Richmond.
1980
On July 23, Chris A. Lumsden was named President and Chief Executive Officer of Northern Hospital of Surry County in Mount Airy, N.C. Previously, he served as Chief Executive Officer of Halifax Regional Health System and then President and Administrator of Sentara Halifax Regional Hospital in South Boston, Va. For the past two years, Sentara Halifax Regional Hospital was selected as a Top 100 Rural and Community Hospital. He earned a master in health services from George Washington University.
1981
Carolynn Law Coiner of Waynesboro, Va., has been promoted to Marketing Manager for the protein division of Middleby Food Processing. She has worked in global marketing and trade show management roles with the organization for the past 10 years. Before joining Middleby, she was Marketing Director for Virginia Metalcrafters.
Kevin Lounsbury, who works at DuPont Community Credit Union in Waynesboro, Va., gets up every morning and runs 10.5 miles. Aiming for 100 miles each week, he runs another 5.5 miles during his lunch hour. His long-range goal is to have run 100,000 miles by his mother's 90th birthday in 2023.
1990
Les Zimmerman of McGaheysville, Va., was promoted to Vice President of Product Development at Jenzabar. He will lead the technological vision, strategic direction and product development of Jenzabar One, the company's cloud-based solution for higher education. Over the last 25 years at Jenzabar, Zimmerman has worked as an application architect/developer, database administrator and director of product of development.
1991
The Shenandoah Chapter of the Association of Fundraising Professionals recognized Sally Jane Conner of Bridgewater, Va., for her fundraising work at Blue Ridge Community College. Connor said, "My father [the late Dr. Alvin Conner '49] taught me the value of giving."
1996
In July, the Armed Forces Benefit Association (AFBA) and its affiliate, 5Star Life Insurance Company, announced the promotion of Jill Crickenberger Paulin to Senior Vice President of Operations. She has 21 years of experience at AFBA/5Star Life, including customer service, training and operations. She was promoted to Vice President of Operations in 2014 and has been instrumental in the implementation of key enterprise projects.
1999
Elizabeth Smith McNeal of Dayton, Va., has joined Park View Federal Credit Union as Director of Strategic Marketing. She will provide leadership and strategic direction for all of PVFCU's communications, market research, brand management and public relations initiatives. She earned a master of business administration from Eastern Mennonite University.
In May, Greg Miller of Rockingham, Va., was named Police Officer of the Year by the Harrisonburg Police Department. The award was given in recognition of his work on sensitive cases and with juveniles. The 17-year department veteran also serves as an instructor for the Crisis Intervention Team and Mental Health First Aid.
Dr. Kevin D. Newman was named Superintendent of Manassas City Public Schools by the School Board of the City of Manassas, Va., on July 1. Previously, he served as Superintendent of Colonial Beach Public Schools. He earned a master in administration and supervision from the University of Phoenix and his doctorate in educational leadership from Virginia Tech. He is actively involved with the Virginia Association of School Superintendents.
2000
Carrie Ebling Barb of Verona, Va., has been named Principal of Churchville Elementary School. She joined Augusta County Public Schools in 2000 as a kindergarten and first-grade teacher at
Stump Elementary School. She was named Teacher of the Year at Stump Elementary in 2012. Since 2013, she has served as an assistant principal at Riverheads Elementary School. She earned a master of education in administration and supervision in K-12 schools from Shenandoah University.
Chris Obenshain and his wife, Jennifer, welcomed their first child, a son, Joseph Essex, on April 10. The family lives in Richmond, Va.
2001
Frances Marshall of Shepherdstown, W.Va., has been named Archive and Special Collections Librarian of Shepherd University's Scarborough Library. Since 2004, she has worked as a part-time reference librarian at the Scarborough Library. She earned an M.S. in library science from Clarion University of Pennsylvania.
Jenny Watson, certified in Family and Consumer Sciences and a Family and Consumer Sciences (FCS) educator at Southeast Middle School in Kernersville, N.C., received the American Association of Family and Consumer Sciences 2018 National Teacher of the Year award. The award recognizes exemplary teachers who utilize cutting-edge methods, techniques and activities to provide stimulus and visibility to FCS in elementary and secondary education.
2002
Kirk Monroe '02 and his wife, Amanda, traveled to Niagara Falls, N.Y., from March 31 through April 7. In the photo, the couple is standing on the American side, with Horseshoe Falls behind them.
2004
Julie Lynne Carper and Kevin Willis Hay were married Nov. 18, 2017. Julie is a Certified Public Accountant at Yount, Hyde & Barbour CPAs and Consultants. The couple lives in Winchester, Va.
2005
Kathryn Tice Bender and her husband, Dean, have a son, Robert James, born March 21. The family, which also includes a daughter, Claire, lives in Palmyra, Va.
2006
Fire Chief John Jeniec of Marshall, Va., has been awarded lifetime membership by the Orlean Volunteer Fire and Rescue Department (OVFRD) for his 20 years of service to the community. In addition to his volunteer work at the OVFRD, Jeniec is a member of the City of Fairfax Fire Department, where he was awarded Firefighter of the Year twice—in 2011 and again in 2014.
2007
Joshua and Kara French Fisher '08 of Midlothian, Va., have a daughter, Piper Sutton, born July 18. Grandparents include Larry '80 and Pam French of Bridgewater, Va.
John Granofsky of Atlanta, earned an M.B.A. from Georgia State's Robinson College of Business. He is co-author of The Millionaire Millennials: A Handbook to Crypto Investing. The book is available on Amazon.com.
2008
Kara French Fisher (see Joshua Fisher '07).
Alex Wilkens has been named Head Football Coach at Christiansburg (Va.) High School. He served as Defensive Coordinator at Glenvar High School before relinquishing that role in 2016 to obtain a master in educational leadership from Radford University.
Mary Helen Clemmer Thorne and her husband, Jeremy, have a son, Thomas Porter, born Sept. 5. Mary Helen owns and operates Health Impact, a massage therapy practice. The family, which includes a daughter, Caroline, lives in Staunton, Va.
2009
Ashley Corbin Clatterbuck and her husband, Chris, have a son, Noah Christopher, born July 7. The family lives in Unionville, Va.
Sara Edwards Salvato, a Special Education Teacher at Lee-Davis High School (LDHS), was named the Hanover County Public Schools Teacher of the Year. She earned a master's degree from Liberty University. The award recognizes teachers who are actively involved in the school and community and serve as a role model and ambassador for other teachers. She has been employed with Hanover County Public Schools since 2003 and a teacher at LDHS in Mechanicsville, Va., since 2011.
Tracy Hinkle Wellman and her husband, David Wellman Jr. '10, have a son, Tucker, born May
29. The family, which includes another son, Hunter, lives in Chesterfield, Va.
2010
David Wellman Jr. (see Tracy Hinkle Wellman '09).
2011
Darius Burrus and Jessica Mullen '13 were married Oct. 7. The couple lives in Aldie, Va.
Kevin and Stacey Beam Kirk '12 welcomed their first son, Cameron Howard, on April 15. The family lives in Grottoes, Va.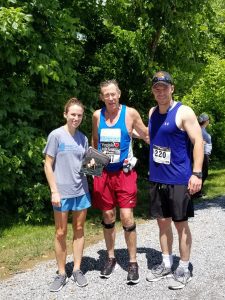 2012
Stacey Beam Kirk (see Kevin Kirk '11).
Jenny Logan has been named Head Women's Basketball Coach at Eastern Mennonite University. She recently completed her third season at Hollins University. She also has coaching experience from Mount St. Mary College and the University of Lynchburg (formerly Lynchburg College).
Morgan Poston and Trevor Dunkle were married April 28. The couple lives in Williamsburg, Va., with their daughter, Olivia.
Three BC alumni ran the Jackson River Trail Marathon in Covington, Va., on June 23. Jenny Logan '12 (left in photo) won the women's marathon and finished third overall. Jonathan Lyle '79 (center) finished third in the men's 60-64 bracket andwas 38th overall. Willie Logan '14 (right) finished second in the men's 25-29 age bracket and was the 33rd overall finisher.
2013
Jessica Mullen (see Darius Burrus '11).
2014
Meredith Reynolds of Hagerstown, Md., earned a doctor of veterinary medicine from Kansas State University's College of Veterinary Medicine in May. She is an Associate Veterinarian at Caring Hands Animal Hospital in Rockville, Md.
In April, Andrew Peters '15 of Leesburg, Va., visited Rachael Sloan in Plovdiv, Bulgaria, where she teaches English with Mission to the World, an outreach of the Presbyterian Church of America. Peters and Sloan visited Asen's Fortress located in the foothills above Asenovgrad, Bulgaria.
2015
Christopher V. Black of Woodstock, Va., earned a doctor of physical therapy from Old Dominion University's College of Health Sciences on May 4. He is employed at Sentara RMH Medical Center.
Travis Chittum and Kelsey Limbert '16 were married June 9. The couple lives in Waynesboro, Va.
Kelsie Lynn Floyd and Kenneth Alan Szabo were married May 12. Kelsie is employed by Orangetheory Fitness and Kenneth works for ADAPT. The couple lives in Charlottesville, Va.
Kelly Pennington earned a master of social work from Morgan State University. She earned a license to practice in the state of Maryland and is a social worker at the University of Maryland Medical Center in Baltimore.
Andrew Peters (see Rachael Sloan '14).
2016
On Nov. 6, Joshua Gooden was elected Mayor of the Town of Elkton, Va.
Kelsey Limbert (see Travis Chittum '15).
2017
Zach Lokey of Harrisonburg, Va., participated in the 2018 edition of Dancing with the Stars of the 'Burg! In three months, he raised more than $25,000 for the Harrisonburg-Rockingham Child Day Care Center. At the main event held on Nov. 11, he received the Shining Star Award, the Children's Champion Award, the Judge's Choice Award and the Grand Champion Mirror Ball Trophy. Lokey is a Business Development Representative for Nielsen Builders Inc.
Alex Smith has joined Averett University's football staff as a Wide Receivers Coach. He previously coached the cornerbacks at West Virginia Wesleyan College, where he also oversaw video and film for practices and games, managed the equipment room and assisted with recruiting. He is pursuing a master in business administration from Averett.
2018
Christina Herbert has been named an Assistant Men's and Women's Golf Coach at the University of Lynchburg, where she is pursuing a master in school counseling. Lynchburg's inaugural women's golf season is set for 2019-20.